Scroll down for these recipes…
Crispy Salmon with Lemon-Dijon Creme Fraiche
Crispy Couscous Sole with Cornichon-Dill Tartar Sauce
Minty, Buttery Petits Pois
Six months have passed since I moved to England to begin my masters at Oxford. And oh boy, have I learned a lot! Oh, sure, I've made plenty of headway into literature, but I think, not surprisingly, my greatest strides have been made in that little known Faculty of Food.
Before I left New York, as I was packing my bags full of Hunter wellies and F. Scott Fitzgerald novels, I decided to disregard all those combative rumors that while England's economy ranks somewhere near the world's pinnacle, its food lurks nearer to the nadir. But I had been here before, and I loved cheddar cheese, and I figured every lunch would be fish and chips and mushy peas with a pint of some country ale or other.
But what happens when you assume? You make an a**–of you and me…or rather, I began to lose mine, quite unexpectedly. I will not affirm the rumors and say that England has bad food, because it simply isn't true. What I will say is that moving to another country, even one from which one's own culture is descended, provides unforeseen obstacles, like opening a bank account in foreign currency, or realizing that a cheddar cheese sandwich in Oxford generally means cheese mashed together with butter and mayonnaise and green onion and slathered onto white bloomer loaf. It's not bad; it's just not what one expected.
So my meals the first week continued as such: it was like gulping a glass of seltzer only to realize too late that it was Sprite—again, not bad, but unexpected. Finally, I gave up spending those expensive pounds on meals that went unenjoyed, and retreated to that collegiate Oxford haven, the kebab van. My new Iranian friends greeted me in New York fashion, with neighborly grins and chat, and they furnished one of my two meals a day. The first was a plain toasted English muffin (when in Rome…or, London), and the second was—it shames me to admit it—a Styrofoam box of well-salted chips. Or, as I called them at the time, "French fries." No mushy peas. No beer-battered fish. No ale. I was a fish out of water; and all I ate was chips. Which is strangely how I began to lose my "assumptions."
But what an Oxford education I've received—after all, necessity is the mother of invention, and I soon realized that a diet, however slimming, made up exclusively of my favorite food in the entire world, frites…comme c'est si bon!, lacked both vitamins and variety. As when one immerses oneself in a foreign language and comes out fluent, I, armed with my new British best friends and boyfriend, started with the pubs and worked my way up and down the English food scene, and I have to sing, God Save Sainsbury's! The supermarkets in England have flowers that last two weeks, and produce cheaper and more gem-like in taste and color than any flaccid zucchini I've come across in Gristedes. I have friends in low places, like my favorite smoked cheese and mushroom pie that comes with mash and mushy peas and currant gravy for "a fiver," and in high places, like Gee's, that serves the most succulent sea scallops in truffled zabaglione in a Victorian greenhouse.
It just goes to show that you should always expect, and embrace, the unexpected. I still visit my friends at the kebab van, but my boyfriend lately remarked that it had been long enough, and I should get back to my recipes and French Revolution, now that I had a handle on the English gastronomy. And besides, he protested, "I haven't actually TASTED any of this stuff!" So, for my first foray back at the front, I decided that since we are on an island, and it's traditional and all, I was going to start with fish, no chips this time.
Below are deux recettes for poisson—salmon and lemon sole. And for the sole, I include two alternate preparations. The first recipe, for the salmon, is a twist on the restaurant classic, Dijon baked salmon. This recipe, however, is less obstructed by the severity of the mustard, and is made decadent with the addition of crème fraîche. It came out marvelously!
For the sole, I did a French-Moroccan twist on Fish and Chips. I crust the filet in dry couscous and pan fry it, and serve it with a cornichon-dill tartar sauce and minty, buttery spring peas. Alternatively, you could serve it as a crisp Sole Meuniere.
As always, these recipes are simple, fresh, witty, and, like frites, si bon. Enjoy, and bon app!
Crispy Couscous Sole with Cornichon-Dill Tartar Sauce
2 filets of lemon sole, with no bones or skin
Flour for dredging
1 egg, beaten
Couscous for dredging
Olive oil
Salt and pepper
Bread the sole with the couscous: first season the fish with salt and pepper. Next dredge each filet in flour and dust of the excess. Then dip them into the beaten egg. Next dredge them in the couscous.
Heat enough oil in a large skillet to coat the bottom—over medium high heat. Lay the fish in the hot oil and fry for 3 minutes per side.
2 tablespoons of mayonnaise
2 tablespoons of crème fraîche
4 cornichons, finely chopped
1 tablespoon of chopped fresh dill
1 teaspoon of capers, chopped
1 teaspoon of grain mustard
1 teaspoon of lemon juice
Salt and pepper
Combine all the ingredients and serve à côté du poisson!
For crispy Sole Meuniere, after removing the cooked sole from the pan, turn down the heat and add the juice of 1 lemon and 3-4 tablespoons of cold butter. Swirl around until the butter is just melted and combined with lemon, then toss in a sprinkling of chopped fresh parsley and pour over the fish.
Minty, Buttery Petits Pois
190 grams of fresh shelled peas
1 ½ tablespoons of butter
1 tablespoon of chopped fresh mint
Salt
Bring half a pot of water to a boil, and season with salt.
Drop in the peas and boil for 5 minutes. Drain.
Return the peas to the warm pot and stir in some salt, the butter, and the mint.
bon app!
Crispy Salmon with Lemon Dijon Crème Fraîche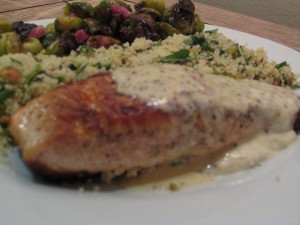 Salmon Ingredients


2 filets of salmon, skin on


1-2 tablespoons of olive oil


2 tablespoons of butter


Salt and pepper


Salmon Procedure


Season the salmon with salt and pepper. Rub the butter on the skin of the salmon filet, 1 tablespoon per filet


Heat the olive oil in a skillet over medium high heat until the oil is quite hot


Lay the salmon in the pan, skin side down, and leave to cook for 6 minutes, until the skin is crisp


Flip the salmon over, lower the heat slightly, and allow the flesh side to crisp for 3 minutes.


Sauce Ingredients


¼ cup of crème fraîche


Zest of ¾ lemon


1 ½ tablespoons of whole grain mustard


1 teaspoon of Dijon mustard


Salt and pepper


Sauce Procedure


Mix all the ingredients together in a small bowl. Spoon a dollop onto each piece of hot salmon.


print this recipe