scroll down for these recipes…
Pumpkin Bisque
Porc de Provence
Pain au Chocolat Bread Pudding
Last weekend, my father came to England from New York on a business trip. He took me to dinner at the Ivy in London, and took him to formal hall at my college in Oxford. Separated only by one day, the striking dissimilarity between the two meals was tantamount in my mind, and my mouth, as I sat dissecting my "stewed" steak and plain steamed vegetables on the hard wood bench. If only this were the mustardy endive salad, lamb and spring vegetable stew (the same word really does not apply!), and lavender crème brulée I had experienced only one night before. I sighed.
But as I looked up at my father sitting amongst my college friends, I realized that I had never seen him so animated and he kept exclaiming, "why, this is much better than I thought!" I must admit the hall meal wasn't as drab or mismatched that night as usual, plus we had reservations at his hotel restaurant later as a parachute plan. But I smiled as I confessed to myself: I love hall! Sitting in a room whose panels have witnessed parliamentary debates, centuries full of generations of eager young scholars who talked only of future hopes, having not yet been infected by the disillusionment that all adults eventually catch like a common cold, being caressed by the warmth of tradition and camaraderie and candlelight. If these walls could talk, what secrets they could tell! As we became as warm and rosy as our wine, and we spilled some on the table along with a handful of stories and grins and gasps, I realized that, fortunately, food is not what hall is all about.
But some Oxford colleges retain Michelin star chefs! And, I have been invited to sit at the high table with the master and the dons and their guests, and the food was exquisite: monkfish brochettes, filet mignon on a pancake of potato with wild mushrooms and spring vegetables, a gingersnap sugar cage catching fresh fruits and sorbet. Now that's food for thought, commensurate to the conversation that is bantered back and forth across the table like an intellectual food fight.
They shoot the hall scenes of the Harry Potter movies in the hall of a college across the street. We, too, wear gowns, but where is the pumpkin juice, the roasts, the plenty!? I suppose it was all magic, after all.
So this week, in honor of my soon-to-be alma mater, I am reinventing some English Oxford hall classics, which just proves my point that French ingenuity can enliven even the drabbest English cafeteria dish! The secret, that magic, behind cooking for a lot of people, is cooking things that you don't have to chop extra for, or clean more pots for. Just get a bigger soup pot out, a bigger roasting dish, and a bigger baking pan. These are recipes you can double or triple, and all you have to do is keep pulling things out of the oven with as little trouble as Mary Poppins has pulling a few extra floor lamps out of her carpet tote.
But frankly, some of the warmth of hall is not only from the deep wooden walls or the crowded pews, but from the comfort food that inevitably ends up on the plate. Whether or not the dish is a culinary success varies, but invariably, the dish is hot, slow-cooked, and satisfying, whether the perennial rain or exams be your ailment. Even if I'm cooking for two, with these recipes, at least, I can return epicureanly to this very special school ever after my dissertation is bound and in, a deadline then looms with finality only three short weeks away.
My reinvention of the Oxford hall classic Carrot and Coriander Soup is my Pumpkin Bisque (a bit of an homage to Harry Potter, I suppose), a spiced soup that when, made in greater quantities, does not require much more chopping or baby-sitting on your part.
Instead of the traditional Roast Loin of Pork with Apple Sauce, we will be having my Porc de Provence: a roasted loin of port seared in a crust of herbs de Provence, and roasted with wine and topped with a sweet marmalade of onions. You can make one or nine in the same time, so long as your roasting pan is big enough! Plus, you can make the onions ahead of time. I would serve it with some pencil asparagus and harictos verts, tossed in some olive oil and salt and pepper, and roasted for about 20 minutes in the same oven with the pork.
For dessert, instead of the omnipresent Bread and Butter Pudding, we will be swapping the butter for chocolate and the bread for croissants in my Pain au Chocolate Bread Pudding for a puffed-up, ooey-gooey change. Just don't forget, when filling your oven, you may need to raise your temperature or increase your cooking time. Just check to be sure the pudding is cooked all the way through, and the pork reaches a temperature of 145 degrees before you take it out of the oven.
Oxford is still beautiful in its old age, and the ancient, crumbling buildings are rejuvenated each year by a remarkable tide of fresh youth. It's about time my ancient and crumbling hall is rejuvenated by some fresh, young versions of the great Oxonian hall classics. Hear hear!
Pumpkin Bisque
1 15-ounce can pumpkin
½ onion, diced
1 celery stalk, diced
1 carrot, diced
1 bay leaf
1 cinnamon stick
2 sprigs thyme
1 tablespoon of butter
1 tablespoon of olive oil
½ cup white win
1 quart chicken stock
¼ cup cream
Add the butter and oil to a stock pot over medium-low heat and add the onion, celery, carrot, bay, cinnamon, and thyme.
Allow to soften, and add the wine, and allow to reduce.
Add the pumpkin and stock.
Allow to simmer on low uncovered for 30 minutes.
Carefully using a blender, puree the soup.
Return to pot and stir in the cream. Serve!
Porc de Provence
1 2-pound pork loin, bound with twine
2 tablespoons of herbes de Provence
10 fresh sage leaves
3 sprigs of fresh rosemary
5 sprigs of fresh thyme
¼ cup of olive oil
¾ cup of dry white wine
¾ cup of chicken stock
1 shallot, halved
1 carrot, halved
Salt and pepper
1 tablespoon of butter
2 onions, sliced
½ teaspoon of orange marmalade
1 sprig of fresh thyme
2 tablespoons of olive oil
Start by sautéing the onions. In a large pan, heat the olive oil on medium heat. Add the onions and thyme, salt and pepper.
Reduce the heat to very low and simmer for about 1 hour and 30 minutes, stirring occasionally.
Add the marmalade about 1 hour into the cooking.
Preheat the oven to 425 degrees.
Season the pork loin with salt and pepper.
Mix the dried herbs with the olive oil, and massage the rub all over the meat.
Place a pan large enough to sear and roast the meat, and that has a lid, on the stove on medium-high heat, and sear the pork loin on all sides, about 1-2 minutes per side, until a golden crust is formed.
Place the wine and stock and whole fresh herbs in the pan, along with the shallot and carrot, and cover with a lid.
Remove the meat from the pan, and return the pan to medium heat on the stove. Strain the jus of the herbs and vegetables, and place it back on the stove, whisking in the very cold butter to finish the sauce.
After allowing the pork to rest for 10 minutes after coming out of the oven, slice it and pour a bit of the jus over the slices to keep them moist. Top the meat with the sweet onions, and serve the rest of the jus alongside.
BON APP!
Pain au Chocolat Bread Pudding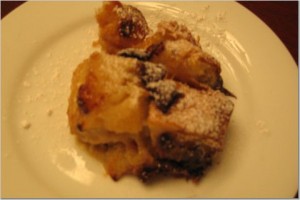 Ingredients


6 croissants, cut into 1-inch cubes


2/3 cup of milk


1 1/3 cups of cream


½ teaspoon of cinnamon


1 tablespoon of pure vanilla extract


1 cup of sugar


½ cup of semi-sweet chocolate chips


4 eggs


Procedure


In a large bowl, beat the eggs with a hand mixer. Beat in the sugar until it is incorporated.


Add the milk and cream, the vanilla and the cinnamon. Beat to combine.


Drop the croissant cubes and chocolate chips into the custard, and allow it to sit for a bit to ensure that the croissants drink up the liquid.


Spray your baking dish with nonstick cooking spray, and tumble the custard-soaked cubes and chocolate into it.


Preheat the oven to 350 degrees.


When it comes to temperature, bake the pudding for 45 minutes, until the top is puffed and crisp.


Scoop out a warm mound onto a plate and top with powdered sugar.


print this recipe