scroll down for these recipes…
Heirloom Tomato Salad with Goat Cheese, Basil, and Mint
Calamari with Harissa Aioli
Pasta au Chevre
There are two things that I do when I need a bit of comfort: watch Audrey Hepburn movies and eat Italian food. Alas, for the sake of efficiency, more than one rainy day a season will find me seated in front of Roman Holiday with a pile of pasta parked neatly in the bowl in my hand as I unceremoniously twirl and chew away.
When my ex-boyfriend got engaged to be married, I was the first of my group to have lost a man so definitively to another woman. To celebrate his, well, celebrated and final departure from our lives, we went, in the spirit of comfort, to Little Italy, for a "Ding, Dong the Warlock is Dead" party. Nothing makes you feel better than tumbling jumbles of fried calamari drenched in happy-yellow lemons or the mellow mouthful of penne vodka when you're hoping that not all the alcohol escaped from the pan before it made it onto your plate.
But I think the reason Italian food is so comforting is because it is the food of celebration. In an ironic twist, my current boyfriend surprised me for Christmas with a trip to Rome, a city I had visited miserably once before while haplessly and hopelessly attached to "the warlock." I was thrilled to be able to try Italy again, to be in love in Rome like Audrey, and of course, because it's me, to taste the food.
Tasting is was certainly not the word of the weekend, because I think the Oxford English Dictionary would list words like "small," "picayune," and "dainty" somewhere near it, and I think it was somewhere between the Spanish Steps and the Coliseum that my boyfriend realized that I'm quite the eater. The first night was filet mignon grilled Tuscan style, then risotto with truffles on a sidewalk café. Stracciatelle gelato and lemon granita. All washed down with wine. But the best was walking down the Piazza Navona (he had, at this point, confiscated my guidebook), being hailed by a true Roman, and treated to, who needs a menu, whatever he recommended. We had antipasti and I had spaghetti with shellfish and there was tiramisu and more wine and I don't remember getting home that night. But I do remember feeling like Lady, sharing a plate of pasta with the roguishly handsome Tramp to the light of candles dripping the hours lingeringly down the side of a wine bottle in wax.
These three recipes are French influences on Italian restaurant classics. The Insalate Caprese is made over with heirloom tomatoes, French goat cheese, opal basil, and mint. The classic calamari fritti is served with a harissa aioli. And for pasta, fresh maccheroni is tossed in a regal but comfortable red sauce tinged pink with goat cheese, parmesan, and crème fraiche.
In just a few months, I found myself a very lucky girl indeed, as I went from Little Italy to a Roman holiday. And while I didn't cut my hair, or dance on a barge, or cause a fist fight, I can say that my favorite city on this European tour is emphatically, "Rome!"
Heirloom Tomato Salad with Goat Cheese, Basil, and Mint
4 large tomatoes, or the equivalent, in a variety of tomatoes: yellow taxi, zebra, beefsteak
¼ cup of extra virgin olive oil, for drizzling
¼ cup of chopped fresh basil leaves, opal (purple) basil if you can find it
¼ cup of chopped fresh mint leaves
5-6 ounces of chevre, crumbled
Salt and pepper
Slice the tomatoes, or halve them if using cherries.
Lay them out on a platter, varying their colors and sizes. Salt them now—this is crucial.
Next scatter the herbs and the cheese, and then lightly season again. Drizzle with extra virgin olive oil.
Calamari with Harissa Aioli
2 pounds of frozen calamari rings, defrosted
Flour for dredging (about 2 cups)
1/4 cup of dried parsley (optional)
Salt and pepper
1 cup of mayonnaise
1 clove of garlic
1 tablespoon of harissa
Zest and juice of 1 lemon
Start by filling a large, deep pan half way up with vegetable oil, over medium heat.
Next, add the mayonnaise, garlic, lemon juice and zest, and harissa to the food processor, and blend it into a smooth rouge aioli.
Plunge the calamari rings into the flour, seasoned with the parsley, salt, and pepper, and shake off the excess.
Working in batches, fry the calamari the hot oil. Test one to see if the oil is hot enough. It should sink, and then rise lightly in a cloud of bubbles.
When the calamari are crisp and golden, about three minutes later, drain them on a stack of paper towels, and dust them with salt.
Serve with the harissa aioli.
BON APP!
Pasta au Chèvre
serves 4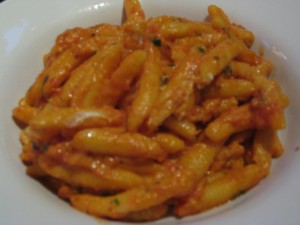 Ingredients


500 grams fresh macaroni


350 grams marinara sauce


2 tablespoons of crème fraîche


75 grams chevre (goat's cheese)


Dusting of fresh parsley


Salt and pepper


Procedure


Cook the fresh pasta according to package directions. Be sure to salt the water, and because fresh pasta cooks so quickly, be sure to taste test it one minute before what the packet recommends. Drain.


Heat the marinara sauce in the pan over medium low heat. Stir in the crème fraîche.


Add the pasta back into the pot and season with salt and pepper. Break up the chevre (make sure it is cold) into the pot, and allow it to melt in chunks into the pasta, but do not incorporate it fully. Stir in a speckling of fresh parsley.


print this recipe