scroll down for these recipes…
Champagne Jell-O
Strawberry Rose Macaron Cupcakes
Palmier Jamboree
As a girl in my twenties, I have to admit that dessert commands a certain amount of sacrifice. As I leave behind the last vestiges of childhood, a touch of youthful vim leads to a nostalgic gnaw for sweet. But I cannot eat—or drink—with the same wild abandon and disregard that I took so breathlessly for granted only a few short years ago without seeing certain…alterations. As F. Scott Fitzgerald wrote, "One cannot both spend and have," and it seems that in order to have a young, spritely figure, one cannot spend calories without certain adult restraint and comprehension of consequence. To quote a slightly less canonical, but still influential, refrigerator magnet, "Nothing tastes as good as thin feels."
But deprivation is not me, nor is it French. I believe in living life to the fullest, but when being adult and keeping to a certain "budget," it means spending wisely. Eating dessert makes me feel free and indulgent and alive…and young. To get the bang for my buck, I don't want some grown-up dessert that is some master chef's culinary science fair presentation. I don't want sobriety in sweet; I want hilarity. I want mischief and whimsy. I crave laughter and frivolity. When I eat something as gloriously tacky as a cone of dulce de leche soft serve McDonald's ice cream in Argentina, it's because I absolutely refuse to take myself too seriously, and if I'm going to be young and eat dessert, then I want to feel young and positively silly. To me, that's a solid investment.
Of course, I don't mean to glorify immaturity—I'm not talking about opening a pack of Entenmann's donuts and going to town (although, that powdered sugar mustache will never age for me!). I just mean that if you're going to have fun, commit to it, in flavor and in presentation. Last week I was at an Italian restaurant in Oxford and I was positively inebriated with love and romance, and lunches like that deserve desserts. I ordered something hardly puerile, but yet distinctly sparkling and fresh and irreverent, like youth: elderflower jelly (that's Jell-O to we Americans) with fresh summer berries suspended like planets in some sort of half-solidified perfume. It was served in a tea cup, and it was crazy, and it was perfect.
So this week, my recipes are tout sweet, and, to borrow another quote, this time from Nigella Lawson, they are testaments to a bit of "kitsch in the kitchen." They all match my current musings on my mood: they are childish reinventions of very adult creations. The first is Champagne Jell-O, with a twist. I set champagne infused with sugar and citrus zest with gelatin, pour it into champagne flutes, and serve alongside Biscuits Roses de Reims or long-stem strawberries. It usually takes my friends a moment to realize they can't drink it. But, it sparkles like champagne, it celebrates like champagne, and like champagne, it will make you as inebriated as I was at my elderflower luncheon.
The next two recipes, Strawberry Rose Macaron Cupcakes and Palmier Jamboree, are both inspired by my favorite bakery in Paris, and in the entire world: Laduree. My mother and I, when in Paris's St. Germain district, stop by the teahouse nearly every afternoon. She eats one half of a palmier, a giant "elephant ear" of buttery, flakey, crisp, and very sweet puff pastry that she revels in as it regales her in golden shards of crumbs. For me, it has always been and will always be about the macaron. It is not the American coconut glob (I say this with deep affection), but the French wafer of almond flour—crisp as a robin shell on the outside, giving way to chewy sumptuous depths within, all caging such delicate flavors as rose or orange flower, glued together by the cool cream between the sandwiched, Easter-hued halves.
But French Revolution is not about teaching you to make palmiers or macarons from scratch. Puff pastry is difficult and sensitive, rather like a petulant child you have to cajole into behaving. And as I said earlier, I am too young for such mature responsibilities! Macarons depend on the weather, the oven, the artist—I'd rather just pay someone to place them methodically into a box that I can munch through by the Seine. But what I can show you are clever, tongue-in-cheek incarnations of the classics. For the Strawberry Rose Macaron Cupcakes I use (Laduree forgive me!) Duncan Hines cake mix, tinged pink with that Chanel No. 5 of youth (all you need is a drop!)—red food coloring. Rose cream and fresh strawberries give the cupcake a college degree and a whiff of maturity. For the palmiers, I use (again, forgive me!) Pepperidge Farm frozen puff pastry, thawed, and painted with a Technicolor array of jams, sprinkled with starry sugar, and peeled hot and sticky from a Silpat.
I'm trying to grow up, I really am. But I'm still a child at stomach. These desserts cater to an adult palate while giving you that same hysterical sensation of having popsicle juice streaming through your helpless, sticky fingers as you throw your head back and laugh and know that life is fun and gloriously free of consequences. Welcome back to the sweet life.
Champagne Jell-O
2 ½ cups of champagne
1 ½ cups of water
3 ½ tablespoons of sugar
2 packets of unflavored gelatin
4 strips of orange zest
4 strips of lemon zest
First, take the zest you need by peeling the citrus with a vegetable peeler, four times each.
Next, bring the water to a boil and whisk in the sugar, gelatin, and citrus zests.
Chill the mixture in the refrigerator for 30 minutes.
Add the champagne to the cooled mixture, and whisk it all together. Discard the zests.
Pour the mixture into champagne flutes, and refrigerate overnight.
Serve with biscuits roses de Reims, a traditional accompaniment for champagne, or long-stem strawberries.
Palmier Jamboree
2 sheets of thawed but cold frozen puff pastry
¼ cup of apricot jam
¼ cup of strawberry jam
¼ cup of blueberry jam
¼ cup of raspberry jam
2 tablespoons of butter, melted
Plenty of granulated sugar for sprinkling—about ¼ cup
Take each sheet of puff pastry and mentally divide it in half: the back half for one flavor of jam, the front half for another.
Paint most of one flavor on the first half, most of a second flavor on the second half.
Now, working opposite your line of division, fold the right and left edges of the pastry over almost so they meet in the middle.
Paint the remaining bit of jam on this layer, keeping the flavors consistent with what is underneath.
Then fold again almost to the center, and then press the two halves together.
Repeat using the second sheet of pastry and the rest of the jams.
Freeze the rolls of pastry and jam for 30 minutes and preheat the oven to 400 degrees.
Slice the rolls about ½ inch thick into jam-filled palmiers.
Arrange them flat on two baking sheets lined with parchment paper or better yet a Silpat. Cleanup will be next to impossible otherwise.
Brush with butter and sprinkle liberally with sugar.
Bake for about 22 minutes.
Allow to cool on the baking sheets before scraping up and arranging on a plate and eating with reckless abandon.
BON APP!
Strawberry Rose Macaron Cupcakes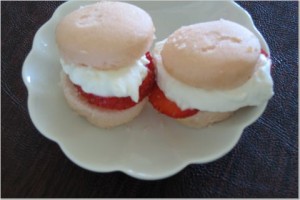 Ingredients


1 box Duncan Hines white cake mix


½ teaspoon of pure vanilla extract


1 teaspoon of almond extract


1 tablespoon of rosewater


3 egg whites


1 1/3 cups of water


2 tablespoons of melted, cool butter


4 drops of red food coloring


1 cup of heavy cream


1 tablespoon of rosewater


1 tablespoon of powdered sugar


10 strawberries, hulled and thinly sliced


Procedure


Preheat the oven to 350 degrees.


In a large bowl, beat together all the ingredients for the cupcake batter: the cake mix, vanilla, almond extract, rosewater, egg whites, water, butter, and red food coloring. Mix until the batter is well-incorporated.


Grease a 24-mini-muffin tin with nonstick spray.


Spoon the batter about two-thirds of the way up the sides of the muffin tins. You really do not want these cupcakes to form a cap. You want them to stay a uniform size all over, so you want to leave enough room in each tin for the cupcakes to rise without baking over the rim of each mold. The tin will not require all the batter.


Bake the cupcakes for 20 minutes. Allow them to cool for 15 minutes in the tin, and then on a cooling rack until they are completely cool.


To make the cream filling, beat the cold heavy cream with a hand mixer. Add the rosewater and the little bit of sugar. Beat until you have whipped cream.


To assemble the macarons, slice each cupcake in half horizontally. Lay a couple of strawberry slices on the bottom half, top with a bit of rose cream, and then crown with the top half of the cupcakes. Press down and make the perfect little pink rose-and-strawberry macaron.


print this recipe