scroll down for these Father's Day recipes…
Lavender Steak
French Fried Leeks
Nutella Pot de Crème
My relationship with my father has been something of a moveable feast. I have written about our trip to the Ivy in London, and our fall-back meal plan after our dinner in my Oxford hall. And as I think back on it, nothing could be more appropriate than to chart the last twenty-five years with my dad one meal at a time. Every repast is a remembered photograph, because, ever since my parents separated twenty-two years ago, my father and I have been doing the unthinkable: talking with our mouths full.
My father knows many things, but he does not know how to boil water; like many New Yorkers, he uses his oven for storage. Also like most New Yorkers, he has a profound respect and relationship with food. I remember his colleague saying at a boisterous dinner party once over a decade ago that nobody was as small or had as large a stomach as my father. Ever since I was three years old, my father has been taking me out to dinner—as often as four or five times a week. It was our time together. It was not the traditional American six o'clock family dinner, but it was just as important and personal and special.
My father and I may have different culinary aptitudes, but we are exactly the same person in every other regard, most saliently in our self-definitions as "creatures of habit." We rarely have more than 5 restaurants in heavy rotation at any one time, with the occasional and exhilarating jaunt to somewhere new—an awning glimpsed on a long walk, an overheard tip of gastronomical gossip, will send us on an expedition that will be talked about for hours, or weeks, or years afterward. When we remember the restaurant, we remember the hours we spent together, 1 year ago, five years ago, fifteen years ago, back to the beginning.
When I was about nine years old, my father would pick me up when I was still in my school uniform and take me to Steve's pizzeria on Second Avenue, where we would share a whole pie, garlic bread, and salad. The place was a '50s throwback, and we were regulars. They didn't even take our orders, and we would be deep into conversations of Greek mythology or Egyptian mummification rituals over the Elvis soundtrack by the time the cheesy feast arrived. I taught my father about Athena and the Olive Tree, and he taught me how to fold a slice of pizza over my finger like a real New Yorker and to dip my crust in the olive oil that had dripped onto my wax-paper-lined paper plate. By the time I was fifteen, Steve's had shut down, and so closed a chapter of my life. As I commenced the universal exploration of self known as adolescence, my father and I began to explore the world, sampling piquant Mexican at Maz Mezcal and colorful sashimi at Haru. While he taught me about the benefits of an Ivy League education or torts law, I taught him that green salsa is actually made from tomatillos, not green tomatoes, and that Japanese white tuna is actually a fish called escolar.
Now that I am, I suppose, something of an adult, my father doesn't pick me up at home anymore. We meet all over the city, sometimes at places we've never tried before, like Big Daddy's Diner on Second Avenue, and sometimes at places we've been going to since I was just born, like Malaga on Memory Lane, where I order the same Daily Double lobsters that I began eating as a culinarily precocious six year old. And now we order wine. But whatever the table, I realize now that my father who cannot boil water instilled in me a love of food that stems not from its creation, but its appreciation. Because a meal is not just about the flavor, about the art, about the science; it is about the people who look at you across the table, when you are talking with your mouth full, because there is just too much to say, because the table is where two autonomous people sit down together and admit through their fondness and through the frequency of their meetings just how emotionally unautonomous they truly are as loving human beings. Food becomes the ritual and the occasion that brings us all to the same place in space and time, and allows us to share it.
So these recipes this week are to my greatest partner in culinary crime: my dad, who cut up my pizza into bitesize pieces when I was small, and who lets me order the sashimi and the wine now that I am big. My Father's Day menu takes the ultimate man meal, the steak, and gives it a characteristically French and unexpected twist. Lavender Steak is a spinoff of steak au poivre, but my filets are crusted instead with cracked black peppercorns and heady, peppery lavender blossoms for something sophisticated. The onion ring is given a facelift with my French Fried Leeks. And for dessert, something sweet: Nutella Pot de Crème that can be made in a flash.
I hope today, on Father's Day, you can talk to your dad with your mouth full too. A moveable feast is a party that lasts a lifetime, that is spontaneous though it never ends, that is inspired though it never changes. Dad, to all the breakfast, lunches, dinners, and teas in between. To many fêtes…
Lavender Steak
2 .2 kg filets of beef
2 tablespoons of black peppercorns
1 pinch-½ tablespoon of dried edible lavender blossoms
Salt
1 tablespoon of olive oil
1 teaspoon of butter
*Lavender is strong, and its potency is a matter of personal preference. Use as much or little lavender as you feel comfortable—it will be flavorful in any amount.
Put the peppercorns into a plastic baggie and hit them repeatedly with the back of a pan to crush them roughly.
In a bowl, mix the lavender and crushed peppercorns.
Season the filets with salt, and press them into the lavender-peppercorn mixture so that the blossoms and pepper crust both sides of the meat.
Heat the olive oil and butter together in a small sauté pan over medium high heat. When the oil is very hot, gently place the meat into the pan. Cook for 5-6 minutes per side for medium. Let the meat rest before cutting into it!
French Fried Leeks
The whites of 2 leeks, cut into long, thin strips
2 tablespoons of all-purpose flour
Salt
Vegetable oil for frying
Fill a deep pan halfway with vegetable oil, and heat on medium high to 325 degrees, or until a pilot leek bubbles and fries in the oil without burning.
Toss the ribbons of leek with the flour and dust off any excess.
Fry the leeks until crisp and just golden—about 4 minutes.
Remove to paper towels to drain, and crown immediately with a touch of salt.
BON APP!
Nutella Pot de Crème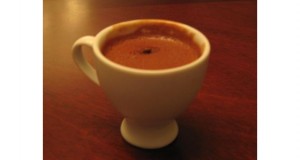 Ingredients


1 cup of heavy cream


160 grams of dark chocolate


¼ cup of Nutella


1 egg yolk


1 scant teaspoon of granulated sugar


Procedure


Heat the cream until it is just scalded.


Put the sugar, chocolate, and Nutella in the blender, then add the hot cream.


Careful of the steam, blend the ingredients together on low.


Once the ingredients are combined, add in the egg yolk with the blender still running, and let blend for about 20 more seconds.


Pour the mixture into little ramekins or egg cups, cover with plastic wrap, and refrigerate for 4 hours, or overnight.


Serve with a large tuft of fresh whipped cream over the top.


print this recipe