Basic Crêpe Batter
Brie Crêp-o-dilla with Avocado Crème Fraîche and Watermelon Salsa
Crêpe Salad Bowl with Cassis Mixed Greens and Warm Goat Cheese
Crêpe Monsieur
As you know, my mother and my grandmother and toute la famille are French. As a form of adolescent rebellion, I had stubbornly forgotten and refused to relearn the language of Proust and Saint-Exupery, of Candide and of Astrix and Obelix. I was a very naughty little girl.
So when I was fifteen, my mother suggested that I spend the summer completing one of those language immersion programs, where you attend school and live with another family, and where speaking English is as forbidden and ghastly as dumping ketchup all over a plate of escargots. After a refresher course in Paris, off I went to Brest, and after spending a day snickering about the city's name, I then stumbled innocently upon something even better than French verbs: French food!
Brest is located on the coast of Bretagne, a province simultaneously French and Breton all at once. Though the feu d'articifice still dazzled the cold, dark sky on Basille Day, hints of the old Breton language permeated the Bretons' speech; old, Saxon-like dances still were danced in large, pied circles at the center of town; and on every other corner thereabouts resided the most charming Breton of all: the crêpe man.
In New York, one comes to rely on street food. Central Park has become quite safe in the past decades, but hunger still stealthily burgles about. The knowing New Yorker need only walk several yards before finding rescue at the Hot Dog Stand. There, for a few (an ever-increasing few) dollars, the New Yorker can still his stomach on a hot dog with ketchup, or a salty pretzel with mustard. And the city streets are safe and satisfying once again.
I was on another English picnic recently, and when one is in England, I say do as the English—drink in the afternoon! I had cheers-ed my way through a whole bottle of wine spritzer when I stood up to stumble home, and on my merry way, I tripped disbelievingly up to a stand on which was emblazoned: Crêpes O Mania, Breton Pancake Specialist.
It is my steadfast and personal opinion that there is no better cure for the rumbling of an intoxicated stomach than the oozing, salty perfection of a crisp and gooey crêpe au fromage. I shouted up at the proprietor in glee: "Are you really from Bretagne!? Do you use gruyere!?" Tolerantly he chuckled, yes, he was Breton, and no, he did not use gruyere, though he claimed he could have done, just as well.
"Will you still try one?" Yes, of course. I never say to no to cheese crêpes. As a rule. To my surprise, he did not pull out a pre-prepared crêpe, but ladled a curiously dark batter onto a hot crêpe griddle. "Buckwheat?" I demanded. He told me yes, it is healthier, and makes a better crêpe, and he is the only man in Oxford with the secret. He then blanketed the crêpe with a combination of cheddar and mozzarella cheeses (I was skeptical), and expertly peppered the combination with salt before folding it up into the trademark rectangle of the savory Breton galette. I bit through the perfect eggshell of crisp, buckwheat pancake, and out oozed the cheese. M. Le Crêpe, mes compliments! He even gave me a frequent crêp-ers card, and I get my tenth free!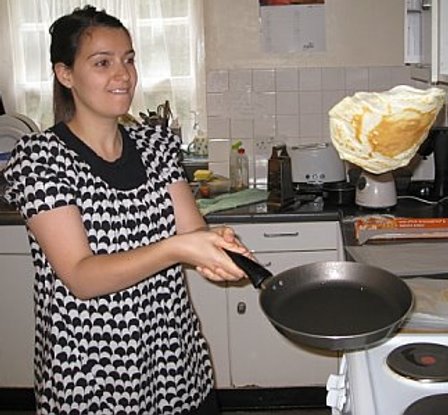 The crêpe is one of the most signature, and yet versatile, foodstuffs of France. It can be sweet or salé, served for breakfast or dinner, a midnight snack or dessert. It can be fancy, or be humble. This week's installment is all about little unorthodox recettes for the crêpes that you make (I've included my go-to basic batter recipe) or you buy. Crêpe-O-Dilla is a French quesadilla that uses the pancake as a tortilla on the grill, stuffed with creamy brie, toasted, and topped with avocado crème fraîche and a tomato and watermelon salsa. The crêpe salad bowl is a crisp shell, filled with mixed greens, crisp goat cheese, and a cassis mustard vinaigrette. And finally, the Crêpe Monsieur is a savory prosciutto and gruyere pancake, seared, and then topped with a gruyere-Dijon béchamel and baked. Merveilleux!
M. Le Crêpe, merci pour le dessert dans le desert…
Crêpe-o-dillas with Avocado Crème Fraîche and Watermelon-Tomato Salsa
8 crêpes
250 grams of brie
Divide the brie amongst the crêpes, lying the slices of cheese on one side, and folding the crêpe over it like a quesadilla.
Toast the crêpe over medium heat in a nonstick, ungreased frying pan until crisp on both sides, with a melted brie center.
Serve with Avocado Crème Fraîche and Watermelon-Tomato Salsa (recipes follow)
3 vine tomatoes, petite diced
¾ cup of petite diced watermelon
1 tablespoon of parsley
1 tablespoon of olive oil
Juice of 1 lime
2 pinches of salt
Pepper
Simply toss all the ingredients together and allow them to sit in the fridge for at least an hour before serving.
1 avocado
¾ cup of crème fraîche
Juice of ½ lime
Salt
Whirl the crème fraîche, salt, lime juice, and the flesh of the avocado together in the food processor until it becomes a smooth jade-green cream.
Crêpe Salad Bowls with Cassis Mixed Greens and Warm Goat Cheese Medallions
4 crêpes
1 shallot
1 bag of bistro greens, including shards of beets
¼ cup of olive oil
2 ½ tablespoons of white wine vinegar
1 teaspoon of honey
1 pinch of herbs de Provence
1 tablespoon of cassis Dijon mustard
Salt and pepper
200 grams of cold goat cheese
2 eggs
1 cup of breadcrumbs or panko, or the two mixed together
Salt and pepper
Preheat the oven to 350 degrees.
Lay the crêpes over 6 small ramekins placed upside down on a baking sheet, so that the crêpes form bowls.
Bake for 10 minutes.
Remove the crêpe bowls from the ramekins and allow to cool upside down on the counter.
Raise the oven to 425 degrees.
For the warm goat cheese, divide the goat cheese into 8 pieces.
Create a breading station, with one bowl containing the beaten eggs, salt, and pepper, and the other containing the bread crumb-panko mixture.
Dip each piece of goat cheese in the egg, then the crumbs, then the egg again, and finally the crumb again, dusting off the excess between each step.
Bake the cheese for 10 minutes on a lined baking sheet.
Meanwhile, in the bottom of a large bowl, combine the olive oil, white wine vinegar, cassis mustard, herbs de Provence, salt, and pepper. Toss with the shallots, and beet-spiked greens.
Divide the salad between the four crêpe bowls. Arrange 2 pieces of goat cheese to crown the top of each.
Crêpe Monsieur
6 crêpes
6 slices of prosciutto
2 cups plus 2 tablespoons of grated gruyere, divided
¼ cup plus 1 tablespoon of grated parmesan, divided
4 teaspoons of Dijon mustard
2 tablespoons of butter
2 tablespoons of flour
1 ¼ cup of milk
Butter for dotting
Salt and pepper
Preheat the oven to 425 degrees.
Heat the milk in a stock pot on medium-low heat.
For each of the 6 crêpes, place the slice of prosciutto and 3 tablespoons of gruyere in the center of the crêpe. Then fold in the four sides so that it forms a stuffed square.
Toast the stuffed crêpe in a dry non stick pan on medium heat so that the inside melts, and the outside toasts to a crisp shell.
Meanwhile make the béchamel by melting the butter in a stock pot on medium heat. Add the flour, and stir, allowing the roux to toast lightly.
Add the mustard and toast for 30 seconds with the roux, along with salt and pepper.
Add in the hot milk, and stir so that the milk begins to simmer.
Add in the two cheeses, and allow the béchamel to simmer until it thickens, so that if you dip a wooden spoon into the sauce and run your finger down the back, the sauce stays separated.
Ladle some of the béchamel in the bottom of a smallish square baking dish.
Arrange the six crêpe packets overlapping in the pan.
Spoon most of the rest of the sauce over the crêpes, creating another thin layer.
Top with the remaining gruyere and parmesan cheeses, and dot the top with a little bit of butter.
Bake for 15 minutes, uncovered, until bubbly and golden and serve very hot.
BON APP!
Crêpe Batter
yields 10 to 12 crêpes
Ingredients


1 cup of whole milk


1/4 cup of cold water


2 eggs


1 cup of all-purpose flour


Pinch of salt


2 tablespoons of unsalted butter, plus 1 teaspoon, melted and cooled


Procedure


Put all the ingredients in the blender, and whirl them around until just combined. Be sure to scrape down the sides once to make sure everything is completely incorporated.


Let the batter rest for 1 hour. Take this advice!


Put a small, nonstick pan over medium heat. When the pan is hot, spray lightly with nonstick cooking spray. Ladle in a shy ¼ cup of batter, and, off the heat, quickly swirl it around the pan so it thinly coats the surface.


Return the pan to the heat. The crepe is ready to flip when it naturally begins to slide around the pan when you shake it. Flip it in the air if you can…if not use a crepe spatula. When the crepe slides out, it is ready. Stack the crepes between pieces of parchment paper. Repeat until the batter is used up.


print this recipe