scroll down for these cocktail recipes…
Panache
La Vie en Rose
Kir Royale Glacé
Last Wednesday I attended the opening night of Sex and the City—the movie—appropriately enough, with my girlfriends. As Carrie, Samantha, Miranda, and Charlotte sat around the table, sipping those Jem-pink Cosmopolitans they made famous, one of them asked, "Why did we ever stop drinking these?" Another retorted, "Because everyone else started!" But alas, Cosmos are "an oldie, but a goody."
It got me thinking about cocktails, probably because while the girls on the screen were drinking like fish in the sea, the girls in the seats were drying up like camels in the dessert. As finals approach, and my dissertation deadline is one week away, I have seated myself comfortably on the wagon, which is hopefully following the road to success.
My first week at Princeton, I was walking across the campus late one night with my best friend, and we ran into a fellow freshman. He was a boy who had clearly spent his entire pre-adult life on the same wagon, following that same long and winding road, and once it had reached success, had tumbled out into a river of vodka…and beer, and whiskey, and possibly champagne. The boy had become so drunk that he walked into a moving police car. It seemed that what he needed to learn at Princeton wouldn't be taught in lecture—maturity.
I could never sympathize with excessive drinking, because alcohol had never been forbidden to me. French parents wean their children onto wine from the beginning, and when I was five years old, I went up to my mother, intrigued by the ruby liquor before her, and asked if I might taste it. "One finger," she told me, and so I gingerly dipped one curious, childish finger into her wine and licked it. I promptly fell asleep for twelve hours. And while I would like to say that I never overdid it again, in vino veritas, and I so I can't tell a lie. But an apple martini has never been forbidden fruit to me, and so what I love about alcohol, which I think may be a bit rare, is not its privileged properties, but its taste—mainly in the forms of Champagne, gin, and whiskey.
As the girls from Sex and the City would tell you, cocktails in New York are a matter of fashion. First there was the tall and fruity and psychedelic trend, like the Cosmopolitan and the Sour Apple Martini, then the cool and classic and understated trend, like Prohibition Punch and the Sidecar. When I left it seemed that Champagne was making a comeback, and now that I'm in England, I've discovered the Collins: Elderflower and Mint, Blackberry and Violet.
So this week I offer you three ways to toast. The first is a drink I discovered in Brest when I was fifteen, and hoping to pass as eighteen, at a pub in Bretagne. It is called a Panache, and is an example of how the French, so comfortable with the idea of alcohol consumption, have no problem diluting it—because for the French, like for me, it is about taste, not intoxication. Beer is mixed with ginger ale for a slightly sweet, easier drink for watching the World Cup with your Mr. Big. If you add a slug of grenadine, the Panache becomes a Monaco—perfect for poker night with just the girls. The next recipe is inspired by one of my favorite New York restaurants, often featured in Sex and the City as well—Pastis. La Vie en Rose starts with a sugar cube in the bottom of a Champagne flute, that is then doused in heady rose water, and set to sparkle with a top off of rosé Champagne. And last, I have a reinvention of another "oldie, but goody," the Kir Royale, with my Kir Royale Glacé. In a champagne flute, I drop a tiny ball of cassis sorbet, tempered with a shot of Absolut Kurant, and finished with a shower of Champagne.
Even if you have a dissertation to write, life is always full of things to toast: great friends, a great city, or even just a great movie. As they say, you can lead a horse to water…
And this is how you make him drink.
Panache & Monaco
6 cans of Kronenbourg 1664, or any beer, ice cold
3 cans of ginger ale, ice cold
A good slug of grenadine
Orange slices
Pour the beer and soda into a pitcher for a Panache, and add the grenadine for a Monaco.
For a touch of Parisian glamour, throw in some orange slices.
Kir Royale Glacé
Cassis, or black currant, sorbet
Absolut Kurant, from the freezer
Champagne, chilled
Pour ½ shot of vodka into the bottom of each champagne flute.
Use a melon baller or a teaspoon to drop one or two balls of sorbet into the flutes as well.
Top each glass with cold champagne.
CHIN CHIN!
La Vie en Rose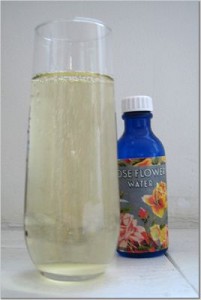 Ingredients


Pink champagne, chilled


Sugar cubes


Rosewater


Procedure


Pour 1 tablespoon, or ½ shot, of rosewater into a champagne flute.


Top with cold pink champagne.


Drop a sugar cube into each and watch them fizz.


print this recipe