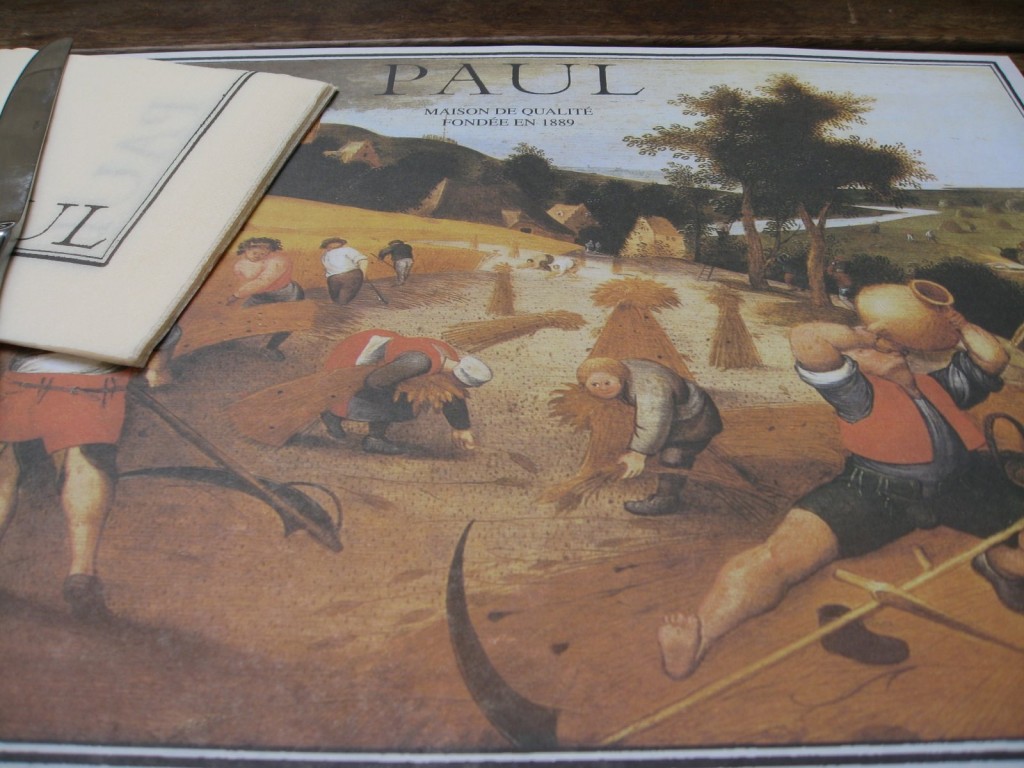 scroll down for the following baguette sandwich recipes (inspired by Paul)…
Le Sesame Camembert
Le Savoreux
Mozzarella and Tomato with Basil Pistou and Fried Capers on Olive Bread
To me, it is absolutely not a coincidence that Gaul decided to write down to hôtel de ville and change her name to France, for when I go to Paris it is to pursue my two other "F" passions: food and fashion. And, of course, to visit my boyfriend Paul.
Now, admittedly, the French do take quite a continental stance on the "mistress" (although, in this reversed case, would it be the "master"?), but I assure you that Paul is in no way a French fling at the expense of Mr. English. I just figure, I can't expect one man to fulfill all my many needs, and while Mr. English may someday provide me with a diamond "bague," Paul, the boulangerie, keeps me in baguettes.
It disappoints me to divulge that Paul is in relationships with many other women; it seems to me that I see him positively everywhere. We usually rendezvous around breakfast time on the corner of rue de Seine and rue de Buci in St. Germain, but just the other day, I ran into him at Gare du Nord, and he often flaunts himself on the Champs-Elysées. I have even heard that he has been spotted in America—a woman in every port! The gall of that Gaul!
But all pretense aside, I have never been a very selfish girl. Paul has something special to give that no man or boulangere has even been able to give women before: fromagey fougasses, sugar-sparkling macarons, and, above all, the perfect baguette. And he is now the most prolific and promiscuous bakery in Paris, with stores on every thoroughfare, and indeed, he has opened several outposts in Florida. And while I suppose this takes some of the romance out of our relationship, it is good to know that I can have him whenever and wherever I want him.
I'm not sure if lovers are au courant these days the way they were in the years of Les Liaisons Dangereuses, but bags certainly are à la mode. And perhaps like a lover, the bigger the better. It interests me to consider that the "it" bag is evolving into something evermore enormous, with an Hermes or a Chanel positively threatening to swallow the sallow girl onto whose arm he links his own. It is not a matter of carrying, but a matter of display. The wallet and the iphone are the occasion for the bag lady to sortir avec her handsome escort.
And so French food holds up the mirror to French fashion, for chez Paul, it is what lies between the bread that occasions, not the bag, but the baguette. As Mireille Guiliano notes in French Woman Don't Get Fat, the smattering of pâté becomes the excuse for the crusty pain. Nothing could be farther from the Broadway delicatessen, with two flaccid bits of rye ineffectually bookending a skyscraper of pastrami dripping under a sun shower of Golden's spicy mustard. No, at Paul, when you walk up to the glass sandwich case, you have to look mighty hard at the label before the sandwich before you realize that there is anything but baguettes in the window.
But how very French. Hermes employs one person to make each Birkin bag from start to finish, and the same care and expertise is applied to the famous bread, a bread that has come to stand as a symbol for France itself. It is no wonder then, that the wallet is the happy catalyst for a display of the bag, and a slice of salami and cornichon is the happy occasion to consume the baguette.
This week, I recreate three of my favorite Paul sandwiches, with a few added touches. Olive bread sandwiches fresh mozzarella marinated in fresh basil pistou, lined with tomatoes, and studded with the unexpected and crisp briny tang of fried capers. Le Savoreux is a sandwich on baguette of rosette, a Lyonnais salami, sliced cornichons, and butter—I create a Dijon butter instead, and use Milano salami, easier to find in America. And Le Sesame Camembert is simply butter, camembert, and green lettuce on sesame baguette, which I recreate exactly to its simple perfection.
The French affair in Le Divorce ends with the man telling the girl to think of all that they had learned from each other. My dear Paul has shown me that while the hollandaise or the macaron can be a bit tricky, complicated, and, culinarily speaking, "French," true, traditional French food is very simple and sophisticated. Coco Chanel once gave the following fashion advice on how to simplify: "Before leaving the house, take one thing off." The laws of French fashion, and perhaps French romance, hold fast for French food.
I suppose I have become a bit continental myself, for I have no plans to end my lusty, crusty love affair with dear Paul. But for goodness sake, don't tell Mr. English!
Paul's Le Sesame Camembert
250 grams of Camembert
4 leaves of Bibb lettuce
1 tablespoon of butter, room temperature
4 crusty sesame rolls
Slice the Camembert into quarters, and then each quarter into four slices.
Slice the rolls almost all the way through, so they hinge, and butter both sides ever so lightly.
Line the bottom half of the bread with a lettuce leaf, and four slices of Camembert.
Paul's Mozzarella and Tomato Sandwich with Crispy Capers and Basil Pistou
Basil Pistou
1 25-gram bunch of basil leaves
½ clove of garlic
5 tablespoons of olive oil
Salt and pepper
Sandwich
4 olive rolls
2 150-gram balls of fresh mozzarella
2 vine tomatoes, cored and sliced
Salt
2 tablespoons of capers
Olive oil
Make the pistou by whirling together all the ingredients in the food processor.
Slice the mozzarella thinly, and leave to marinate in the pistou.
Slice the tomatoes the same thickness as the mozzarella, and sprinkle with salt.
Heat a bit of olive oil in the bottom of a small pan on high heat. Make sure the capers are drained, and pat them dry. Fry them for 2-3 minutes until they are crispy crunchy and drain.
To assemble the sandwiches, slice the olive rolls in half horizontally, and then lay the mozzarella and tomatoes on the bottom slice, alternating. Sprinkle with the crisp capers, and top with the top of the bread.
BON APP!
Paul's Savoreux: Salami and Cornichon with Dijon Butter
serves 4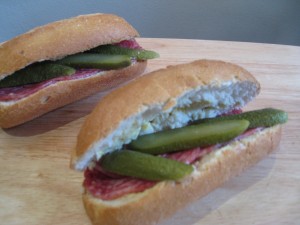 Ingredients


70 grams of sliced salami


4 cornichons, cut in thirds horizontally


1 tablespoon of butter, room temperature


¼ teaspoon of Dijon mustard


4 crusty French rolls


Procedure


With a fork, mash together the butter and Dijon mustard.


Slice the rolls in half horizontally almost all the way through, so they hinge, and very lightly butter the bread with the Dijon butter.


Divide the salami slices and cornichon slices between the four rolls.


print this recipe