A review of Brindisa chorizo sausage sandwich specialist at Borough Market, London
For those of us who are hungry, a city, like London, can be a labyrinth with no helpful Ariandne's string to point out the right gastronomic direction. It was Saturday afternoon and I was with Mr. English (that's my boyfriend) at two o'clock when we both realized with a cataclysmic boom that neither of us had eaten and were quickly deteriorating to a state of what would be known on the Lower East Side as "kvetchiness." To make matters worse, we were standing, lost in the middle of London's Borough Market, a serpentine thoroughfare of overrun footpaths under a railway bridge brimming with food vendors: a culinary labyrinth within the labyrinth, a gastronomic heaven that quickly began to feel like hell.
But we had meant to go out for a "nice lunch," seated across from the Thames at a table draped in a starched white table cloth with silverware that felt like it was worth its weight. I looked helplessly around me: ruddy gilded tins of truffles, seafarer's glass cannisters of ras-el-hanout, ropes of currants that dangled recklessly from the safety of their little jade boxes. Food, food everywhere, but not a bite to eat! I looked down at a homeless man begging by the pillar on the edge of the market: masochist!
Rationally, what followed was an argument. "Let's just have a little something here to tide us over," I pleaded. "I don't really want that," quashed Mr. English. "But what about that chorizo place we saw?" "Did you see the queue?!" As we meandered with much purpose but little direction, I darted like a squirrel through an autumn grove, harvesting a bounty of small checkers of bread dipped in liquid gold oils and bits of cheese that would hardly serve as enough to attract a mouse to a trap, but that melted like drops of creamy, heady candy in my mouth. All around us was the Saturday clatter of an ancient market, which had grown inveterately into this very spot, but had, of late, succumb to the fate of all the old-world relics in cities like New York and London: it had become trendy. I glared up at Mr. English as he munched an olive off a toothpick. Above the din, my stomach growled at him. "Ok, chorizo," he conceded.
So, I was wrong. It seems there is an Ariadne's string through the culinary labyrinths of London, and that string is more like a Hansel and Gretel trail of chorizo sandwiches that lead to a long line that leads to Brindisa, a dilapidated stall containing two crooked, burning onyx grills at the back, and a little low table at the front. The menu is simple: single or double. There, Mr. Sausage, the Borough Man, dexterously stacks one or two (depending on your order) smoking and smokey chorizo sausages, split and spicy and crisp, on a toasted ciabatta roll laced with an embellishment of that liquid gold I mentioned earlier. Following that are one or two roasted piquillo peppers and some baby arugula. He folds the sandwich back on itself, wraps it in a napkin, and hands it to you as you droolingly fork over somewhere between £3.75 and £4.50.
Mr. English and I retreated over by the pillar, where the homeless man had loitered moments before. No starch or silver for us. Oh, no. We stood, with the gleaming, gossamer red grease running through our fingers as we giggled up from our sandwiches, mouths dusted in bakers' flour like children who had greedily gulped powdered donuts. I dropped my last bite of sausage, and Mr. English (who had ordered a double) gave me his. And somewhere between the heat of the sausage, the heat of the day, and the heat of the moment, we were in love again.
My Borough Man, like the Marlboro Man for whom he is named, brought me back to the cowboy, or should I say gaucho, way of eating, when all you want is something good and real, because stomachs know nothing of pomp and circumstance. So while the Marlboro Man was roping bulls, my Borough Man was slaying the Minotaur—and serving some form of him up on his parilla. Now that's a hero for you! Guess I didn't need Ariadne's string after all. I just had to follow my gut.
Brindisa Knock-Off Chorizo Sandwiches
makes 4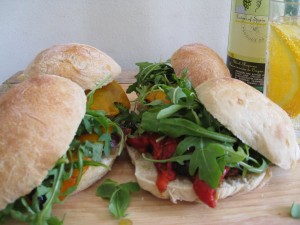 Ingredients


4 ciabatta rolls


½ tablespoons of olive oil, plus more for drizzling


3 long pointed sweet peppers of various colors (red, orange, yellow)


6 links (400 grams total) of chorizo sausage


2 handfuls of arugula


Salt


Procedure


In the spirit of Brindisa, where everything is done with haphazard finesse, the measurements are just a formality. The main thing to do is to preheat the oven to 500 degrees. Toss the peppers with a touch of olive oil and a light sprinkle of salt. Then, place these on one side of a foil-lined baking sheet, and the chorizo on the other. Roast for 20 minutes. Watch the sausage, as they may take less time to cook. You're just looking for a charred, crisp casing and a firm interior.


When the pepper and sausages are finished roasting, split the chorizo in half on one side, piercing just one side of the casing so that the other side holds the split sausage together. Put them face down in a medium hot nonstick skillet and brown for five minutes, while you de-stem, de-seed, and de-skin the peppers. Put the rolls in the hot oven to toast for just a minute, and then drizzle with the 1- 1 ½ tablespoons of olive oil.


Assemble the sandwiches: you have enough sausage for two doubles and two singles. On the singles, put one sausage on one side of the bun, then half a roasted pepper, and a small bunch of arugula, and top with the top of the bun. For the doubles, it's one sausage on each side of bread, followed by a piece of pepper on each side, and arugula in the middle.


I serve this with, in the spirit of the Marlboro Man's bulls and Borough Man's Minotaur: Bulls**t Sangria. Just fill each glass with 2 slices of seedless navel orange, and then half Spanish white wine and half sparkling water, and mash the orange around in the glass. Perfecto!


print this recipe