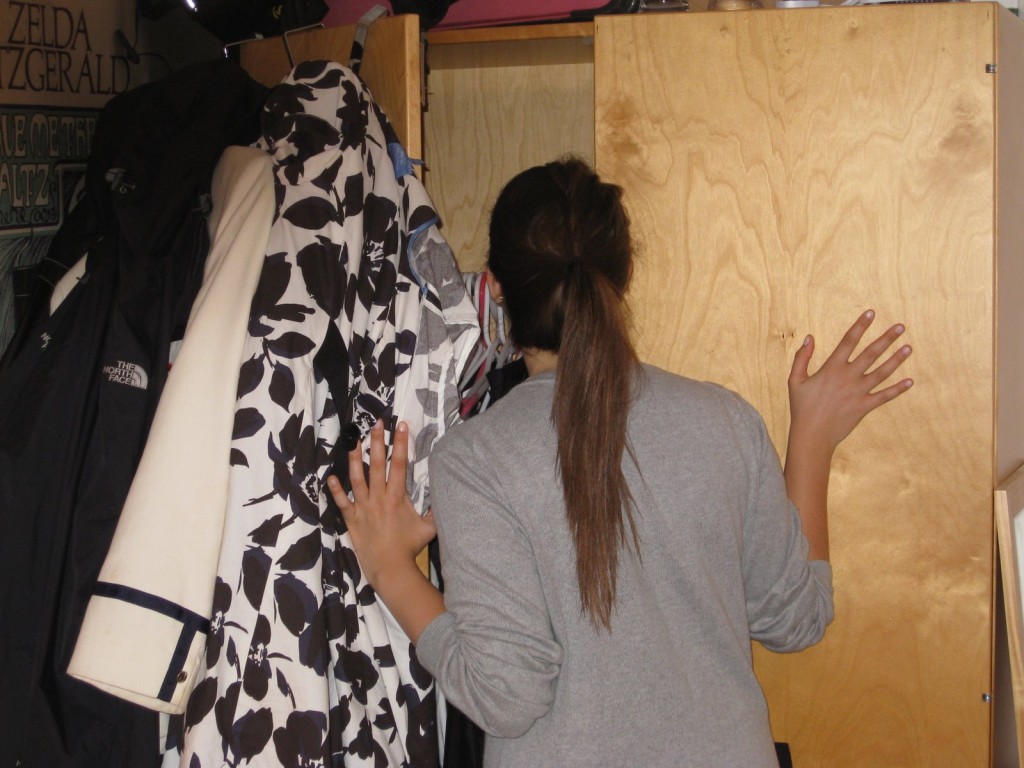 scroll down for these "straight from the pantry" recipes…
Provençal Anchovy Bath for Baguette and Crudités
White Bean Velouté with Herbs de Provence Oil
Fried Portuguese Sardines with Harissa Tomato Sauce
When I was a little girl, I lived in another world, and that world was called Narnia. Or, at least I did in my mind. In my young, bright, brunette head, I would grow up to marry the vivacious Prince Caspian, and valiant little Reepicheep would be our Mouse-in-waiting.
When I saw that both Caspian and Reepicheep would be appearing in the new movie The Chronicles of Narnia: Prince Caspian, I am embarrassed to admit that I gasped with pleasure, and immediately fell upon my C. S. Lewis texts with the renewed vim and vigor of seventeen years ago. You may be thinking that the closet in the title of this post refers to the wardrobe in The Lion, the Witch, and the Wardrobe, a wooden closet that transported the young boys and girls from war-torn England to the land of Narnia. But while some kitchen closets may appear to lead to other worlds, and may even house talking Mice, although despite my love for Reepicheep I do hope yours doesn't, it is the treasure chamber in Prince Caspian to which I am referring.
In Prince Caspian, the four children, Lucy, Edmund, Susan, and Peter, stumble back to their old castle Cair Paravel and find the treasure chamber, where their clothes and jewels and swords and bows and arrows and magic potions have lain dormant for a millennium, to have been discovered right when they have become necessary. Now that, to me, truly resembles a pantry, which, in my house, is a brimming series of shelves the kitchen closet. In that pantry, magical potions of harissa and pistou, an arsenal of culinary weaponry from anchovies to dried zapote, and exotic jewels like imported tinned truffles have lain latently for, at least it seems like, centuries. All too often, I dump half of my pantry's contents in my bi-annual overhauls. In our world of fresh green markets, the convenience of yesterday's staple preserved foods are often hidden behind a shut wooden door, and like the treasures of Cair Paravel, left untouched and forgotten.
While I love cooking, I, like you I'm sure, don't want to spend every night rifling through fresh produce, concocting feasts fit for the mirrored hall at Versailles. Sometimes, I come home late, and am tired, and may even be going out again, and dinner has to be conjured up through some sort of culinary magic from the stores I have behind that shut wooden door. But I still want dinner to be interesting and presentable, especially if I am sharing it with friends. So this week, I am showing you how to make a perfect whole three course meal from your pantry, and showing you what to always have around when you do have time to shop, so that you won't go hungry when you don't. On tonight's menu (yes, tonight, for if your pantry is well-stocked, you won't have to leave your house!): Anchovy Bath for Baguette and Crudités, White Bean Velouté with Herbs de Provence Oil, and Fried Portuguese Sardines with Harissa Tomato Sauce. The first is a traditional Provençal amuse bouche where anchovies are pounded together with olive oil and served with a few olives. Use it as a dip for whatever you have around: leftover carrots and cherry tomatoes, breadsticks, or stale baguette, which you should just slice, drizzle with a touch of olive oil, and bake for 15 minutes at 350 degrees. The second uses up those white beans in the pantry, for with just a bit of garlic and shallot and stock, they emerge a velvety soup as warming and comforting as brandy and decorated with herbs de Provence mixed with olive oil and served as a condiment at the table. The last takes sardines, tosses them with flour, and fries them. The sauce is a mix of everything red in your pantry: chili flakes, harissa, canned tomatoes, tomato paste, and sundried tomato paste, and is a fiery partner for the little shards of crispy fish—kind of like French calamari with marinara. Eating out of the pantry is like eating for free and in five minutes—but these recipes make it a treat as well. Like the children in Narnia, all you need is a little imagination.
In the Pantry
Everyone who cooks has certain things in her pantry, like flour and sugar and an aging array of herbs and spices, that I will take for granted. But every bonne fille française has a culinary repertoire that may differ a bit from the average americaine's. Here is a shopping list of culinary jewels to keep locked away in that ancient closet for just such a time when you'll need them most.
herbs de provence
red chili flakes
harissa
canned green pepper corns
extra virgin olive oil
t
ruffle oil
vegetable oil
white wine vinegar
dijon mustard
whole grain mustard "à l'ancien"
jarred black olive tapenade
jarred green pesto or pistou
jarred red pesto or pistou
dried wild mushrooms
capers in brine
anchovy paste
tuna, salmon, or sardines in olive oil or water
sundried tomatoes in oil or sundried tomato paste
tomato paste
cans of petite diced tomatoes or chair de tomate
lentils de puy
canned beans, like chick peas and cannellini
panko (japanese breadcrumbs)
bouillon cubes or broth
shallots
garlic (and/or garlic paste for emergencies)
spanish onions
assorted pastas, at least one long strand (spaghetti) and one short shape (rotelle/wagon wheels)
couscous
red wine
white wine
rosé wine
champagne
four red fruits jam
marmalade
orange flower water
rosewater
dried lavender blossoms
petit beurre cookies
dark chocolate
unsalted butter
crème fraiche
gruyere
parmesan
frozen puff pastry
baguettes, baguettes, baguettes
This is just a provisionary list. I often also have frozen peas, frozen spinach, frozen shrimp, frozen berries, filo pastry, and pie pastry in the freezer, but that's not exactly the pantry, now is it? I also think it's a good idea to keep potatoes and carrots, leeks and tomatoes, and I nearly always have risotto rice on hand. Also, never be scared of stocking up on baguettes. If they get stale, I break them up into the food processor and whirl them around till I have fresh baguette crumbs—almost the only type of bread crumb I ever use. Then I just keep them in the freezer until I need them. Also, to make the pantry a true treasure chamber, I like to pick up items of interest, like cassis mustard or tarragon vinegar, to make it all more special and exciting. Now, at the risk of sounding just a tad too politically incorrect for our own world, it's time to get back in the closet!
BON APP!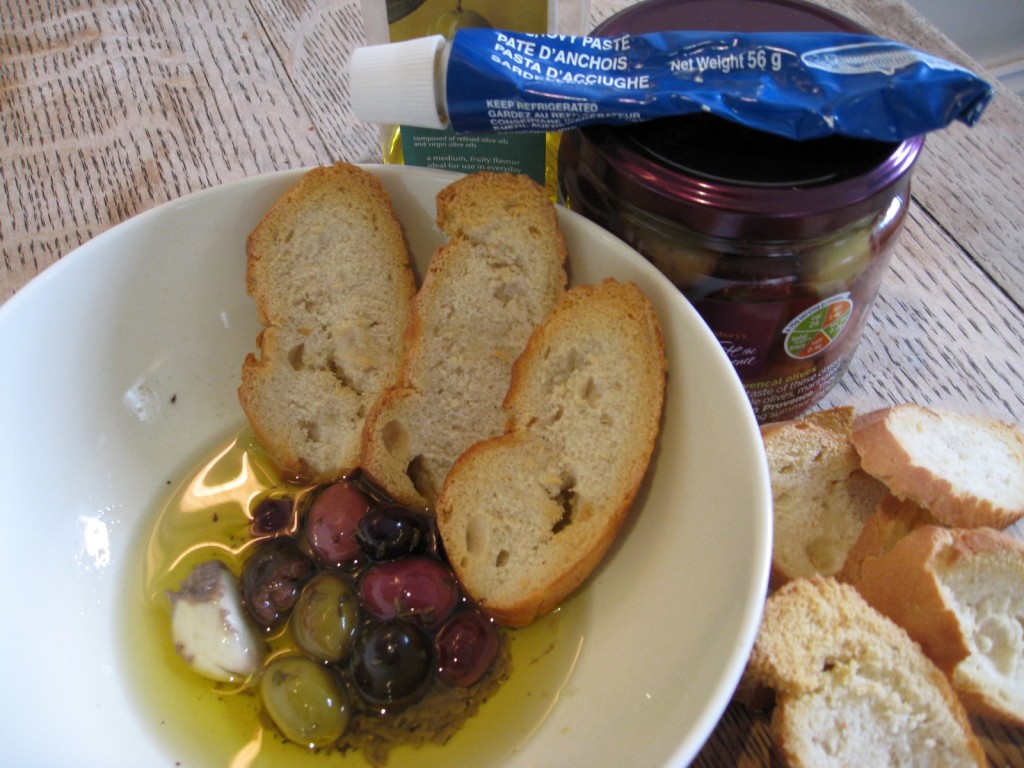 Provençal Anchovy Bath for Baguette and Crudités
1 baguette, sliced ½ inch thick, or a packet of breadsticks, or some raw vegetables (or all three)
¼ cup of olive oil, plus more for drizzling
1 crushed garlic clove
2 full teaspoons of anchovy paste
A handful of Provençal olives
If you are using baguette, and it is fresh, just tear it into chunks. However, if it is a day old, slice it and lay the slices on a baking sheet, and drizzle very lightly with oil and a touch of salt. Bake in an oven preheated to 350 degrees for 15 minutes for little baguette toasts. Otherwise, just open your packet of breadsticks or trim your crudités.
To make the anchovy bath, mix ¼ cup of olive oil, the anchovy paste, and the garlic in a small sauce pan, and heat on low for 5-7 minutes so the flavors combine, stirring it all together.
Pour the bath onto a saucer or a small bowl, and pile a few olives in the center. Then dip away. Unassuming, but delicious.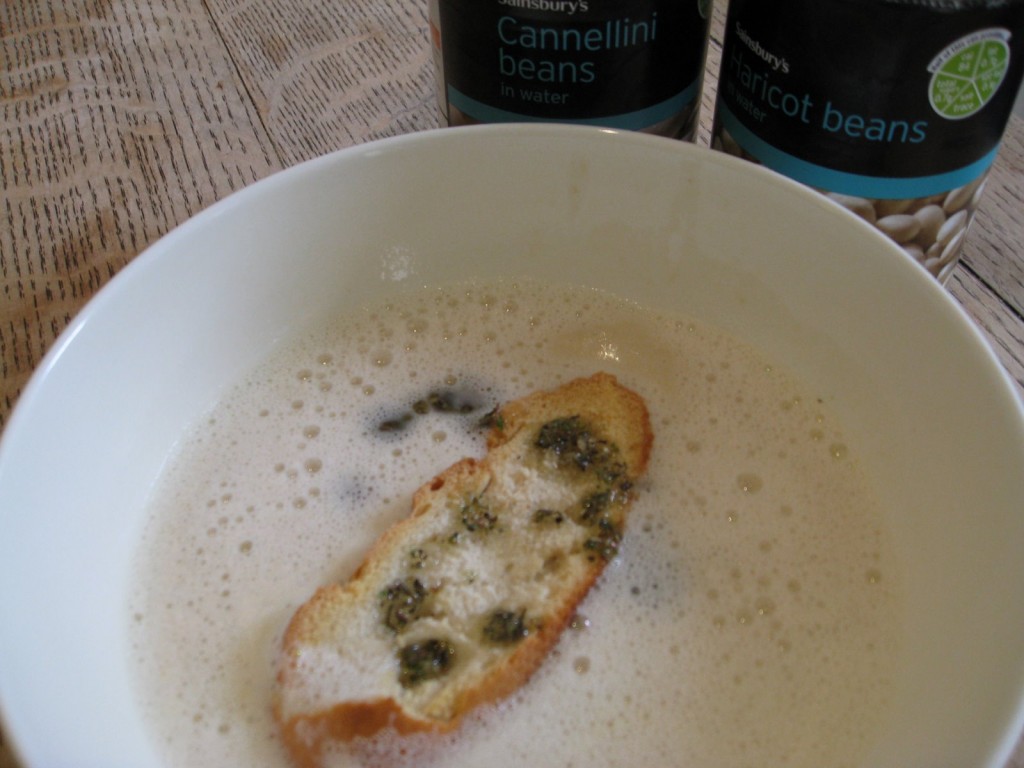 White Bean Velouté with Herbs de Provence Oil
1 tablespoon of butter
1 tablespoon of olive oil
3 shallots, or 2 very small onions, chopped or sliced
1 tablespoon of garlic paste, or 3 cloves of garlic, chopped
2 410-gram cans of white beans (like cannellini, haricot, or great northern), drained and rinsed
4 cups of stock (vegetable or chicken)
¼ cup of cream (optional)
Salt and pepper
2 tablespoons of olive oil
2 teaspoons of herbs de Provence
Add the butter and oil to a stock pot over medium heat, and when the butter has melted, add the onions and garlic, season with salt and pepper, and sauté until the onions become translucent and fragrant, but not browned—about 3 or 4 minutes.
Add the beans, stir around with the onions and garlic, and then add the stock, and bring to a boil.
Lower the heat to a simmer and cover, cooking the soup for 15 minutes.
Then blend the soup to create a smooth consistency. When blending hot liquids, be careful, and remove the little top in the lid of your blend and cover it instead with your kitchen towel, to allow the steam a route of escape.
Return the soup the pot, and stir in the cream, if using. Serve immediately with the herbs de Provence oil, made simply by combining the herbs and the remaining olive oil.
Fried Portuguese Sardines with Harissa Tomato Sauce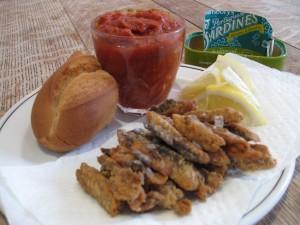 Ingredients


1 120-gram tins of Portuguese sardines, preferably in olive oil, but any kind will do


½ cup of flour


Olive oil for


frying
Salt


1 200-gram can of chair de tomate, or diced canned tomatoes


1 tablespoon of tomato paste


1 tablespoon of sundried tomato paste


1 tablespoon of harissa
1 tablespoon of herbs de Provence


1 teaspoon of garlic paste, or 1 clove of garlic


Pinch of chili flakes


Pinch of salt


½ lemon, cut into slices for squirting on the fish


Procedure


Fill a very small saucepan about 1 inch high with olive oil, and set over a medium high flame to heat up.


Drain the sardine fillets, and break them up lengthwise into little spears of fish. Dredge them in the flour, and dust of the excess.


Meanwhile, putt all the ingredients for the harissa tomato sauce into a saucepan over medium low heat and allow to simmer until the fish have fried.


Test the oil by dropping a little piece of floured fish into the fryer. If it sizzles and rises to the top, it is ready. Fry in small batches for about 3 to 4 minutes, until the sardines are golden and firm, then remove to a paper towel to drain.


Dust the sardines with a touch of salt, and serve with the lemons, harissa tomato sauce, and maybe the butt of a baguette.


print this recipe