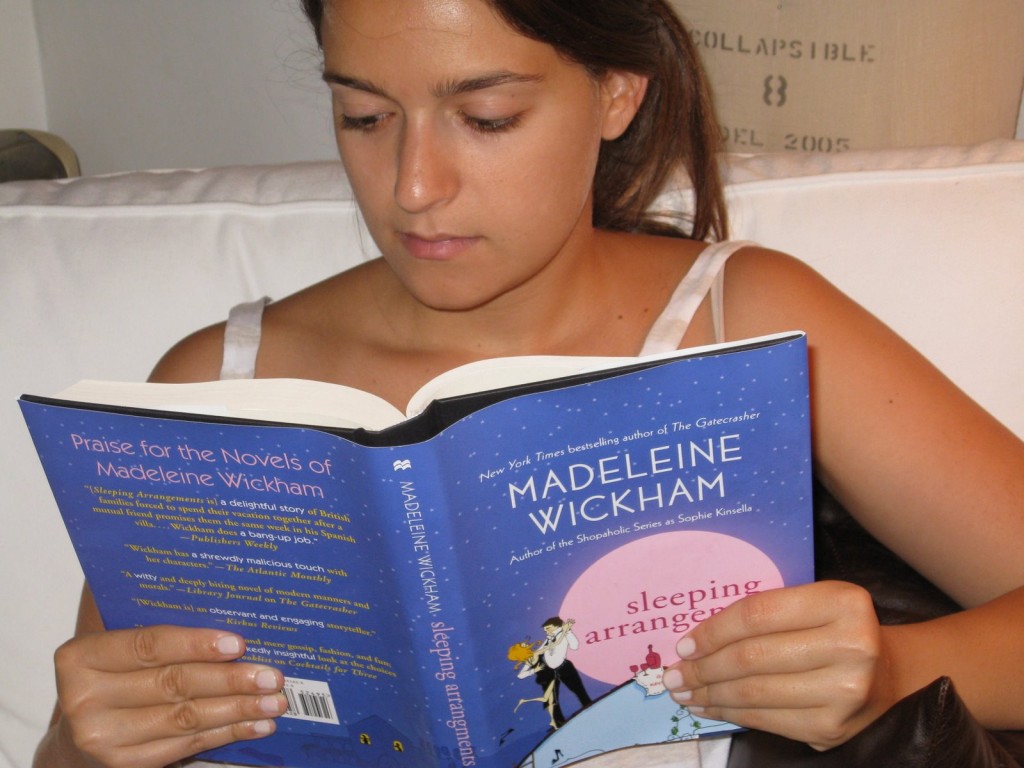 Last night I bought myself a hot, sizzling romantic novel—or, as close to one as I'll ever come. You wouldn't know it from the 90 degree New York heat, but summer's lease expires in just a few short weeks, and if you can't bring yourself to the beach, bring the beach-read to you. Or maybe it was just a weak attempt at recreating myself as a hot child in New York City.
Perhaps it's indicative that though I bought the novel to read last night, it sits next to me, unopened, and, now that I look at it, a bit pallid. It seems the cool onset of fall has crept into my life before the autumn cold fronts. You see, I've moved back to New York, leaving Mr. English across the Atlantic. I have no one with whom to steam up any windows. And, now, for my hot confession: I don't have an oven to steam up any vegetables either. I confess: my New York apartment does not have a working range! Since it was installed in the 1950s along with the lemon linoleum countertops, I can safely say that it has been resting in peace in this apartment for decades. Perhaps it left its sweetheart safely across the seas as well.
So, my oven and I mutually agreed, in our aggrieved states, that we weren't going to try to fake it for you this week. Now that we've exposed our raw underbellies, we're going to expose someone else's! Namely those of Timmy Tuna and Sammy Salmon. It's carpaccio and tartare week for us, Revolutionaires!
Since I'm being so brutally raw, I might as well also confess that, possibly like you, I have never attempted to make carpacchio or tartare before, but, tartare at least, is a very common, classic French bistro dish. According to legend, the dish is so called because the Tartar people, having no time to cook their steak, would leave it under their saddles as they rode to tenderize the meat. I just always figured that the Tartars were a bloody people. Either way, I have often witnessed the waiters at the Closerie de Lilas in Paris plunge their arms elbow-deep into a sacred countertop and emerge time and time again with the perfect steak tartare.
Personally, I prefer raw fish to raw steak, which I can find a bit gamey. My first dish is Tuna Carpaccio with Ratatouille Vinaigrette, inspired by a similar plate at the New York restaurant Artisanal. The second is inspired by my favorite outdoor café on the Île de la Cité in Paris, which serves a lemony salmon tartare, which I sit on a bed of cucumbers and avocado.
Never has raw been so well done.
And for those of you who like it hot, the new oven is on its way. Misery may love company, but I love food more!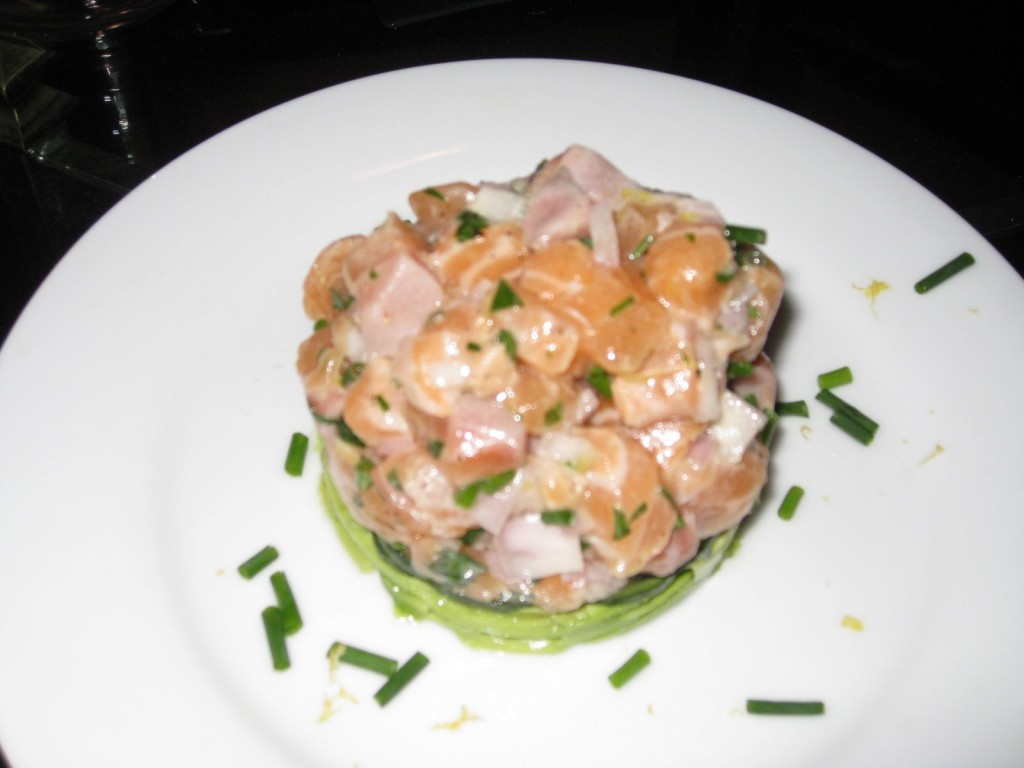 Salmon Tartare on Avocado
1/3 pound of raw salmon, cut into a ½-inch dice
1 tablespoon of very finely chopped shallot
½ tablespoon of parsley (or you could use dill), chopped finely
4 chives, snipped small
Pinch of lemon zest
1 tablespoon of light olive oil
½ tablespoon of lemon juice
Salt and pepper
¼ avocado, sliced paper thin on a mandolin
¼ small cucumber, sliced paper tin on a mandolin
Wedges of lemon
Place a ring mold on a plate, a build this little dish: avocado, then cucumber, and then the salmon tossed with all the other ingredients.
Serve with snipped chives and lemon zest on the plate, along with some wedges of lemon.
BON APP!
Tuna Carpaccio with Ratatouille Vinaigrette
serves 2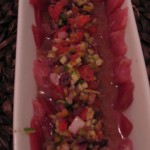 Ingredients


¼ pound of raw tuna, cut ¼-inch thick against the grain


2 tablespoons of very finely minced small tomatoes (like grape or cherry)


2 tablespoons of very finely minced picholine and niçoise olives


1 tablespoon of very finely minced zucchini


1 tablespoon of very finely minced shallot


½ tablespoon of very finely minced jalapeño pepper


½ clove of garlic, grated


2 tablespoons of light olive oil


1 tablespoon of sherry wine vinegar


Small squeeze of lemon juice


Salt and pepper


Procedure


Slice the tuna and lie the slices flat on a platter.


Mix everything else together, and spoon over the tuna.


print this recipe