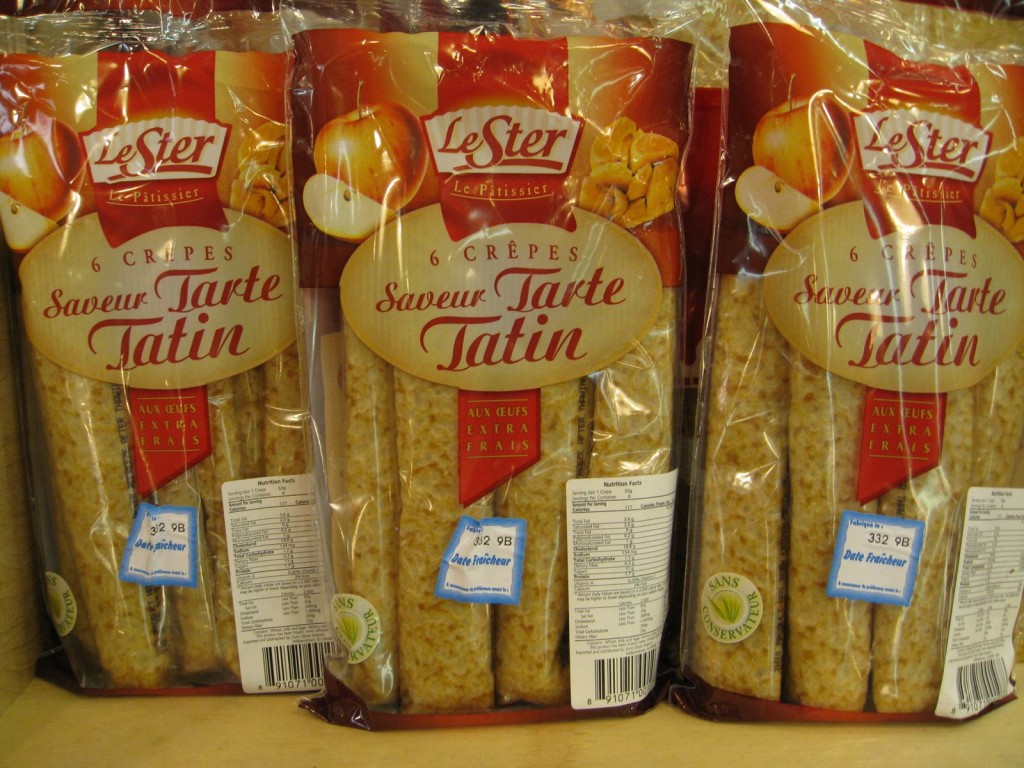 Summer is over! Back to the Revolution!
I suppose I do write a lot about crêpes, but I do hope you'll indulge my indulgence. You see, the most miraculous thing of all has happened, and it is my duty to spread the good news.
I will be spending the next months chez moi in New York, and against all my expectations or better judgment, I began to feel sad at the prospect of temporarily leaving England. Of course, Mr. English is to be greatly missed, but above all, what about all my lovely French ingredients, like cassis mustard and lardons and fromage frais that are impossible to get across "le lac"?!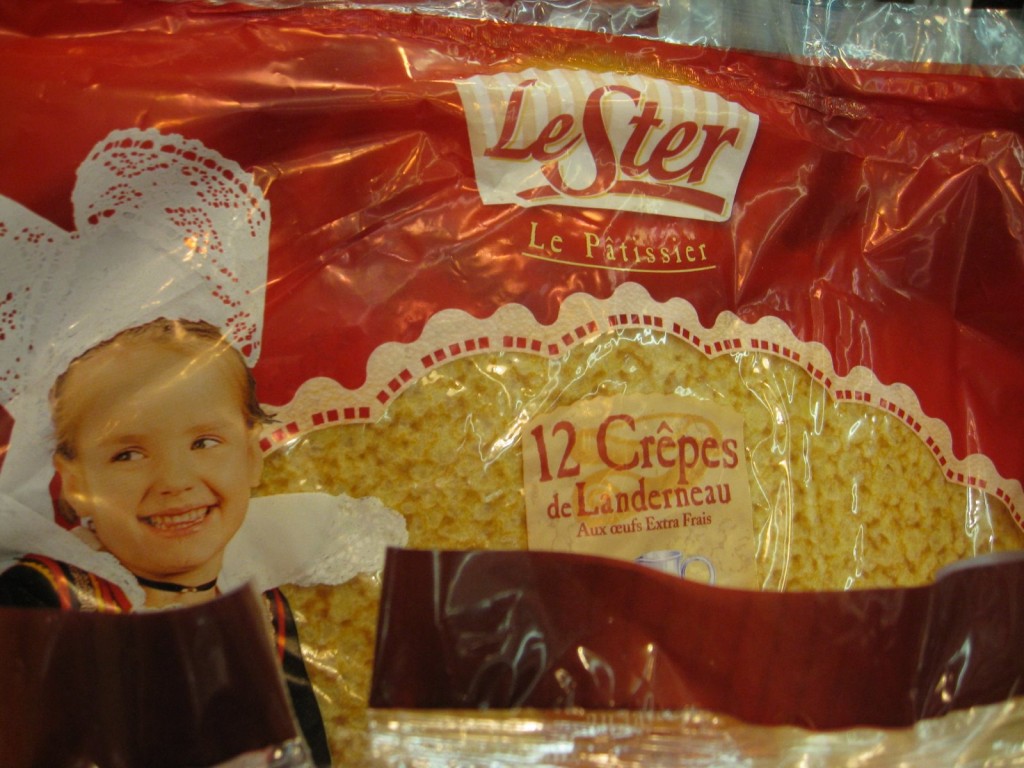 If France is my culinary Mecca, then I prepared myself for excommunication. And yet, I had a religious experience at Eli Zabar's The Vinegar Factory on the Upper East Side of Manhattan. I stood in line for the register, clutching my champagne grapes and Lorina and baguette, and there was the vision. I believe someone once saw the Virgin Mary in a pancake; well, I saw the pancake itself! "Holy Crêpe!" I exclaimed. There, before me, was a French relic of unknown value, but priced fairly reasonably at around seven dollars: LeSter imported Breton crêpes, vacuum sealed and thin as the pages of the King James Bible. And next to the plain crêpes, folded in half like gossamer, sweet doilies, were little prepackaged crêpe "cigars" that came in flavors: chocolate (by Whaou crêpes), tarte tatin (LeSter as well), and the advertised but unstocked tarte au citron. I took home a chocolate crêpe cigar, put it in the toaster so that the crêpe crisped and the chocolate oozed, and soon I was speaking in tongues—or at least, tasting the crêpe while chattering excitedly and incomprehensibly to Mr. English.
When I wrote Buckwheat Bronco, a post offering innovative approaches to crêpes, I wanted to tell you to use store-bought crêpes, but after a definitive sweep of Oxford, I found none. So, I had to develop a recipe for crêpe batter. But my advice on crêpes is as follows: they are a street food, so you should never feel trapped in the kitchen in order to eat one. And LeSter is just proof that French people don't like being crucified to the stove any more than we do. Either, use my batter recipe, and make them ahead—even a triple batch. Or, and I would say even better yet, buy Breton crêpes, and have them as I do: done simply as if from a Parisian rue-vendor, and eaten on the tip of the Ile de la Cite, surrounded by the Seine and the sparrows. Of course, Central Park and pigeons will do as well.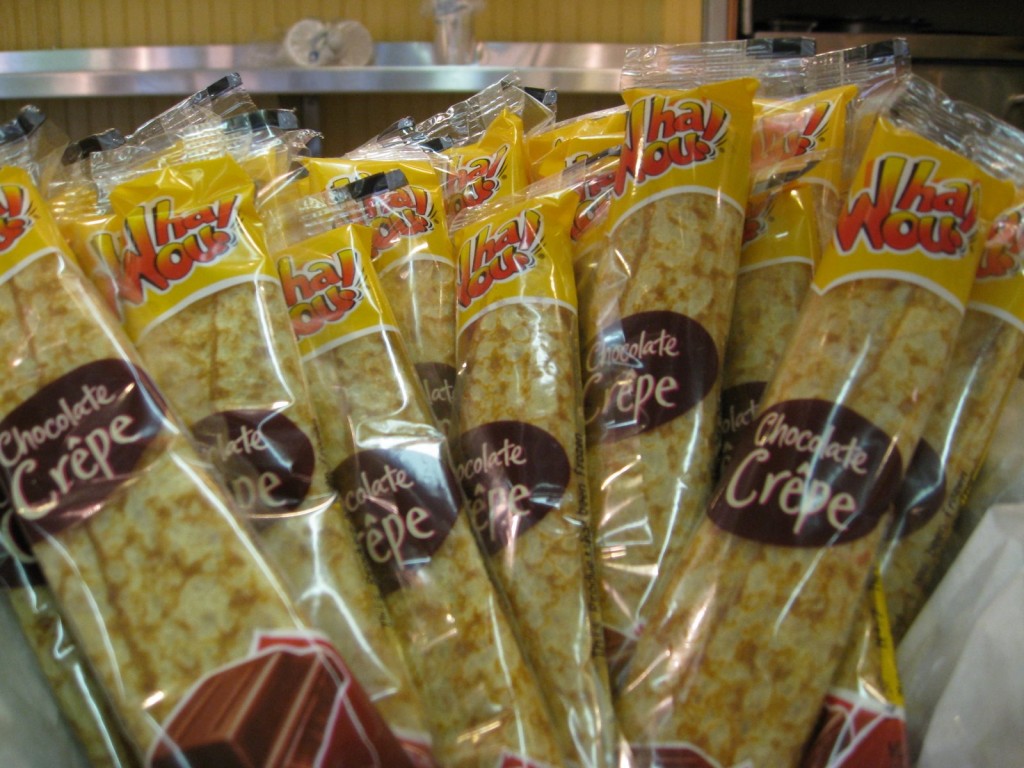 This week's recipes are simple reconstructions of the Parisian street crêpe, to be made strictly with prepurchased Breton pancakes!: my favorite, crêpe with gruyere; with chocolate; and lastly, the classic Parisian crêpe, with sugar and lemon. I also offer little extras to make these traditional recipes a bit more unique. These recipes really don't call for measurements. All you do is put the crêpe in a large, nonstick skillet over medium low heat, add so of the ingredients to one side of the crêpe, and fold away as they melt into it. Remember: triangular means sweet; rectangular means savory. Make them for breakfast, surely, but selon moi, they are the perfect midnight snack.
You can keep your daily bread. I'd rather be a little devil, with my holy crêpes.
Crêpes with Gruyere
For 1 large prepared Breton crêpe:
¼ cup of shredded gruyere cheese
Salt and pepper to taste
goutez avec: serrano or prosciutto ham
dijon mustard
freshly chopped herbs, like mint or thyme
Crêpes with Chocolate
For 1 large prepared Breton crêpe:
¼ cup of dark chocolate chips
goutez avec: bitter orange marmalade
dried, sweet coconut
fresh, tart raspberries and strawberries
Crêpes a la Parisian
For 1 large prepared Breton crêpe:
Several tablespoons of sugar
The juice of ¼ lemon (just squeeze over the crêpe as the sugar heats and melts)
goutez avec: lemon juice, lemon zest, and sugar
blood orange juice, zest, and sugar (lower the sugar content when using oranges)
fresh orange juice, sugar, and orange flower water
BON APP!