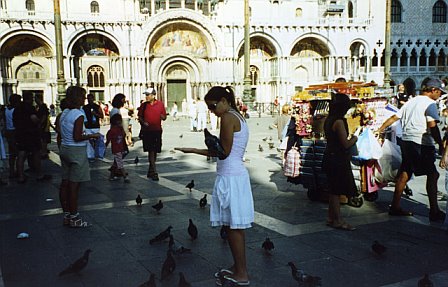 Many years ago, my father travelled to London—to the new Globe Theater. He came back with a gift; a beautiful Venetian glass pen, and a pot of obsidian ink—thick and black and enveloping of everything in its path. I know, because I spilled it.
Years later, after college, I travelled to Venice with my mother and M. Français, her longtime partner. We spent the day on the island of Murano, watching the Venetians roast the running glass in kilns, and pluck it into glowing glass quills. My old English pen was on my mind at dinner that nightpasta, fish, when my spaghetti arrived—it looked as though someone else had spilled a pot of black ink!
I am a writer and a cook, so really it was only a matter of time before I started cooking things with ink. Inevitable really. But, like so many of my generation, the idea of actually writing, or cooking for that matter, with real, wet, rich ink was something of an anachronistic novelty. But as for me, I like anything old fashioned—be it in a cocktail glass, or elsewhere—and so I decided to learn the ropes.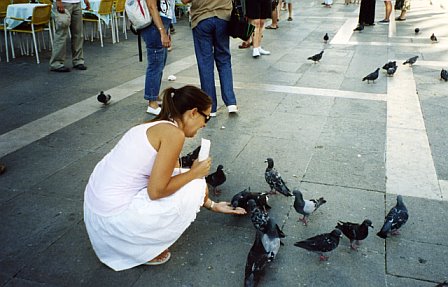 I searched relatively, but not too, hard for packets of squid ink. I found it at Citarella in New York City; it comes in little packets (8 ounces for $3). Though I am scared of the dark, I found I had nothing to be afraid of; it can be added to any dish like olive oil or salt, and it's not as powerful as it looks. Like Shakespeare's ink, it is thick and black and enveloping—so thick it is hard to get out of the packets, but fortunately, not so black that it didn't wash off my hands.
I tried those unstained hands at two dishes: Pâtes Chanel and Riz du Poete (The Poet's Rice). The first is inspired by that pasta dish in Venice, however mine is the chic French version of the little black dress (it is completely black), and made with dry French Chardonnay. The second is a bit Basques, a big pot of black saffron rice, studded with fresh green peas and meaty strips of squid. I love a salty bite—in my food, or my sentences.
And so I got down to eating my words…
Riz du Poete
1 10-ounce pack of yellow rice (recommended: Vigo)
3 sprigs of thyme
1 cup of frozen peas, thawed
1 roasted yellow pepper, peeled and sliced
½ pound of calamari, diced
1 small onion, finely chopped
1 clove of garlic (whole)
2 tablespoons of olive oil, plus 2 tablespoons
2 ½-3 ½ cups of water
¼ cup of white wine
8 ounces of squid ink
Salt and pepper
1. In a stock pot, sauté the onion, garlic, and thyme with salt and pepper.
2. After 5 minutes, when the onion is translucent, add the in the rice to toast for one minute.
3. Add the wine, allow to evaporate for just a minute, and add the water (2 ½ cups) and ink. Bring to a boil, cover, and reduce the heat to a simmer. You may need to add more water, so just check the rice. Cook for 30 minutes.
4. In the final 5 minutes of cooking time, add in the peas and calamari.
5. Garnish with 2 tablespoons of olive oil and the strips of roasted yellow pepper, along with a few green olives, if you like.
Pâtes Chanel
serves 4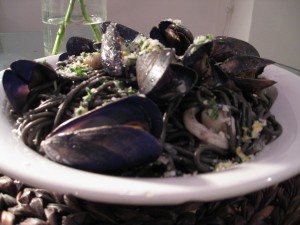 Ingredients


1.1 pounds of black spaghetti or linguine


½ pound of bay scallops


½ pound of calamari rings


1 pound of mussels


8 ounces of squid ink


2 shallots, chopped


2 cloves of garlic, sliced


½ cup of white wine


3 tablespoons of butter, cold and cubed


2 tablespoon of olive oil


1 tablespoon of parsley


1/4 cup of grated Parmesan


Salt and Pepper


Procedure


Cook the pasta according to package instructions, being sure to leave it "al dente."


Mean while, sauté the shallots and garlic in the olive oil for about 4 minutes.


When they are soft and translucent, add the scallops, calamari, and mussels, along with the wine and ink and salt and pepper. Cover and raise the heat to medium high for 4 or 5 minutes, until the mussels open.


Toss the pasta with the black seafood sauce and cold butter, and top with a mixture of Parmesan and parsley.


print this recipe