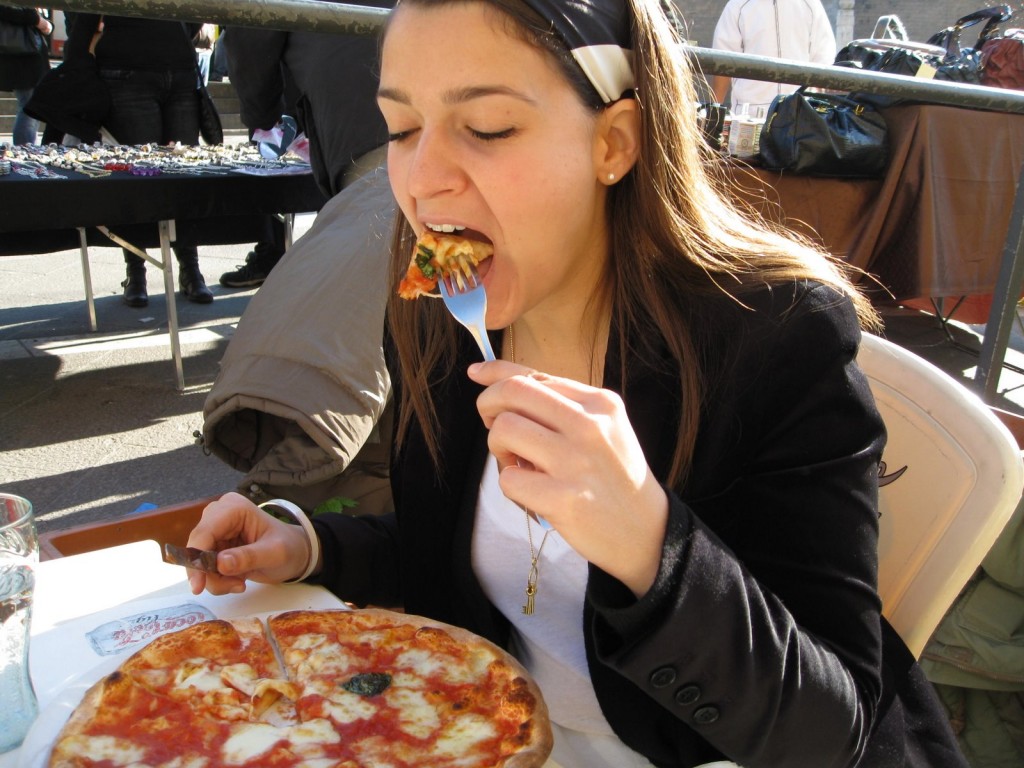 I do believe I have a split personality.
But don't worry, it's not schizophrenia. Nor is it my fault! The simple truth is that one half of me, my mom's half, is French. The other half, naturally my dad's, is New Yorker. Most of the time it works out much as it has in wartime politics. The French came to New York's aid, after all, in the Revolution, and New York bailed out France in World War II. Occasionally, true to the comparison, there is a schism and eventually an entente, and the majority of the time both my personalities go on living together in perfect harmony, the best of friends and greatest of allies, at peace.
But it's a piece of pizza that causes the greatest schism in my culinary duality. It seems my confusion began around the age of 7. Up until then, my father, who ordered in pizza for me every Saturday night, would mysteriously conceal my slice in the kitchen until he emerged with it, neatly segmented into about 15 perfect squares, which I would stab with my plastic fork and negotiate into mouth. However, when I began to eat for myself, being the Manhattanite that I am, my father taught me the habit of any true New Yorker: how to fold my glorious oozing slice over my finger, and then dip the crust in the grease that had escaped through the pizza ravine.
It was with this proud mindset that I travelled with my mother when I was fifteen years old, for the first time, to France. We landed in Cannes starving and cranky as the New Yorkers assume the French always to be. What to eat? Pizza it was. My Pizza Margherita arrived, but suddenly, I reversed back to my young self. I was presented with a whole pizza, uncut, and I had no idea how to eat it, nor did my father miraculously slice it away into 15 perfect little squares. I shrugged, and promptly took my knife to the pie, separating the round into 4 perfect triangles, one of which I then folded over my finger and lifted into my mouth. The man at the next dropped his knife and his jaw and stared positively appalled. I returned my slice to the plate and proceeded to saw at it with my butter knife until it was cold and I was miserable.
The reality is, pizza is very common in France. Ironically, the "American" variety tumbles everything we would never eat on pizza, like sweet corn and hard boiled eggs, onto one unfortunate but gaudy pie. The Margherita, however, always comes with fresh basil leaves, and a little nest of niçoise olives at the center. In every circumstance, it is eaten with a fork. I have now learned to judge my European pizza establishments not only by the quality of their crust, cheese, and sauce, but by the quality of knife they serve alongside them.
This Pizza Marrianne is my chapeau to that first French pizza I tackled in Cannes. While the Margherita famously incorporates the colors of the Italian flag, Marrianne, named for the lady of the Revolution, uses opal basil, an indigo variety, to capture the colors of the French flag, along with the très français ingredients of goat cheese, herbes de Provence, and the requisite niçoise olives.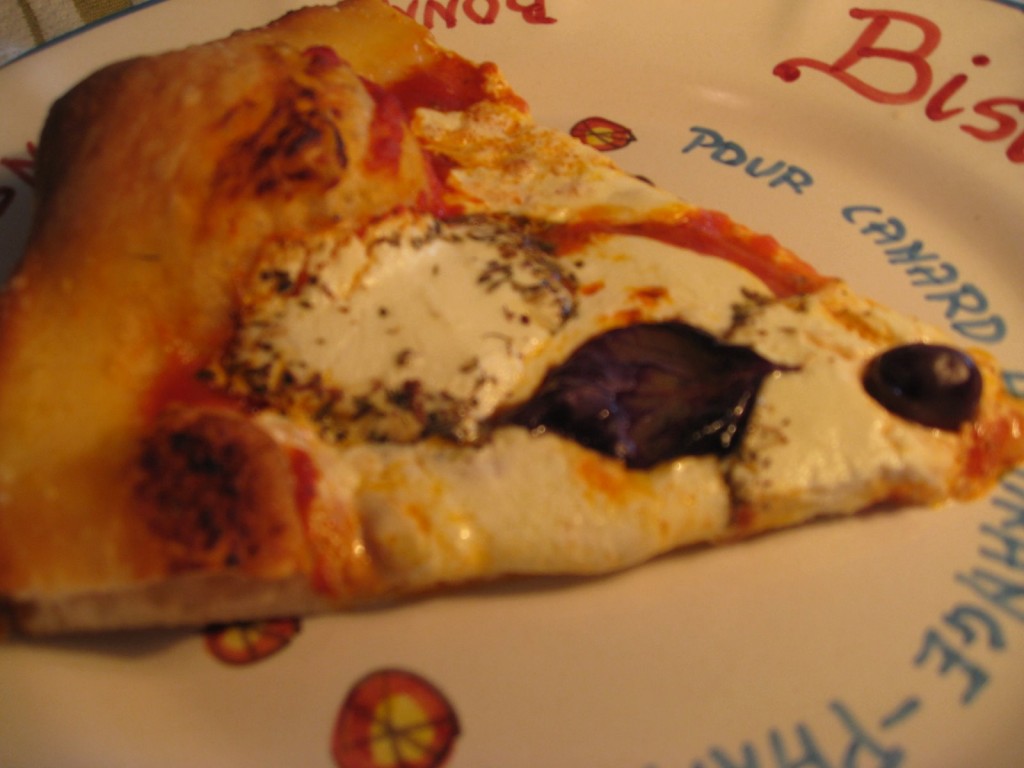 France may have many things. It may have fraternité, and perhaps egalité, but certainly not the liberté to eat your pizza as you see fit. So, to New York for teaching me the love, and Cannes for teaching me the manners. Merci bien à vous deux…
Bon app!
From Serious Eats: Pizza with a Knife & Fork?
Pizza Marianne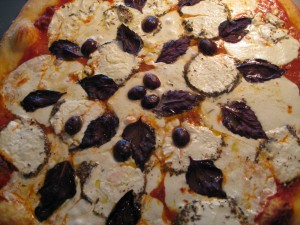 Ingredients


1 ball of bought pizza dough, enough "for a 12-inch pie"


¾ cup of marinara sauce


10-12 ounces of fresh mozzarella, patted dry, and thinly sliced


4 ounces of fresh goat cheese


1 tablespoon of Herbes de Provence


1 tablespoon plus 1 teaspoon of olive oil


16 opal or purple basil leaves


9 Niçoise olives


Salt and pepper


Procedure


Preheat the oven to 450 degrees F.


Roll out the dough into a 15-inch round, using bench flour as needed. Place onto a baking sheet.


Brush the dough with 1 tablespoon of olive oil. Season with salt and pepper.


Ladle the sauce into the center of the dough, and spread outward, leaving a 1-inch border as crust.


Arrange the mozzarella slices all over the pizza.


Roll the goat cheese so that the outside is coated in herbes de provence. Slice into thin discs, and arrange in the gaps in the mozzarella.


Arrange the basil leaves in 2 concentric circles around the pizza. Stud with the olives, placing 3 at the center.


Drizzle 1 teaspoon of olive oil all over the pizza.


Bake for 15 minutes, turning it up to broil for the 16th.


print this recipe