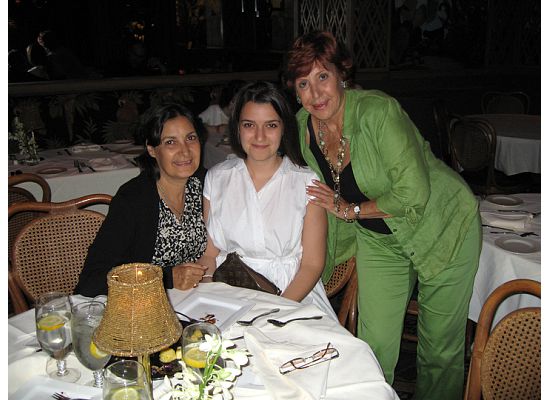 Volkswagen tells us: On the road of life, there are passengers and there are drivers. And yes, some drivers are wanted: wanted for rear-ending me in the parking lot! As my VW Jetta whispered to me on Friday, some drivers are just…merde.
It happened like this: I was home in Florida for a few days, and had been having lunch with Mémé (that's my French-Moroccan grandmother). Of course, this was a food-related incident. I backed up; Driver X backed up. I honked…and honked and honked; Driver X didn't hear. The inevitable BANG! Mémé came running. I jumped out of my car; "Didn't you hear me?!" "No." As the Jetta was the only vehicle damaged, I got stuck with the damages. As maman says: merde happens.
Admittedly, I sat for thirty minutes sobbing with the Jetta in the parking lot; hot tears releasing the steam of boiling injustice. When I got back on the road again, at a red light, I saw an SUV jet backwards into the car behind it, awaiting the green light right beside me. That got me thinking about the wheel of fortune. You can honk all you like, but it won't always hit the brakes. Maybe it just didn't hear you, or maybe you've just got it coming to you. Sometimes you hit the jackpot, and sometimes you go bankrupt. But so long as Vanna White's nearby (or at least one of her more expensive dresses, so I can consign it for a Lanvin party dress), the road of life doesn't have too many potholes after all.
When I got home, as you can imagine, I replaced the steaming injustice with water, and boiled a pot of one of my favorite comfort foods: Pâtes au Roquefort. It is a dish common to Parisian lunch menus; short pasta with a creamy sauce of piquant Roquefort blue cheese. In a turn of poetic justice, the only pasta I had in the house where wheels—I had been writing a story on the new Barilla shapes for SeriousEats. Maybe my collision was the perfect excuse to give you a crash course in bechamel: always keep this formula in mind–1 tablespoon of flour, 1 tablespoon of butter, 1 cup of milk. You can double or triple as you like. I top a huge bowl of my Pâtes au Roquefort with a mixture of chopped toasted walnuts, fresh parsley, and Parmesan cheese to make it me.
The next day, I got the first parking spot in the row at Whole Foods. Looks like the wheel is spinning back my way…
The Wheel of Fortune was featured on SeriousEats.com's Blogwatch!
Wagon Wheels with Sauce Roquefort
serves 4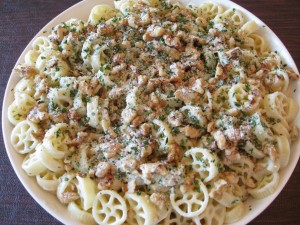 Ingredients


1 pound of wagon wheel pasta (recommended: Barilla Mini Wheels)


2 tablespoons of butter


2 tablespoons of flour


2 cloves of garlic, smashed and left whole


Zest of half a lemon


⅓ pound of Roquefort, crumbled


2 cups of whole milk


⅔ cup chopped walnuts, toasted


⅓ cup parmesan, grated


1 ½ tablespoons of parsley


Procedure


Cook the pasta to "al dente" in a large pot full of salted boiling water. Drain.


While the pasta is cooking, begin with a standard béchamel with garlic and lemon. Melt the butter at the bottom of a sauce pan over medium heat, and add in the whole smashed garlic cloves and the lemon zest, along with salt and pepper. Season well—milk sauces have a tendency to be bland.


Add in the flour, and cook for a minute. Whisk in the milk, raise the heat, and bring to a simmer.


Allow the sauce to cook until it thickens. The test is to dip a wooden spoon in the sauce, run your finger down the back, and if the sauce stays divided, the béchamel is done.


Add in the Roquefort, and stir until it is combined.


Toss the drained pasta with the Roquefort sauce, and pour into a large serving bowl.


Mix together the parmesan, walnuts, and parsley. Scatter over the top of the pasta.


print this recipe