Today, if we do our duty, we will stand in line at the polls and pronounce ourselves one of two things: Democrat, or Republican. Blue, or Red. And though we declare our differences, let us remember that blue and red, though in opposition today, both color our nation's flag and define what, above all, we truly are: American. This galette, a French free-form tart, is my way of reaching across the aisle and across the table. It starts with the bluest blueberries and reddest strawberries, but after a while in the oven, the juices run together and become a delicious and delirious amalgamation of purple. Let us be red strawberries or blue blueberries today, but by tonight, I hope we can come together as purple pie filling and give our beloved country a future as sweet as this American pie.
United We Stand: VOTE!
Bon app, to all!
Bipartisan Blueberry and Strawberry Galette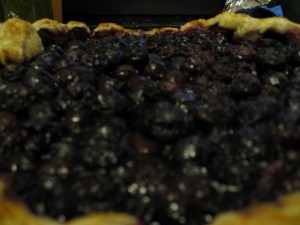 Ingredients


1 bag of frozen strawberries, drained


1 bag of frozen blueberries, drained


Sugar


Lemon juice


Flour


1 cold prepared piecrust


Procedure
What obsesses me about galettes are how inexact I always am with them, and how perfectly they come out. Therefore, this is not going to be a recipe, but just a set of instructions. Start by heating your oven to 425 degrees. Roll out the pie crust a little, using bench flour if necessary. Transfer to a baking sheet. In a bowl, mix together the thawed and drained berries, a tablespoon or 2 of sugar, and 2 or 3 tablespoons of flour, along with a slight squeeze of lemon juice. Mix to combine, and spoon the mixture into the center of the pie crust, spreading it out, but leaving about a 1 1/2 to 2 inch border. Tuck one edge of the pie crust just over the berry filling, and then continue pleating the crust around the filling until there is a tucked crust at the edges and an exposed berry center. Bake until the crust is golden and the filling is purple and bubbly and oozing.
Let cool for a few minutes, and then serve a la mode with all-American vanilla ice cream (there is white in the American flag too!). Eat with Republicans and Democrats alike.
print this recipe