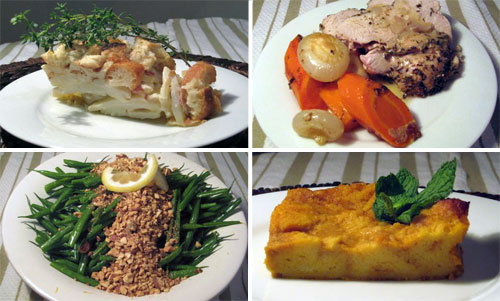 Scroll down for recipes that say Thanksgiving with a French accent: Provencal Turkey Roast with Riesling, Potato Gratin and Baguette Stuffing Tart, Thoroughly Modern Haricots Verts Amandine, and Pumpkin Brioche Bread Pudding. These recipes come from my SeriousEats.com article Thanksgiving with a French Accent.
By the looks of my family's Thanksgiving, it is easily believed that the Pilgrims were French women dressed in hourglass imitation Diors and swaddled in not-imitation furs—or at least, that's how my grandmother looks in the portrait I have of her on the deck of her ocean liner as she entered New York harbor for the first time with a young, unrecognizable version of my mother in bangs in tow. The Indians were mostly the greengrocers on the corner near their new Queens apartment.
I am not sure when they took up the Thanksgiving sport, but when I was young our Thanksgiving dinner on 68th Street in Manhattan bore so little resemblance to Plymouth that no one thought it amiss that I ate hotdogs and thought stuffing positively repugnant. Soggy bread? Ew, I decided. They gave me cornbread at school—I spat it indiscreetly and resolutely into my napkin. So dry it turned my tongue into a dessicated sponge. As M. le Norman puts it (my mother's Normandy-hailing boyfriend of many years): "Maize existe seulement pour les cochons!" Yes, corn exists exclusively for pigs.
But then I tried pumpkin pie. Maybe American food wasn't so bad after all! My family regarded the fairytale gourd with curiosity, and then dismissal. No, absolutely not, it's unnatural, they swore. To them, the evil face of Jack-O-Lantern stared through every ridged orange façade. But the pie was so good! Eventually, I talked myself into turkey. And by the time I was eighteen, I ate cornbread. Stuffing didn't come until my early twenties, but then at last my Thanksgiving meal was complete after all.
Despite the quirky picture they painted, every year, my family consistently gathered for Thanksgiving, and as I was the lone American in the group, it was always at our house. It was as though they were all woman, and I was the sole man on the dancefloor. They waited for me to take the lead, and so I made the meal. I always dreamed up French versions of all the traditionals. I usually make Herbes de Provence-roasted turkey instead of plain, haricots verts amandine and pomegranate braised wild mushrooms instead of green bean and cream of mushroom soup casserole, potatoes au gratin instead of mashed potatoes, and a granita made from Norman apple cider instead of apple pie. I did a menu called Thanksgiving with a French Accent for SeriousEats.com this year, and I wrote there that I do that because my family celebrates a different kind of Thanksgiving. No, we weren't at Plymouth, and don't have the Indians to thank for our survival. Mémé had her fur coat and didn't arrive here freezing and riddled with scurvy. No, she would never have tolerated that—scurvy ruins the complexion! Our Thanksgiving is a time to say "Merci aux Etats-Unis": for good fortune, for opportunity, for freedom, for acceptance, for a bite out of the American dream, and a slice of that pumpkin-flavored American pie. And so every year, remembering where we came from, and where we happily are now, we say "Thank You" with a French accent. A "Merci" to New York and to America. Merci bien.
My recipes this year are a quick and simple French Thanksgiving for six. The turkey is a boneless turkey breast roast that pays homage to the far-flung regions of France. It is braised in stock spiked with Alsatian Riesling. It is crusted with the mustard of Dijon. It is rubbed with the garlic and Herbes de Provence and olive oil of the south, and the caramelized shallot gravy makes something of a Provençal pissaladiere of the turkey breast. Our traditional potatoes au gratin get a makeover based on a tart I made at the Escoffier school at the Ritz in Paris. The cream-boiled potatoes are laid in a tart crust, and covered with my version of stuffing: baguette soaked in the herby cream of the potatoes, and baked to a crust. These haricots verts amandine are a thoroughly modern take on the classic, coating the crisp green beans with almond crumbs and lemon zest. A respite from the heavy rest of the meal. And for dessert—something decadent, but still tolerably French enough for my relatives: pumpkin brioche bread pudding. Happy Thanksgiving, my fellow, Americans, and comme toujours…BON APP!
For the eloquent complete versions of these recipes, please follow the links provided to SeriousEats. The main menu begins HERE.
Provençal Turkey Roast with Riesling
1 4- to 4 1/2-pound pound turkey breast roast, without bones, tied by your butcher
2 tablespoons of Herbes de Provence
8 sage leaves
1 sprig of fresh rosemary
2 sprigs of fresh thyme
1 tablespoon of Dijon mustard
Salt and pepper
3 tablespoons of olive oil, plus 1 tablespoon
2 cloves of garlic, minced
4 carrots, sliced on a bias into chunks
10 cipollini onions, peeled
1 cup of low-sodium chicken stock
1 cup of dry Riesling wine
2 tablespoons of butter
3 shallots, finely chopped
2 tablespoons of flour
Preheat the oven to 350 degrees.
Set the turkey breast roast in a roasting pan and make the rub by mixing together the Herbes de Provence, chopped fresh sage, rosemary, and thyme, Dijon mustard, salt and pepper, 3 tablespoons of olive oil, and garlic. Use your hands to pack the herb paste on the meat, and rub it all over the roast.
Toss the chunks of carrots and cipollini onions with 1 tablespoon of olive oil and salt and pepper. Scatter in the roasting pan on either side of the turkey.
Pour the stock and Riesling into the bottom of the roasting pan around the turkey. Roast for 2 hours, basting occasionally.
To make a quick gravy while the turkey rests, melt the butter in a saucepan, add the shallots, and sauté for 5 minutes until they are translucent. Add the flour and cook for 1 minute more. Pour in the roasting sauce and turkey juices, and whisk until thickened—about 3 or 4 more minutes.
Cut the string off the turkey, and slice the roast. Serve with the roasted vegetables alongside and gravy on top.
Potato Gratin and Baguette Stuffing Tart
1 premade pie crust
5 large boiler potatoes, peeled and thinly sliced
3 cups of half and half
2 bay leaves
2 sprigs of thyme
A pinch of freshly ground nutmeg
Salt and pepper
2 onions, thinly sliced
2 tablespoons of butter, plus a bit extra
½ baguette, cut into a ½-inch dice
1 slice of prosciutto, chopped
Preheat the oven to 350 degrees.
Roll out the cold pie crust so that it fits into a 10-inch pie crust. Cover the bottom with dry beans and bake for about 18 minutes, until the crust is ¾ of the way cooked. Put to the side.
Meanwhile, add the potatoes, half and half, bay leaves, thyme, and nutmeg, along with a good amount of salt and pepper, to a saucepot. Bring to a low simmer, and simmer, mostly covered, for 20 minutes, until the potatoes are tender. Drain the potatoes, but reserve the cooking cream. Discard the bay leaves and thyme stems.
Sauté the onions for 15 minutes in 2 tablespoons of butter, so that they soften, but do not take on color. Season with salt and pepper.
Spread the onions on the bottom of the pie crust. Follow with the potatoes, and then the prosciutto. Pour ½ cup of the reserved cooking cream over the potatoes.
Pour enough of the reserved cooking cream over the baguette cubes to saturate (most of the liquid). Allow them to soak up the liquid, then, using your hands (this will be messy!), lift them out, allowing the excess to drip off, but allowing them also to retain the moisture they have absorbed. Place a layer of baguette over the potato tart. Top with a few dabs of bottom to facilitate the browning of the tart.
Bake for 35 minutes, until the top of the baguettes are crisp, and the pie crust is golden. Serve in wedges.
Thoroughly Modern Haricots Verts Amandine
1 1/2 pounds of haricot verts, trimmed
2 tablespoons of cold unsalted butter, cubed
Zest of 1 lemon
3/4 cup of toasted almonds, pulsed in the food processor until they look like chunky almond crumbs
To toast your almonds, scatter them on a rimmed baking sheet and roast in a 325 degree oven for 10 minutes. Let them cool before chopping the food processor.
Bring a large pot of water to a boil, and salt it.
Drop the haricots verts into the water for 3 to 4 minutes—just until they are no longer raw.
Meanwhile, cut the 2 tablespoons of cold butter into little chunks and place them at the bottom of a large mixing bowl.
Drain the haricots verts and immediately toss with the butter, and the zest of the lemon, plus salt and pepper to taste. The heat from the haricots verts should just melt the butter.
Place into a serving bowl, and scatter the toasted almonds crumbs over the top.
Pumpkin Brioche Bread Pudding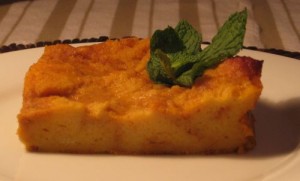 Ingredients


2/3 cup milk


1 1/3 cups cream


4 eggs


1 teaspoon of vanilla extract


1 teaspoon of pumpkin pie spice


1 ¼ cups pumpkin puree (from a can)


1 11-ounce loaf of brioche, with most of the crust cut off, cut into 1-inch cubes


Procedure


In a large bowl, beat together the eggs, and add in the sugar, and beat to incorporate. Add the milk, cream, vanilla, pumpkin pie spice, and pumpkin, and whisk to combine.


Tumble in the cubes of brioche, and allow to sit for 30-40 minutes, until most of the custard has been absorbed.


Bake in a buttered casserole dish in a 350-degree oven for 45 minutes. Serve with powdered sugar and vanilla ice cream.


print this recipe