Get the whole story at Serious Eats.
Smoked Salmon and Potato Chip Canapés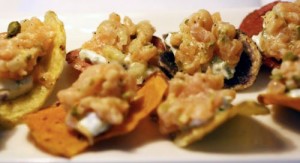 INGREDIENTS


6 ounces smoked salmon, cut into a very small dice


1 shallot, minced


2 tablespoons light olive oil


1 teaspoon Dijon mustard


2 teaspoons capers, chopped


Zest of 1/2 lemon


3 tablespoons lemon juice (almost 1 whole lemon)


Freshly ground black pepper


40 chives, snipped


2 tablespoons parsley, chopped


1/2 cup fromage blanc


1 5-ounce bag of gourmet potato chips (recommended: Terra Potpourri)


Poppy seeds, as an optional garnish


Procedure
Combined the salmon, shallot, olive oil, mustard, capers, lemon zest and juice, and pepper in a small bowl. 


In another small bowl, combine the fromage blanc, parsley, and chives.
Arrange the chips on a platter, and spoon a small amount of herbed fromage blanc on each chip. Arrange a small amount of smoked salmon tartare on top, and serve with, if you like, a touch of poppy seeds sprinkled on top.
print this recipe