Get the whole story at Serious Eats.
Challah Pain Perdu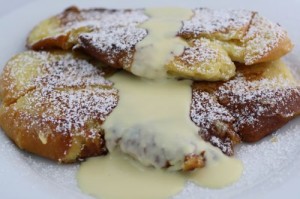 Ingredients
Ingredient list to come
Procedure
Begin by making the crème anglaise. Heat the half and half in a saucepot over medium heat.
Meanwhile, beat the egg yolks and sugar with a hand mixer until they are light and pale in color.
Very slowly stream the hot half and half, while mixing, into the sugar-yolk mixture.
Return the mixture to the saucepot and heat over medium heat. Add the vanilla. Stir constantly with a wooden spoon until the crème anglaise coats is thick and coats the back of the spoons. Pass through a strainer so that any bits of egg that have scrambled will be removed. Allow to cool only slightly while you assemble the pain perdu.
Whisk together the half and half, sugar, honey, and eggs. In a large nonstick sauté pan over medium-low heat, melt 1 tablespoons of butter. Press the challah, one piece at a time, into the custard, flipping once, so the bread has a chance to soak it up, but not to become overly saturated. Sauté the custard-soaked bread about 4-5 minutes per side, or until golden, in batches, using more butter as necessary.
Dust powdered sugar over the top of the pain perdu. Serve with the crème anglaise.
print this recipe