From what I understand, human beings are seventy percent water. Perhaps that is where the expression "eau de vie" comes from: water of life. But, as most girls would agree, if I could pull a great switcheroo, I would. I would trade water, for chocolate.
If I were seventy percent chocolate, I would never have a care in the world. PMS would no longer exist. Absolutely everyone would love me, crave me, find themselves inexplicably drawn to me. Heroin would have nothing on me; I would be the subject of the entire world's addiction. I have a feeling I would go very far in my vie, if my eau de vie were chocolat.
But I suppose there are certain risks involved that must be considered. For example, my Framboise-Framboise Brownies are ninety-five percent chocolate, and they never made it very far at all. In fact, they never made it past the plate, and they only stayed there a matter of a few excruciating hours of longing. If I were going to trade my water for chocolate, I would have to make very sure that my chocolate were not dark cocoa fudge studded with chips of white chocolate.
And I would have to be very careful never to wear pink. For my Framboise-Framboise Brownies are enrobed in a frosting of fresh-bitten raspberries. They are also spiked with real eau de vie: Framboise, raspberry brandy. They were dangerously irresistible, and, well, I require the freedom of choice, which the poor little dears never had.
No, trading water for chocolate, exchanging the eau de ma vie, is too dangerous. For you see, there are no brownies left! I am irresistible to Mr. English, and I suppose that will have to be enough.
So, I'll just keep my eau de vie, and enhance it with a bit of eau de parfum. Now, if you'll excuse me, I have to go lick the bowl from my next batch of Framboise-Framboise Brownies.
BON APP!
Framboise-Framboise Brownies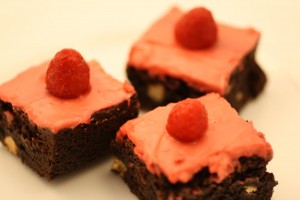 Ingredients


1 box Duncan Hines brownie mix


2 eggs


¼ cup vegetable oil


½ cup water


1 cup white chocolate chips


2 tablespoons of Framboise


1 ½ cups confectioners' sugar


1 cup of frozen raspberries, which will yield 3 tablespoons of juice, thawed


1 teaspoon pure vanilla extract


1 tablespoon unsalted butter, at room temperature


Procedure


Preheat the oven to 350°F.


Spray an 8x8 brownie pan with nonstick cooking spray


In a large bowl, combine the brownie mix, eggs, oil, water, white chocolate chips, and Framboise. Mix until just combined. Pour into the greased brownie pan.


Bake for 40-45 minutes. Insert a toothpick—it should come out clean.


Leave the brownies to cool in the pan, and when they set and only slightly warm, remove them to a cooling rack to complete the process.


Meanwhile, make the raspberry glaze. Place the thawed raspberries in the blender, and purée completely. Pass through a fine sieve—the berries should yield 3 tablespoons of ruby red juice. Be sure to measure the juice, and not just the berries, and the texture of the glaze depends on it.


Combine the raspberry juice, butter, vanilla, and confectioners' sugar. Spread evenly on top of the completely cool brownies. Allow to set for 15 minutes.


Cut into little squares and try not to eat them all at once!


print this recipe