Amaretti Cupcake Bites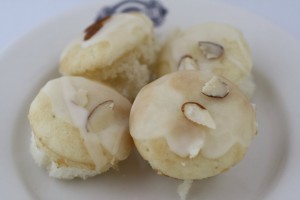 Ingredients


1 box Duncan Hines white cake mix


1 cup water


1/3 cup milk


2 tablespoons vegetable oil


2 tablespoons almond extract


1 ½ cups powdered sugar


3 tablespoons Amaretto


2 tablespoons water


Sliced almonds, for garnish


PROCEDURE
Preheat the oven to 350 degrees.
In a mini muffin pan, place mini cupcake papers, and then spray each with nonstick cooking spray.
In a large bowl, mix together the cake mix, 1 cup water, milk, vegetable oil, and almond extract until it just comes together as a batter. Spoon the batter ¾ of the way up each muffin tin. Bake for 22 minutes. You will need two muffin tins, or to do two batches.
Remove the cupcakes from the tins, and peel off the papers, allowing them then to cool completely.
Put the glaze together by adding the Amaretto and the 2 tablespoons water to the powdered sugar, and mixing until it forms a thick but runny glaze. Spoon over the top of the cool cupcakes, and allow it to run down the sides. Place a few sliced almonds on top of each cupcake for garnish.
print this recipe