This year, my New Year's resolution is to cheat. I want to be a scoundrel; a low-down, good-for-nothing. Not in the bedroom of course, but in the kitchen.
Tonight I am invited to a friend's big New Year's bash. And she would like me to bring dessert. Immediately, being who I am, I start the tick tock of machinery in my head. Flavored brownie bites, like my Framboise-Framboise Brownies, and maybe Amaretti Cupcakes. My friend said everything should be bite-size.
Mr. English and my mother warn me not to put myself out. You want to enjoy the holiday, too, you know, and the Florida sun. My mother turns to me and says, "You know, Costco makes brownie bites." The box houses 48 little two-bites of perfection, with crisp edges, and a molten center you could just about jump into and live in without missing the rest of the world.
"Costco!?" I turn, flaming with fury. "I would never!" Wouldn't I? Mr. English challenges me to a game of petanque; the sun is shining, and a cool breeze is coming off the ocean. The kitchen begins to feel like a jail. I could make the glaze for the brownies, and no one would ever be the wiser. And for the Amaretti Cupcakes, well, I could use a Duncan Hines mix.
And, friends, that is exactly what I did. I made two glazes for the brownie bites–one made from fresh raspberries, and one from creme de menthe. After I topped them with fresh raspberries and mint leaves and the glazes hardened, they looked ready for glossy magazine shots. As for the Amaretti Cupcakes, I spiked the cakemix with almond extract, and made a glaze from Amaretto. A few slivers of almond on top, and they are ready for the party.
I am dirty rotten. A cheater, to the core. And I couldn't be more proud.
BON APP, et BONNE ANNEE!
Brownie Bites, à la Framboise, et à la Menthe
makes 48 brownie bites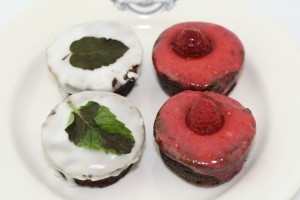 Ingredients for the Framboise Brownie Glaze


1 ¼ cups powdered sugar


1 cup frozen raspberries, thoroughly thawed


2 tablespoons water


24 raspberries, for garnish


Ingredients for the Menthe Brownie Glaze


1 ¼ cups powdered sugar


3 tablespoons crème de menthe


1 tablespoon peppermint extract


2 tablespoons water


24 mint leaves, for garnish


Other Ingredients
Procedure


In two separate bowls, combine the glaze ingredients for each flavor. For the raspberry glaze, put the thawed raspberries into a blender, and whirl until smooth. Pass the mixture through a sieve to catch any seeds. Add the resulting juice to the powdered sugar, along with the water. You'll want to read the consistency of the glaze before adding the water—add until it is smooth and thick, but also runny enough to spread.


For the mint glaze, mix the powdered sugar with crème de menthe (you can use white or green), peppermint extract, and water.


When you dip the brownie bites, don't put them in face down, and lift straight up, or you will form an air pocket that will mar the façade of the glaze. Instead, put them in the glaze face down, holding onto their bodies, and then pull out at an angle, allowing excess glaze to run off. Top with a fresh mint leaf or raspberry. Allow them to set before eating.


print this recipe