Get the whole story at Serious Eats.
Green Penne with Basil-Spinach Pistou, Roasted Cherry Tomatoes, and Fillet
serves 4 to 6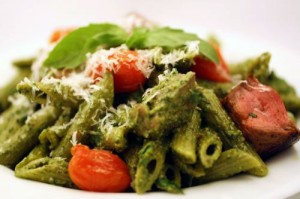 Ingredients


1 pint of cherry tomatoes


3/4 pound of beef filet


1 pound of spinach penne rigate


2 cups of baby spinach, plus 1 cup, packed


1 cup of basil, packed


1 clove of garlic


1/2 cup of toasted pine nuts


1/2 cup of olive oil, plus 2 tablespoons, separated


2 tablespoons heavy cream


Pecorino Romano to taste


Procedure
Preheat the oven to 425°F and bring a large pot of water to boil.
Toss the tomatoes on a baking sheet with 1 tablespoon of olive oil, salt, and pepper. Roast for 20 minutes at 425°F.
Season the filet with salt and pepper, liberally, on both sides. Heat a sauté pan on high until it is very hot, quickly add 1 tablespoon of olive oil, and sear the steak, 6 minutes on each side. Put it aside to rest.
When the water is boiling, salt the water, and cook the green penne to al dente.
Meanwhile, make the pesto. Put the 1 cup of basil, 2 cups of spinach, pine nuts, garlic, salt, and pepper into the food processor and pulse to break it down. Run the machine, and stream in 1/2 cup of olive oil.
Slice the steak into 1-inch cubes. Julienne 1 cup of spinach. Put the tomatoes, steak, spinach, pesto, and cream in the bottom of large bowl. Drain the pasta from the water, and toss, adding a couple of spoonfuls of pasta water if the sauce needs thinning.
Grate Pecorino Romano down over the top of the hot pasta.
print this recipe