Get the whole story at Serious Eats.
White Chocolate Bark with Fresh Mint, Almonds, and Dried Berries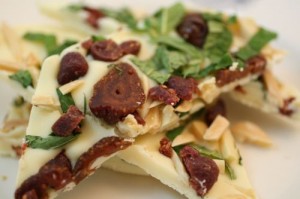 Ingredients


8 ounces of good white chocolate, chopped up


15 fresh mint leaves, chiffonade


20 dried raspberries


6 dried strawberries


1/4 cup toasted slivered almonds


Procedure
Set up a double boiler, being sure that the bottom of the bowl does not touch the simmering water in the pot beneath. Add the chopped white chocolate to the bowl.


While the chocolate is melting, chiffonade the mint, and chop the dried berries. You want all the ingredients to be about the same size and shape as the almond slivers.
Pour the melted chocolate onto parchment, and sprinkle the toppings on the chocolate, pressing lightly to set them.
Refrigerate the chocolate for two hours, then invert the hard block onto a cutting board, and peel off the wax paper. Turn it around again so the toppings face up, and use a knife to cut the bark into shards.
print this recipe