If life is like a box of chocolates, then you're bound to run into some days that you'd rather just spit back out into their wrappers.
Unfortunately, days are bigger than chocolates, and instead of you swallowing them, they seem to swallow you. Whole. Today is one of those days. Mr. English returned home to Grand Britannia on BA's first trans-Atlantic of the day, and I chose to stay behind—to pursue that oft-craved, but rarely tasted prize of being A Writer. The dark chocolate truffle in a box of cherry cordials.
I know that the course of true love, and the course of success for that matter, ne'er did run smooth. In fact, the rougher it runs, the truer the love seems; the sweeter, realer, and more deserved the success. Nevertheless, today chocolate tastes nothing if not bittersweet, and no amount of sugar can assuage my case of the BLAs.
BLA being the cutesy acronymic pun that is hardly germane with the tone of this post, but nevertheless stands for the Bacon, Lettuce, and Apple, a sandwich which Mr. English readily devoured right before my eyes just a few short days ago, when the future seemed remote, and England far remoter.
It is not always easy to get an English man to accept American bacon. Mr. English loves many things that are American. New York bars, outstanding customer service, J. Crew, me. But streaky, crisp, smoky American bacon? He shakes his head. "This is not bacon."
This sandwich was the first occasion on which he did not utter this damning denial. Crisp bacon is layered on a fluffy double baguette with grassy parsley pistou, lacey frisée lettuce, sweetart slices of crisp apple, and a dollop of the traditional mayonnaise that no BL… sandwich can live without.
In fact, his devilish grin when he stole my half of the sandwich off my plate and tucked right in can't help but be contagious, and I do find myself with a timid smile twisting around my lips. I hope that the BLA can reach down and pull you out of the blahs too.
Make sure you follow it up with a chocolate for dessert. You never know; you might just get that dark chocolate truffle after all.
BON APP, et BON CHANCE.
The BLA Sandwich
serves 2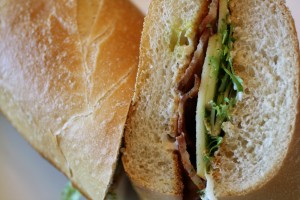 Ingredients


¼ cup fresh parsley


1 sliver of garlic


1 teaspoon lemon juice


¼ cup olive oil


Salt and pepper


1 piece of double-wide baguette, cut the length of a strip of bacon, and sliced in half horizontally


4 strips of thickly sliced center cut bacon, cooked at 400°F on a slotted broiler tray until they are crisp and golden, but not crumbly


Mayonnaise for smearing


½ apple, thinly sliced on a mandolin


Frisée lettuce for garnish


Procedure


Preheat the broiler.


In a small food processor, put the parsley, garlic, lemon juice, olive oil, salt, and pepper, and whirl until you have a pistou. You'll want to use very little garlic here, because it can really overpower the apple. I use a corner of a clove.


Put the two halves of the double-wide baguette (it's doughier and heartier) under the broiler until they turn golden, just a minute or two.


Arrange the sandwich. Line the 4 bacon slices on the bottom half of the bread, and slather the top piece of bread with a thin layer of mayonnaise. On top of the bacon, arrange a thin layer of apple slices, and pour the parsley pistou on top. Top with frisée, and then the mayonnaised bread. Slice in half for the perfect snack for two.


print this recipe