You may not know this, but I am the reigning pétanque champion of the universe.
Pétanque is a sport of the south of France. It originated in Provence, and according to Wikipedia, 17 million French citizens take part in the game every year. One of my favorite places in Paris is Place Dauphine on Île de la Cité, a few paces from Notre Dame. There is a cafe there that makes perfect Artichoke Vinaigrette, and during the summer, I'll eat just that and several plump hunks of baguette for dinner. As I sit on the terrace, the sun setting behind the old revolutionary jail that once imprisoned Marie Antoinette, who was then also facing the twilight of her life, I have my own little sports channel to watch. Out on the plaza, in the pits of sandy dirt that surround the soaring, swishy trees, couples and tangles of friends venture out in the dark light to play pétanque. As the silver balls jingle and twinkle as they collide, and old friends share a cigarette and a laugh, it seems to me, albeit too poetically, that Parisians are very much like pétanque balls. Exquisite to look at, like the gleaming silver balls with their variant war stripes. And always finding the occasion to fraternize, as the balls congregate around the jack.
I love pétanque. It is the only sport at which I have any semblance of prowess. And yet, Mr. English always beat me. Boys. That is, until yesterday, when I finished him, 5 to 4, on the last ball. I was hardly abashed; I started running around the lawn chanting "I am the pétanque champion of the universe" while Mr. English obediently collected our wayward balls while two old men passed and shot me a disbelieving look. They probably couldn't believe I'd won an athletic competition against my boyfriend either.
When we came inside, of course we were famished, and I wanted to conjure up something that was evocative of the South of France in under 10 minutes. So I came up with Penne Niçoise, after Nice, the city on the sea in the South. The hearty baby penne are tossed with sauteed sweet shallots and zucchini, sauced with tomato paste, and like the pétanque balls, studded with interest with chili flakes, thyme, and mint. You could add olives as well to make it truly Niçoise, but we were fresh out. Perhaps a crowning of grated Pecorino Romano instead of my laurel wreath of victory. This recipe serves two, but double it if your pétanque team is slightly larger than ours.
I know I should stop gloating; that I should play nice. But the sweet (and spicy) taste of victory? Much Nicer.
BON APP, et BON MATCH!
Mezze Penne Niçoise
serves 2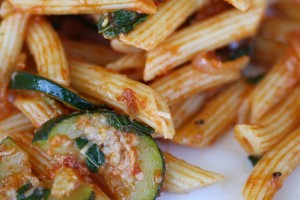 Ingredients


½ box mezze penne (small penne rigate, recommended: Barilla)


2 tablespoons olive oil, plus 1 tablespoon


2 shallots, thinly sliced into half moons


½ small to medium zucchini, thinly sliced into half moons


1 clove of garlic, chopped


1 sprig of thyme


½ teaspoon of chili flakes


2 tablespoons tomato paste


2 tablespoons chopped fresh mint leaves


Salt and pepper


Pecorino Romano to taste


Procedure


Cook the pasta in a large pot of boiling salted water until it is al dente.


Meanwhile, make the sauce. In a small sauté pan, heat 2 tablespoons of olive oil on medium-low heat, and add the shallots and zucchini and garlic and thyme and chili flakes. Season with salt and pepper. Allow to soften for 5 minutes while the pasta cooks.


To the vegetables, add the tomato paste, and sauté for one minute, incorporating it into the veggies. Add the fresh mint, and a few spoonfuls of pasta cooking water. Drain the pasta, and toss everything together. Top with extra coarsely cracked black pepper and some grated Pecorino cheese, and maybe a few chopped black olives from Nice.


print this recipe