I have a somewhat shameful secret. You know those big Super Bowl platters of hot wings and blue cheese dressing? I am the one who steals all the celery. I know, who does that? It's not even for dietetic purposes. I just don't like chicken wings. I think they're fatty and stringy and puny and bony, and I love for everyone else to eat them, but I just can't bring myself to do it. Actually, I don't even really like celery, but dipped in blue cheese dressing, that's another story.
If there's one tradition I must keep alive on my Revolutionized Super Bowl table, it's the blue cheese. So, in homage to my celery-stealing fetish, I am putting together crudites, the French way, tossed in a Dijon vinaigrette and served with a homemade Roquefort sauce.
In France, there's not such things as carrot sticks or celery sticks, per se. Instead, when you order crudités, you get served a rabbit's lunch: carrots with the fronds still jetting up like mohawks from their heads, radishes still showing off long Merlin's beards. Rustically beautifully, arranged in anything from mason jars to planting pots, they are served with an aïoli or vinaigrette for dipping, and that's that.
It's amazing what a little thought on presentation can get you to eat–even celery. Instead of buying precut carrot sticks or "Frenched" carrots at the supermarket, try to find baby vegetables like carrots and squash, and simply cut them in half. The effect is far more lovely and appetizing. And if you can't find those, don't worry! Just cut a carrot yourself, thinner and longer than you normally would. You just want your vegetables to look like they knew this was a party, and got dressed for the occasion. Also, variety is the spice of life, so try just a few of many vegetables, from little baby cremini mushrooms to fennel to scallions to haricot verts, in addition to the old standbys of carrots, celery, peppers, and cherry tomatoes. Anything in your veggie drawer is a candidate.
Speaking of dressing for the party, the secret to not-boring crudités is to toss them very lightly in a lively dressing BEFORE dipping them into the acutal Roquefort sauce. You won't believe the difference it makes. I use my standard Dijon dressing recipe that I make weekly and keep in the fridge. The Roquefort sauce itself takes less than a minute to make, and I've known people to lick it out of the bottom of the bowl. That's what happens after too many Monacos!
BON APP, et BONNE CHANCE!
Crudités with Sauce Roquefort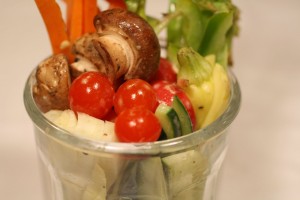 Note
An assortment of mixed vegetables, including cucumber, baby squash, fennel, scallions, haricots verts, radishes, carrots, grape tomatoes, cremini mushrooms, celery, and bell peppers. The trick to keep in mind here is, don't let them look like regular old carrot sticks. By the baby carrots with the greens still on; don't trim the fronts off the radishes, and look for baby varietals of everything. If you can't find those, use a bit of extra knife work to make the carrots super skinny—just more elegant, and more rustic.
Vinaigrette Ingredients


¼ cup light olive oil


2 tablespoons white wine vinegar


2 tablespoons Dijon mustard


½ teaspoon honey


Dash of grated shallot (maybe ¼ small shallot, if that)


Salt and pepper


Sauce Roquefort Ingredients


2 ounces Roquefort, crumbled


½ cup mayonnaise


½ cup crème fraîche


1 clove garlic, grated


Salt and pepper


Procedure


Put all the vinaigrette ingredients into a mini food processor, and whirl until emulsified.


Trim the vegetables as desired, and toss with just enough vinaigrette to coat.


Stir all the ingredients for the Roquefort sauce together, and decant into a decorative bowl.


Arrange the vegetables in a mason or jam jar, and serve alongside the Roquefort sauce.


print this recipe