I may not like chicken wings, but that doesn't mean I don't like it hot. I like hot dogs on a New York City corner, but at a party, they're just too weeny. Instead, I serve the hottest, juiciest sausage in North Africa: Morocco's fiery Merguez. A colonial acquisition to French cuisine, Merguez is made from lamb and spiced with anything from sumac to harissa. Above all, it is hot as the desert sun.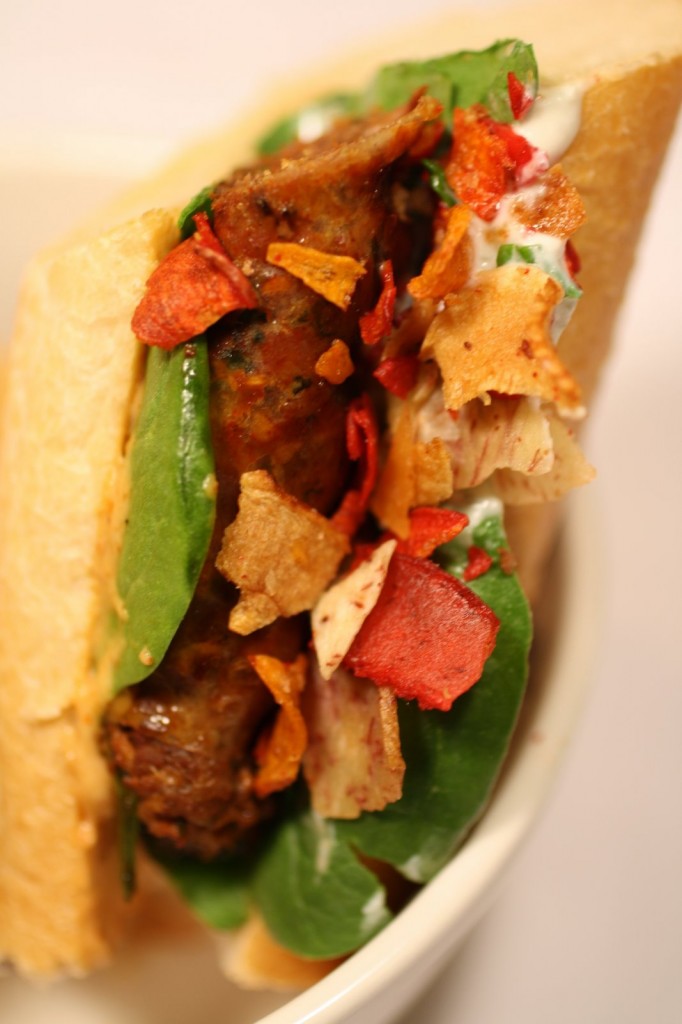 I love my sausages grilled, smoky with char, and crisp. But because the Super Bowl is in the winter, I grill my sausages on my panini press. Then, instead of doughy hot dog buns, I stuff them into hearty, crusty baguette, lined with not one, but two sauces. The first is a fiery harissa mayonnaise. The second is a crème fraîche cooled with grated cucumber and shredded fresh mint. Baby spinach leaves and crumbled Terra chips finish off this gorgeous Merguez baguette.
If hot dogs are chihauhaus, then this Merguez baguette is a pit bull.
Merguez Baguettes
serves 2 to 4
Ingredients


4 Merguez sausages, equaling 1 pound total


Drizzle of olive oil


¼ cup mayonnaise


1 tablespoon harissa


½ cup crème fraîche


¼ cup grated cucumber, from a cucumber that has been peeled and seeded


¼ cup, or about 50 leaves, chiffonade of fresh mint


Salt and pepper


½ cup baby spinach


¼ cup Terra chip crumbs


1 baguette, slit in half horizontally, but not all the way through, so it sits like a hot dog bun, then cut four pieces.


Procedure
Preheat your Panini press.

Rub the sausages with just a drizzle of olive oil, and sit them inside the Panini press for about 7-8 minutes on a medium-high setting, until cooked through and crisp.

Meanwhile, prepare the harissa mayonnaise by mixing the mayonnaise with the harissa. Set aside.

Prepare the cool crème fraîche by mixing the crème fraîche with the cucumber and mint, and season with salt and pepper.

Assemble the baguettes. First, smear the bottom half of each baguette with the harissa mayonnaise. Then, smear the top more liberally with the crème fraîche. Nestle in a handful of spinach all along the baguettes. Place one cooked Merguez sausage into each dressed quarter baguette, and top with some crushed Terra chips or other potato chips.
print this recipe