The Earl of Sandwich was an Englishman. So is Mr. English. After he spent the ENTIRE day tunneling through my closet until we had, count them, six boxes packed for good will, I thought he deserved a thank you snack. I turned myself so I faced North and West, and scoured his homeland for inspiration. But I wasn't going to serve him a modern English sandwich; mayonnaise and a plastic box being the most common and dominant ingredients. This sandwich was a thank you, after all.
So I decided to do some tunneling of my own–or rather, chunneling. I live on sandwiches when I'm in France. It is a culture that values perfect bread, and sophisticated cheeses and meats. An ideal situation for any sandwich to prosper, flourish, and find liberte, egalite, fraternite. In Paris, I stop every afternoon at the boulangerie and buy a baguette au chevre, or a half a baguette stuffed with tangy, creamy discs of fresh goat cheese, that crumble out with the crumbs of the bread for the sparrows to swoop in and collect. Or, I'll buy a baguette and a mini wheel of the stinkiest cheese I can find, and sit myself down by the Seine for lunch.
This afternoon, I decided to add some French flavor to the old British standby, the panini. I know, the panini may sound Italian, but if you spend a few months living in England, you'll swear the Earl of Sandwich had an Italian mistress, and invented the toasted sandwich too. I stuffed my baguette with fragrant, pungent, buttery camembert, which oozed and toasted on the sides. Sweet bosc pear and frisee lettuce were drizzled with honey and olive oil, and studded with salt and pepper. The crisp of the bread, the drool of the cheese, the bitter bite of bitter lettuce, the sweet chuckle of honey and pear. It was by far the most interesting sandwich I'd ever had. All the beauty of a French girl, and all the brains and conversational power of an English boy.
Our relationship on bread. Easy enough to swallow.
BON APP!
Toasted Baguette with Camembert and Pears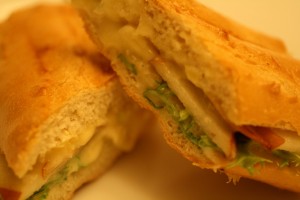 The best part of sandwiches is that there really is no recipe. For four, start with a baguette, and cut it into four pieces, then slice those in half horizontally. Place one thin layer of camembert from tip to tail of each slice of baguette, including the top and bottom of the same sandwich. Slice two bosc or bartlett pears thinly, and layer them on top of the camembert on the bottom halves of the bread. Trim one small head of frisee, and tostle the leaves on top of the pear. Drizzle with a touch of honey and olive oil to taste, and scatter with salt and pepper. Top with the camembert-laden top of bread. Put into a panini press until the bread is toasted and crunchy, and the cheese drips out at either side. Slice in half, and serve.
print this recipe