This week's French in a Flash on SeriousEats.com is Roquefort and Walnut-Stuffed Pears with Sauterne Syrup. The legend behind Roquefort is that a shepherd left his lunch in a cave when he spied a beautiful maiden in the distance. When he returned to his baguette, his cheese had gone bleu. What is more French than old cheese and new romance? And did you know that the Latin name the Romans gave the walnut means Gallic Nut, or Nut from France? In this recipe, I stuff both the woodsy, chunky, crunchy walnuts and the soft, piquant, tie-dyed Roquefort into the cavities of Bosc or Bartlett pears. They roast in the oven until the pears' flesh is soft and sweet, the nuts are toasted, and the cheese is bubbling. Then over the top I drizzle a simple syrup made from the iconic French dessert wine Sauterne. Serve it for a starter, a lunch, a dessert, or a cheese course, and you look like a hero. No one will ever know all you had to do was stick it in the oven. Bon app!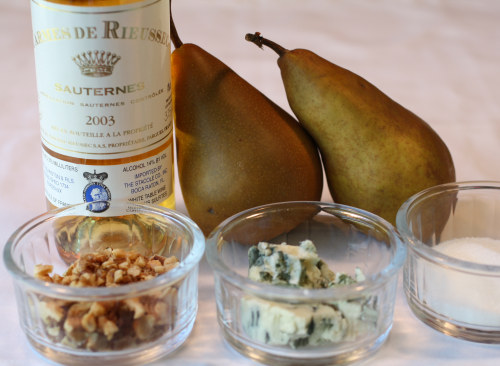 Roquefort and Walnut-Stuffed Roasted Pears with Sauterne Syrup
makes 1 pear, and enough syrup for 4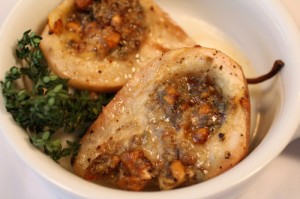 Pear Ingredients


1 Bosc pear, ripe, but not overly soft, halved and hulled with a melon baller


1/2 teaspoon light olive oil


Salt and pepper


1 1/2 ounces Roquefort


1 tablespoon chopped toasted walnuts


1-2 tablespoons Sauterne


Thyme, for garnish (optional)


Sauternes Syrup Ingredients


1/2 cup Sauterne


1/4 cup sugar


Procedure


Preheat the oven to 375°F.


Prepare the pear by slicing it in half and then removing the core with a melon baller. Rub with the olive oil, and season with salt and pepper. Nestle the pear halves in an individual gratin dish.


Make the filling by combining the Roquefort with the walnuts. Mound into the cavities of the pear halves. Pour 1 or 2 tablespoons of Sauternes in the bottom of the gratin dish.


Bake for 35 minutes, until the pear halves are soft, and the cheese bubbly.


Meanwhile, make the Sauternes syrup by bringing the Sauternes and sugar to a boil. Whisk until the mixture is clear—all the sugar will have dissolved. The process does not take very long at all. Set aside to cool while the pears are cooking. When the pears are ready, simply drizzle with syrup and serve.


print this recipe