This week, French in a Flash sets sail, with my dinnertime version of She Sells Sea Shells by the Sea Shore: Sea Shells with Creamy Basil-Tarragon Pistou with Crab and Sweet Peas.
Pistou, as you may have guessed, is the French version of pesto, but without the nuts. I modernize it, and give it sea legs, with tarragon, an anise-y French herb so often paired with crab or shrimp or lobster. Cream and petite pois give it a sweet finish. A glamorous Riviera dinner just got easy peasy. Bon app!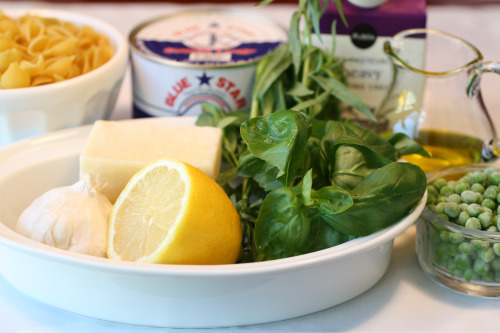 Sea Shells with Creamy Basil-Tarragon Pistou, Crab, and Sweet Peas
serves 4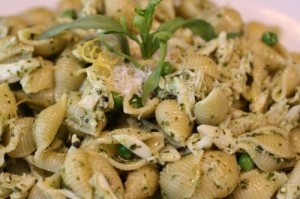 Ingredients


1 pound sea shell pasta


1 clove garlic


2 ounces basil, the leaves of which will equal about 1 cup packed


The leaves from 4 stems tarragon


1 teaspoon lemon zest


1 tablespoon lemon juice


Salt and pepper


3/4 cup olive oil


1/4 cup Parmesan or Pecorino cheese


1/2 cup heavy cream


1/2 cup thawed frozen petite peas


1 pound jumbo lump crab meat


Procedure


Bring a large pot of water to a boil. Salt it, and add in the pasta shells. Stir, and cook until al dente. Drain.


Meanwhile, make the pistou. Obliterate the garlic clove in the food processor, and then add the basil and tarragon leaves. Pulse to chop. Add in the lemon zest, lemon juice, pepper, and a good amount of salt. Run the machine and drizzle in the olive oil. Decant the pistou to a bowl, and stir in the Parmesan cheese.


Once you've drained the pasta, put the pot back on the stove on low heat. Add in the cream, pistou, peas, and crab meat. Make sure you go through the crab meat to make sure there are no shells, and to break it up a bit. Toss and heat through.


Add the pasta back into the pot, and toss to combine. Serve immediately.


print this recipe