This month's quiz has been my favorite of all. Macarons are, appropriately enough for this Valentine's week, the loves of my life. They are the ultimate menage a trois (which literally translates, for the dirty-minded, merely as "household of three"), consisting of two almond-based cookie shells sandwiching a filling of cream or jam or ganache or caramel.
The cookies themselves first emerged from the Versailles ovens in the 1700s. The famed cream-filled version that we know today were invented by my favorite Parisian patisserie, Laduree, in the 1800s.
Anyone who has seen Sofia Coppola's Marie Antoinette knows how these neon and pastel-hued confections can be as adorning to a room as gems are to a person. Opening up a Laduree box stained with mint-green pallor is like lifting the creaking, rusted lid of a pirate's treasure. Will it be a sapphire-stained lily flavor? The emerald pistachio? The silvery jasmine? The golden cafe? The onyx licorice? The ruby "Diva"?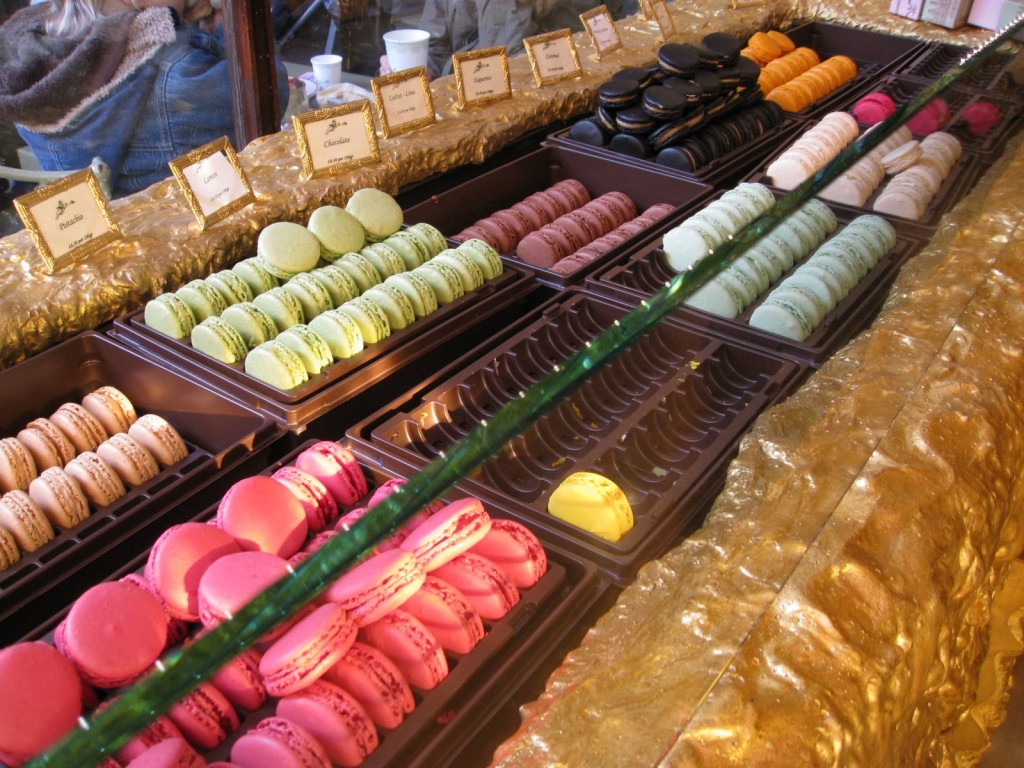 Macarons are the pictures of prim flamboyance. Never a hair out of place, just the perfect circle and the perfect size. And yet, the ruffle around the base of the cookies, concealing the filling, is the perfect example of the French practice "mettre en valeur," or to show to advantage. Just as a diving ruffled collar could be unbearably enticing to a lascivious lover, so the ruffled cookie's edge is almost indecently evocative for a hungry macaron-craver like myself.
I love to walk up to the counter in Laduree, and just imagine tasting the rainbow. The flavors, beyond being beautiful, are so unusual. They play hard-to-get, if you will. My favorites, for instance, are rose and orange flower, but I've seen citronella and gingerbread and lily of the valley and sweet-pea-black-pepper. You lift the little disc to your mouth, and take a bite. The outside cracks with the dainty chip of a robin's egg. The inside of the cookie yields with the chewy crumble of marzipan-scented cake. And then, just when you'd forgotten all about it, the cream releases any pretense of staying demurely tucked beneath that ruffle. It oozes and explodes out, all around the cookies, in the most obliging and satisfying of fashions. You close your eyes, and smile. Some pleasures, the French know well, are as polite as they are primal–and always perfect.
I know those of you who voted in this month's poll feel the same way, and I was curious about your favorites. Pistachio was the winner, with chocolate as runner up. But me, I still vote for rose. I attended a class on macarons at Ecole Lenotre this past summer, and if you want that method, click here.
Be sure to vote in February's quiz: Which French Delicacies Have You Tried?