…and how can I be blue, when I'm in England with Mr. English? Most people think 13 is an unlucky number. For me it's 14. February 14, to be exact. Boyfriends growing up always seemed to disappear sometime in January, and most of my Valentine's Days were spent stag.
When I think Valentine's Day, I think pink. I think little-girl Pepe le Peu classmate Valentines and Sweethearts. I think rose petals, and cocktail rings. Frankly, I'm not surprised I never had a boyfriend on Valentine's Day, nor that I never missed one. It seems much too girly to spend without your girlfriends.
True to my tradition of never spending Valentine's Day with a boy, Mr. English and I, through a series of accidents, have come to traditionally celebrate on the 13th (did you know 13 is a LUCKY number in France?). Which still leaves pink, roses, and cocktail rings to the 14th. All of them contribute to my ultimate Valentine cocktail: Raspberry Rose Royale, inspired by the bar at the Mandeville Hotel in London (one of our favorite romantic spots). While a Kir Royale uses creme de cassis and regular champagne, this version uses pink champagne, sweetened with raspberry puree, spiked with Framboise, and perfumed with rosewater. With all the pink, and liquor, and romance, it is guaranteed to sweep you off your feet.
BON APP, et BISOUS!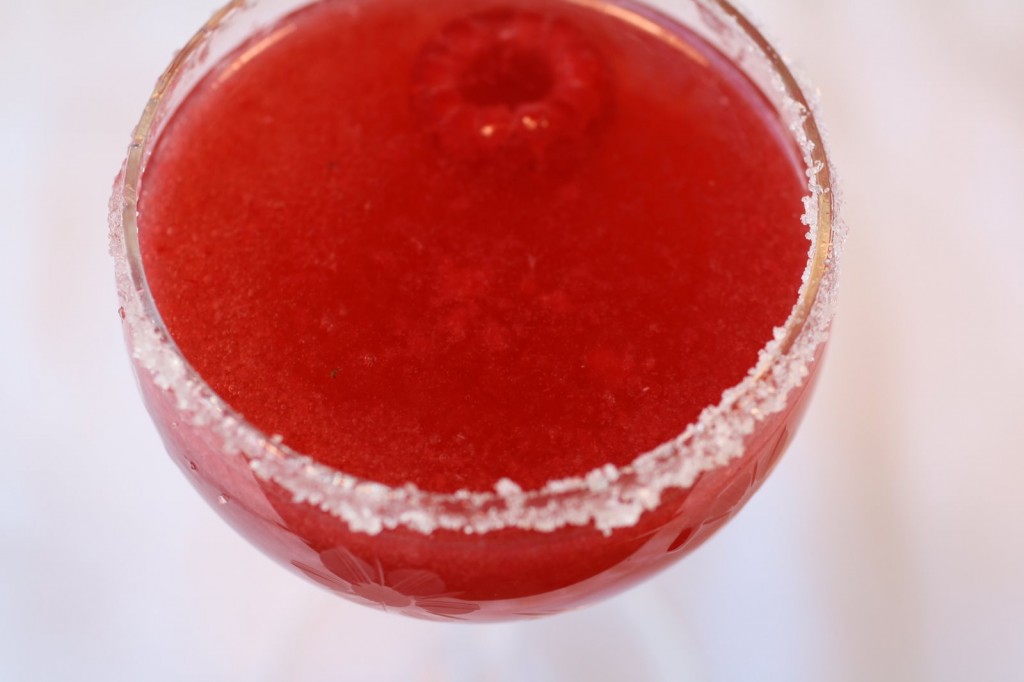 As featured in FrenchEntrée's 100 French recipes to celebrate 100 issues of FrenchEntrée magazine
Raspberry Rose Royale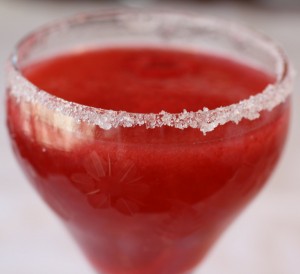 Ingredients
4 ounces raspberries, plus 6 raspberries for garnish
3 tablespoons rosewater
4 teaspoons powdered sugar
1 bottle of rosé Champagne, very cold
A splash of Framboise, raspberry brandy (optional)
Granulated white sugar, for garnish (optional)
Procedure
In a mini food processor, whir together the raspberries, rosewater, and sugar. Then pass the mixture through a sieve to remove any seeds.
In a large pitcher, combine the raspberry-rose puree with a splash of Framboise and the bottle of chilled pink champagne. Stir to combine.
Wet your finger, and run it around the rims of 6 champagne glasses. Dip the wet rims in white sugar to create a little sweet halo. Pour the Raspberry Rose Royale into each flute, and garnish with a raspberry each. Chin chin!
print this recipe