It's almost Valentine's Day. Sigh (with a French accent). It's time to sit and ponder all those perfect pairs, those historic and romantic couples, that have defined love throughout history. Romeo and Juliet. Antony and Cleopatra. Bella Swan and Edward Cullen. Lady, and the Tramp.
Yes, hindsight is twenty/twenty. But what must their contemporaries have said? "Romeo? Juliet? It will never work." After all, he was a Montague, and she a Capulet. Antony was a Roman; Cleo an Egyptian. Edward a vampire, and Bella a human. Lady was a pure-blood spaniel, and Tramp–well, his name says it all. Perfect pairs to us, but at the time, they must have seemed very unlikely indeed.
Mr. English, for example, is a British scientist, a man who revels in tradition and rationality. And he chose me, an American writer, who lives for potential and actually does happen. Certain things shouldn't match, but they do. It is a matter of chemistry.
It is chemistry, not reason, that crowns Chocolate and Brie this Valentine's Day's perfect pair. He is a dark candy. She is a light cheese. Just like Romeo and Juliet, or me and Mr. English, you may think at first, "That just won't do." You'll just have to take my word for it, but there's something about the chemistry, and the bit of heat between the sheets of metal on your panini press, that melts the pungent, savory cheese with the sweet, bitter chocolate into nothing short of a culinary orgasm: surprising, overwhelming, wonderful.
These tiny little sandwiches take just minutes to throw together, and make the perfect lover's snack. Throw together a stack of Chocolate & Brie Baguettes, and offer some of this perfect pair to the other half of your own.
BON APP, et BISOUS!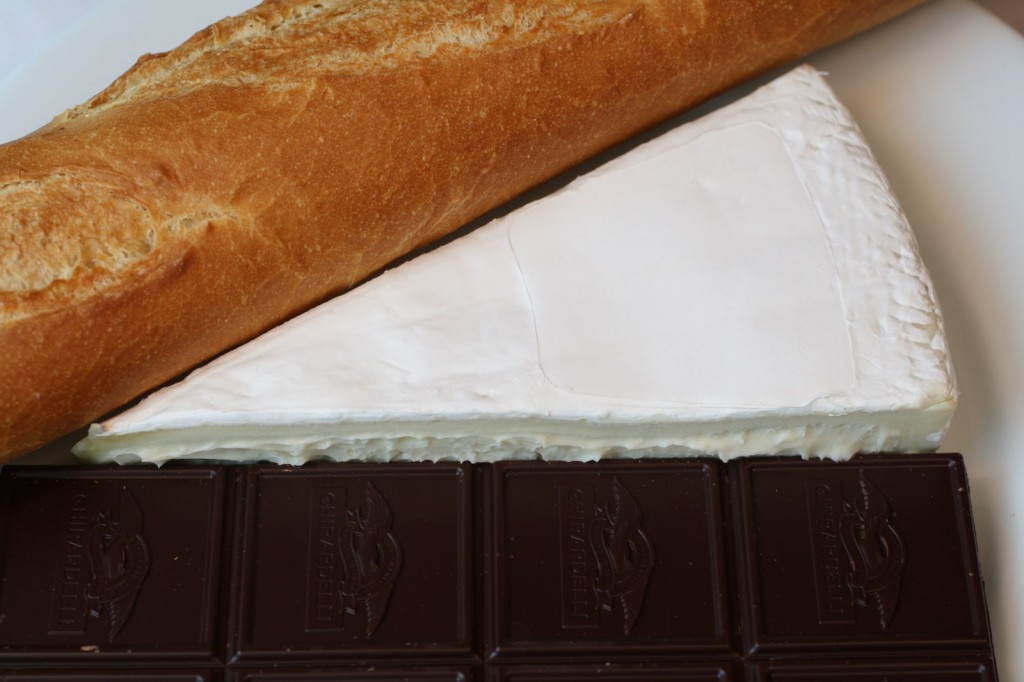 Chocolate and Brie Baguettes
serves 4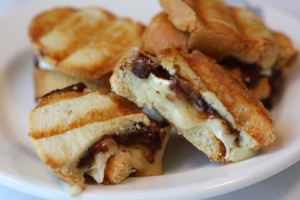 Ingredients


12 3/4-inch slices baguette


Butter for lightly spreading


20 grams/1.25 ounces dark chocolate (I prefer 70% cocoa) or semi-sweet chocolate


92 grams/3 ounces brie


Procedure


Preheat your panini press.


Very lightly butter both sides of each of the 12 baguette slices. When you slice the baguette, do not do it on an angle, but rather straight across for petite rounds. Put the buttered bread in the press for a few minutes, until they are crisp and golden.


Take the baguette toasts out, and divide the chocolate equally onto 6 of the baguette toasts, and the brie onto the other 6. Press each chocolate side together with a brie side, and place the sandwiches back into the panini press for just a minute or two, until the chocolate and brie have heated through and just begun to melt. You don't want to wait for the chocolate and cheese to melt completely, or they'll just run out of the bread.


p.s. If you want something even more decadent this Valentine's, use the same amount of brie and chocolate, but substitute 3 plain croissants for the 12 slices of baguette. The result is a sort of brie-stuffed pain au chocolat.


print this recipe