I didn't know this about myself before, but I'm cheap. At least, these days it's quite a la mode to be a recessionista. I went to the store to do this week's French in a Flash for Serious Eats, and realized I was making dinner for 5 for about $12. I became totally ecstatic, like I'd just gotten away with the hugest deal of the century, and I wanted to run out of Publix before anyone caught on. Stingy never felt, or tasted, so good!
I made this dish for my father, because according to Brillat-Savarin (the French genius behind the statement "you are what you eat"), my father is a salmon disguised as a New York lawyer. He eats it every night, and he also can't boil water. I wanted to show him that he could eat his favorite healthy food, and still make it himself. Voila! Crispy Salmon with Lentils du Puy and Two-Mustard Crème Fraîche.
Salmon and lentils are Fred and Ginger to the French; the perfect pas de deux partners. And nothing could be healthier, or easier, or more impressive. Bon app!
Crispy Salmon with Lentils du Puy and Two-Mustard Crème Fraîche
serves 4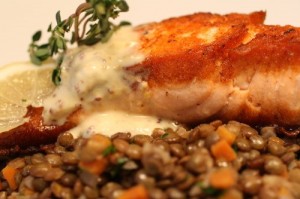 Ingredients


1 small carrot, diced as finely as possible


2 small shallots, diced as finely as possible


1 tablespoon olive oil, plus 1 tablespoon


Leaves of 2 stems fresh thyme


Salt and pepper


1 1/4 cups lentils du Puy


1/3 cup dry white wine


3 1/2 cups vegetable stock or water


1 tablespoon freshly chopped flat leaf parsley


1 1/4 pounds salmon fillet, skin on, cut into 4 portions


2 tablespoons unsalted butter, room temperature


2 tablespoons olive oil


1/2 cup crème fraîche


2 tablespoons Dijon mustard


2 tablespoon whole grain mustard


Zest of 1 lemon


Fresh thyme, lemon slices, and mixed olives for garnish


Procedure


Begin by making the lentils. Over medium-low heat, sauté the carrots and shallot in 1 tablespoon of olive oil. Season them with the thyme leaves, salt, and pepper, and cook for 5 minutes, until they are just sweating and soft and fragrant.


Add in the lentils, and season again with salt and pepper.


Increase the heat to high, and pour in the white wine. Stir, and cook until the wine is absorbed. Add the stock or water. Cover, and bring to a boil. Once the water boils, reduce the heat to low, keep covered, and cook for around 25 minutes, until the lentils are tender, but still have a good bite to them, and hold their shape. Drain out any excess liquid, and toss with the remaining 1 tablespoon of olive oil, and the parsley. Adjust seasonings as needed.


For the salmon, season the fillets with salt and pepper on both sides, and paint the soft butter on the skin side of the salmon. Use all of it, even if it looks excessive. This is what makes the skin so crispy and perfect.


Heat a large sauté pan on medium heat, and add the 2 tablespoons olive oil. When it shimmers, carefully add the salmon, skin side down. It will splatter a bit, so drop the salmon into the pot slowly, and away from you. Cook for 5 minutes, then turn over, and cook for 3 minutes, or until you've achieved desired doneness.


While the salmon cooks, prepare the mustard crème fraîche. Stir together the crème fraîche, 2 mustards, and lemon zest, and season with salt and pepper.


To serve this dish, spoon a mound of the lentils on a plate, and perch the salmon on top. Spoon the crème fraîche over the hot fish, and let it melt into the filet and into the lentils. Serve more sauce alongside. Garnish with a few lemon slices, some fresh twigs of thyme, and a few mixed olives.


print this recipe