My mother spent a year living, as a child, in a French convent—one where they wore little matching uniforms, slept in iron beds, and walked in straight lines two-by-two. She spent her childhood mornings as Madeline. It is no miracle, then, that my childhood mornings were ignited by plump, firm, sunny little Madeleines.
The only reason I managed to plod through Proust in the original during an unfortunate summer course in college was because he was talking about Madeleines. Just a spoonful, or bite full, of sugar helps the medicine go down! Proust was half asleep dreaming of Madeleines, and I was half asleep staring out the sunny windows, dreaming of being anywhere but here. But I did take something away from his drowsy ruminations: that maybe it is not just Proust, but all Gauls, whose childhood remembrances percolate around Madeleines.
Maman was never much of a baker, which was really too bad because when she put her mind to it, her pumpkin cheesecakes would keep me up nights (she always baked them at the bewitching hour—maybe she needed a few spells to work her magic). So, instead of Easter Egg or scavenger hunts, we had Madeleine hunts, which in Manhattan in 1988 was no small feat. We would troll the local grocery stores and gourmet shops, stalking our prey. And how we would pounce! We would load our baskets with the wrapped shells, treasuring each of our fortune as if mighty Aphrodite would slam open the top, and step out into the foaming plastic waves. What treasure, what decadence, what fun.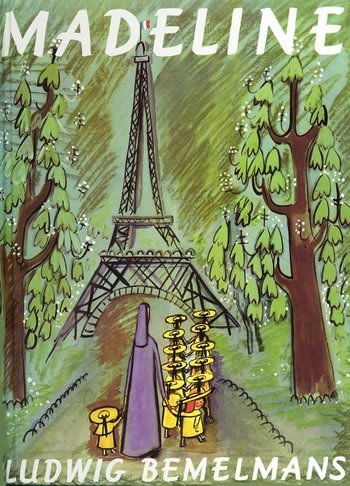 We would come home, and descend upon the shells, like a flock of gulls pecking at a million little dinners in the million little grains of sand. We would lie in bed with Madeline books and eat Madeleines. Of course, I was never long without either a book or food, and like so many great things, they often went together. The crumbs would trickle from our lips, break off like jagged precipices from the ragged edges of our half-munched cakes, and form irreverent, very Madeline-like Madeleine spines in the books. We would laugh and sputter, and it would all be worse. We would brush the crumbs from the covers, and wake up from our Dionysian fête, remarking all the empty Madeleine wrappers. We would rub our bellies and grumble, how we were ever going to do it again? But we knew, before too long, we'd be Madeleine hunting again. We ate the sparse, stale leftovers with raspberry confiture for breakfast for days, before I donned my little matching uniform, and we headed, the two of us, for school.
But as maman always says, there is no time like the present. I'd had enough of my recherche du temps perdu, and wanted to try a little recherche du temps trouvé. You can long for old flames who've moved on, for a pet that's passed away, for a Petit Bateau t-shirt that's shrunk to fit bébé and not you anymore. But Madeleines, my little Proustian morsels, they never leave you for another woman, they never die, and they only shrink if you make them in smaller Madeleine pans (and even then, you just get more Madeleines from the same recipe). If only all of life could be cooked up in my kitchen.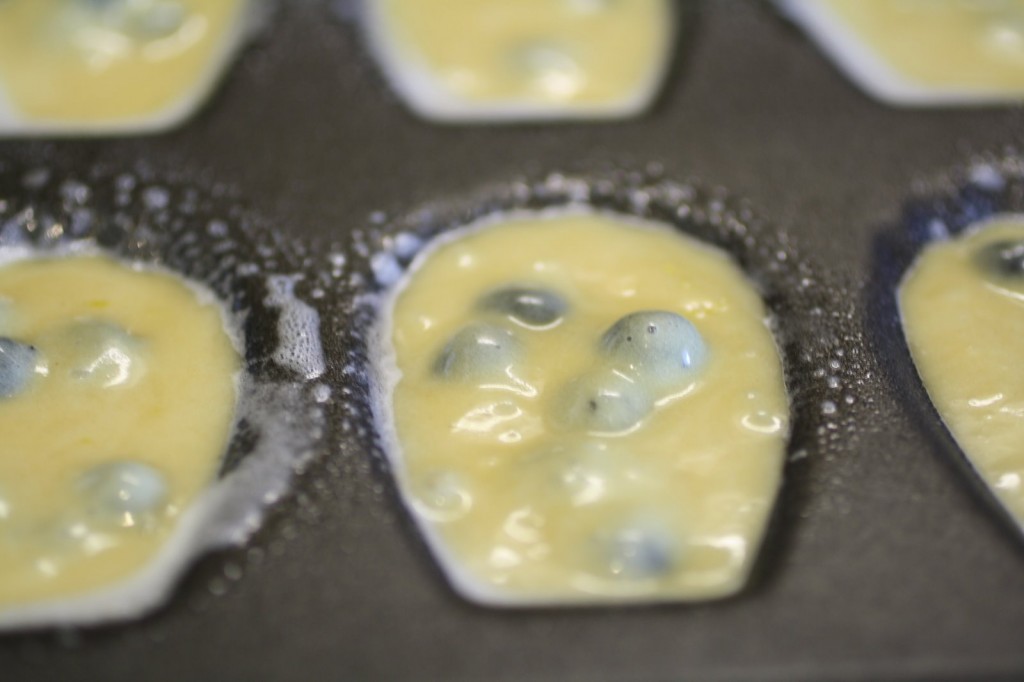 I could never recreate those crumbly-firm lemon-vanilla seashell muffins that were shrunk-wrapped in the 1980s, so I one-upped them: fresh lemon-blueberry Madeleines, cakey enough for French Marie Antoinette, and enough like a blueberry muffin for little American me. A little powdered sugar on top, and suddenly childhood relics are vintage breakfast treasures.
So raise a cup of coffee, and chin-chin.
To times lost, and found.
Blueberry Madeleines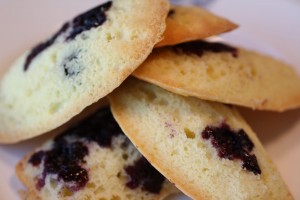 Ingredients


1 ¼ cup sifted all-purpose flour


½ teaspoon of baking powder


¼ teaspoon of salt


3 eggs


2/3 cup of granulated sugar


Zest of ½ lemon


1 ½ sticks of unsaltedbutter, melted and cooled


2/3 cup fresh blueberries, lightly tossed with flour, with the excess shook off


Madeleines are a traditional shell-shaped cake from the north of France, although they have become iconic to the entire nation. Traditionally, they taste of lemon, and are the texture of pound cake. Aside from the Madeleine pans, which you will have to buy, you probably already have all the ingredients for Madeleines in your house: flour, sugar, eggs, baking powder, butter. And you can flavor them with anything you want, from blueberries to coconut, from cocoa to pistachios to verbena. I buy my nonstick Madeleine pans at Williams-Sonoma, and if you are looking for one, I know they sell them there.
Procedure


Preheat the oven to 350 degrees F.


Sift or whisk together the flour, baking powder, and salt.


In a separate, large bowl, beat the eggs with an electric mixer or stand mixer for about 30 seconds, until they are frothy. Add the sugar, and cream for about 5 minutes, until the mixture triples its volume.


Add the dry ingredients slowly, in batches, to the wet ones, and mix them slowly in. If you have your mixer on too fast a setting, the flour will be in the air instead of in the batter. Add the lemon zest and the butter, and incorporate.


Put the mixer away and gently fold the blueberries into the batter. You want to dust them with flour so they stay suspended in the batter, and also so that their juice is absorbed as they bake, so that the Madeleines will maintain their firm texture.


Spray your Madeleine pans with a nonstick cooking spray just in case. Pour 1 tablespoon of batter into each mold and bake for 15-17 minutes. The edges of each Madeleine should be crisp and a toothpick inserted should come out clean of batter. Do not be alarmed if the molds do not look full and the batter does not look even before you bake these. They will settle and puff up on their own. Transfer the shells to a cooling rack and eat as many as you can immediately, making as much of a mess as possible. True Madeline style.


print this recipe