Get the whole story at Serious Eats.
There is a little something you should know about me: I love to shop. And while my closet can attest to that fact, so can my pantry. When I travel I am always sure to devote at least half a day to culinary pursuits—wandering through markets like the Boqueria in Barcelona, or visiting little gourmet shops in Paris. Inevitably, I return laden with corked perfumiers' bottles of French rose extract, painters' tubes of Moroccan harissa, and tiny ominous packets of Venetian squid ink. And when I'm grounded back home in the States, I still find excuses to dally around any corner gourmet shop, combing the aisles like a pirate who stands on the X on his map and expects, rightly so, to uncover unprecedented treasure.
I get a secret thrill when I bring out of these little bottles or jars, and guinea pig them on my friends and family. Inevitably, eyes widen in delight and speculation, and a general chorus echoes down the table: "Mmm! What is that?" I love revealing the answer: "Orange flower water!" "No!" "Yes." All of a sudden everyone at the table feels like they are sharing in a gourmet adventure, whisked away to some corner of a forgotten world where everyone sits around snacking on orange flower water and Raz-el-Hanout. What they don't know is that I paid less than three dollars for a bottle of the stuff just across town at Fairway.
This is the premise of my new series, The Secret Ingredient. If you, like me, find yourself fascinated in the food aisles, leaving shops with little items stashed away for your imagination, then I hope you will enjoy it. Once or twice a month, I'll choose a new Secret Ingredient, tell you where it comes from, what it is, and what to do with it—recipes included.
March's Secret Ingredient is pomegranate molasses.
One of my favorite Greek myths (not surprisingly) revolves around food. In order to explain the origin of the seasons, the Greeks claimed that the goddess of springtime, the young and lovely Persephone, had eaten her way into an unhappy marriage contract. Before her husband Hades, god of the underworld, had let her leave to rejoin her mother Demeter, goddess of the harvest, back in the sunshine, he had insisted that she share a pomegranate with him. Thinking nothing of it and pining for the light and company of our world, Persephone munched down five seeds, and off she went. Not so fast, Hades thundered—or every seed you have eaten, you will have to spend one month with me, in the darkness. And so winter, when Persephone is gone, and her mother is mourning her absence, began.
Pomegranate may have been damning to poor Persephone, but as we can all see from Pom Wonderful's ubiquitous advertisements, the anti-oxidant powerhouse can actually keep us out of the grave. And while pomegranate juice is becoming seemingly ever more expensive, pomegranate molasses, not molasses at all, but rather a syrup made from concentrated pomegranate juice and sugar, is positively cheap. You can find it for under four dollars at any kosher shop or Middle Eastern food store, and some of the wider-ranging supermarkets (again, I found my bottle at Fairway).
Pomegranate molasses has been getting a lot of press on Serious Eats, from my Mâche Salad with Pomegranate Molasses Dressing to Michele's Perfect Roast Chicken with Pomegranate Jus. It tastes equally of very, very sweet, and very, very tart, but that's capital SWEET and capital TART. It has the consistency of ketchup, and a deep, garnet color. Dip your finger in, and taste—it's the original sweet/tart candy that makes you pucker and smile all at once.
So, now that you know what pomegranate molasses is, what do you do with it? Absolutely anything. Today, I am going to show you how to use it to make Pomegranate Molasses and Pine Nut Cookies, and Pomegranate Molasses Barbecue Sauce to slather on Pomegranate Molasses BBQ Pork Ribs.But additionally, use it in vinaigrettes or gravies, in cocktails or sauces, in glazes or cakes. It is your secret ingredient weapon for making anything and everything taste interesting, slightly exotic, and just generally delicious and unusual.
I am proud to report that after friends and family tasted these cookies, and these ribs, they all universally turned to me with wide eyes and asked, "What is that?"
Pomegranate molasses—my little secret.
Pomegranate Molasses and Pine Nut Cookies
makes 35 cookies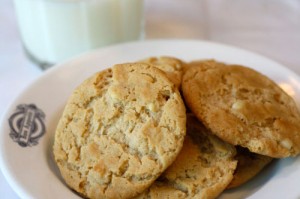 Ingredients


2 1/2 cups all-purpose flour


1 teaspoon baking soda


1/4 teaspoon salt


1 stick plus 6 tablespoons butter, room temperature


3/4 cup granulated sugar


1/3 cup pomegranate molasses


1 teaspoon pure vanilla extract


½ cup toasted pine nuts


Procedure
Preheat the oven to 375 degrees F.
Sift together the flour, baking soda, and salt.  Set aside.
In a stand mixer fitted with a paddle, cream together the butter and sugar.  Add in the pomegranate molasses and vanilla.
Add the dry ingredients to the wet in three batches, beating on medium speed, until just combined.
Stir in the pine nuts.
Line two baking sheets with parchment, and spoon tablespoon-sized mounds of dough 2 inches apart onto the sheets.  Bake for 10 minutes, until golden.  Cool for a few minutes on the baking sheet, and then use a spatula to transfer the cookies to a cooling rack.
Eat with milk.
print this recipe