The BBC recipes are now available! I'll publish them as they are released…
My master's degree from Oxford is in English literature, so it's no surprise that sometimes in my cooking I wax poetic and get a bit punny with my food. For Mother's Day, I do just that, preparing Cornish Hens with Spring Vegetables (as in Mother hen, Baby vegetables). Then I added sweet roasted pearl onions, for what little girl didn't wear her mother's pearls growing up? If you can't be a bit precious on Mother's Day, when can you?
I use the Cornish Game Hens (use Poussins or Coquelets in the UK) because Mother's Day dinner should be comforting but still a bit dainty and dressed up. Think of all the roast chickens your mother has made for you. Tell her that it was her roast that inspired you, but you wanted to make it special by making miniature, individual birds, and giving them a fancy French makeover. These hens are flavored with the apple and bacon and thyme of Normandy. The birds marinate and tenderize overnight in dry Norman apple cider, are wrapped in rich unsmoked bacon, and fired under Calvados, Norman apple brandy. There is a very delicate sweetness that moistens the meat from the liquors, and the thyme and bacon give an unmistakable earthy woodsiness to the birds. These are your mother's Sunday roast chicken, but so much more special and thoughtful, just like mom.
Norman Apple Hens
serves 4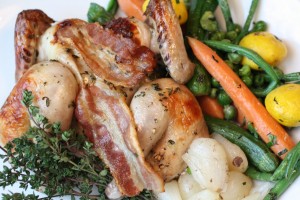 ingredients


4 Cornish game hens


2 cups Norman apple cider, known as dry cidre bouché


3 stems thyme, plus 6 stems


10 ounces/283 grams pearl onions, peeled


1 tablespoon olive oil, plus 2 tablespoons


Salt and pepper


4 slices pancetta, or unsmoked streaky bacon


¼ cup Calvados


procedure


The night before you want to cook these, cut the back bone out of each hen so that they have been "butterflied." Simply sit each bird on its bottom, and run a sharp knife down along either side of its backbone, effectively removing it. Or, just ask your butcher to take care of it for you. Place the four hens in a large sealable plastic storage bag, and add in 2 cups of Norman apple cider (drink the rest!), and 3 stems of thyme. Place the bag into a bowl, and set in the fridge over night.


The day after, when you are ready to make the meal, take the hens out of the fridge to take the chill off, and preheat the oven to 425 degrees F/218 degrees C.


If you can buy your pearl onions frozen and already peeled, then do it. If you can't, here's how to peel them without all the fuss. Trim their tops and bottoms off, and put them in boiling water for 2 minutes. Run them under cool water so that you can handle them, and pop them out of their outer layers.


Toss the pearl onions with 1 tablespoon of olive oil, and season with salt and pepper.


Prepare a baking sheet by lining it with aluminum foil. Drain the birds of the marinade, and pat them dry with paper towel. Rub the birds with 2 tablespoons of olive oil, both the top and under sides, and season with salt and pepper. Nest each bird, cut side down, on the baking sheet, and scatter the seasoned pearl onions around them.


On top of each bird, sprinkle some of the leaves from 6 stems of thyme, and place 1 slice of pancetta over the center of the breast. If you can't find sliced pancetta, and are using unsmoked bacon, you'll want to cut the bacon in half and drape the two halves over the bird.


Cover the birds with aluminum foil, and roast for 20 minutes. Then remove the foil, and roast another 25 minutes. The internal temperature should be about 180 degrees F/82 degrees C.


print this recipe