Mother's Day is the harbinger of spring, so to go with our Norman Apple Cornish Hens, I make a whole brood of light, creamy spring vegetables. Your mother always made you eat your vegetables, so now's your time to make her eat hers. I'm sure she won't mind.
Just like we didn't make any old roast chicken, but made poussins, so we are not serving them with any old boiled vegetables. Instead, you want to select a cornucopia of springtime colors and flavors—think Primavera when you go shopping. Feel free to change things up as well. The list I compiled in the ingredients were available to me that day, but just keep in mind that you want roughly one kilo of baby vegetables. From there, you could use sugar snaps and asparagus tips, or baby zucchini and Chantenay carrots. The more variety, the more interest. This dish is finished with a sprinkling of spring chives and a dollop of luxurious crème fraîche. It is unusual and festive and super easy.
Spring Vegetables with Crème Fraîche and Chives
serves 4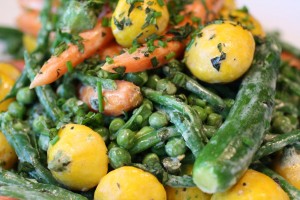 Ingredients


1 ½ tablespoons unsalted butter


9 ounces/258 grams baby or Chantenay carrots


9 ounces/258 grams baby zucchini/courgette


7 ounces/201 grams baby yellow squash


5 ¼ ounces/150 grams haricots verts


4 3/8 ounces/125 grams spring peas


1 cup water


Salt and pepper


2-3 tablespoons crème fraîche


1 tablespoon snipped fresh chives


Procedure


Melt the butter in a large sauté pan. Add the carrots, and toss to coat. Add the water, and season with salt and pepper. Simmer the carrots for 4 minutes.


Add in all the other vegetables, season a bit more, and toss. By the time the water has evaporated, the vegetables will be tender. If they aren't, simply add a bit more water until they are.


Stir in the crème fraîche and fresh chives, and serve immediately.


print this recipe