As I wrote last month, Madeleines are to me the quintessential decadent breakfast of my childhood. But our tough times require us to rework decadent into everyday. These Madeleines are made from 49-cent Jiffy corn muffin mix, scented with the zests of orange and lemon, and stuffed with good raspberry jam. They have the distinct French shape with an unmistakable American flavor and ingenuity. Maybe tough times aren't so hard to swallow after all…
Especially if you wash them down with a glass of cold milk or dunk them in your morning coffee.
As always, the full recipe and the full article text for this week's French in a Flash is on Serious Eats! Bon app!
80-Cent Citrus Corn-Muffin Madeleines with Raspberry Confiture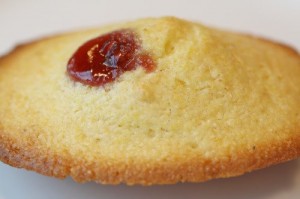 Ingredients


1 box Jiffy corn muffin mix


1 egg


1/3 cup whole milk


Zest of 1/2 orange


Zest of 1/2 lemon


1/4 cup good quality raspberry jam or preserves (recommended: Bonne Maman)


Procedure


Preheat the oven to 400°F.


In a large bowl, whisk together the corn muffin mix, egg, milk, and citrus zests. Allow to sit for 4 minutes. Then stir again quickly just before dolloping it into the Madeleine pans.


Spray one 12-madeleine pan with nonstick cooking spray, or grease lightly with vegetable oil or butter. Spoon one overflowing tablespoon full of batter into each shell mold. Bake for 8 minutes.


After 8 minutes in the oven, pull the madeleines out. Using a pastry bag filled with the raspberry jam, and a tip that is narrow enough to poke a precise hold in the madeleines, but wide enough not to get blocked up by seeds, stab a hole halfway into the center of each madeleine, and pipe the jam in slowly just until the jam fills the hole and starts coming out around the top of the madeleine. Little bullet holes for bleeding hearts. Bake 2 to 4 more minutes—2 minutes until done; 4 minutes until golden and crisp.


Now you have some traditional French cakes flavored with a dash of American ingenuity. Transfer to a cooling rack to cool, or eat warm with extra jam and a cold glass of milk. Parfait!


print this recipe