It was Voltaire who told us to tend our gardens. I prefer to eat mine…
Dijon Pork Paillard
serves 4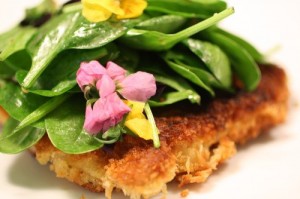 Ingredients


2 tablespoons champagne vinegar


1/4 cup olive oil


1/2 clove garlic, grated


1 tablespoon grain mustard


1 teaspoon honey


1 tablespoon crème fraîche


Salt and pepper


4 thin-cut pork chops


3/4 cup flour


2 eggs


2 tablespoons Dijon


1 1/2 cups panko


1 1/2 cups baguette crumbs


Olive oil for pan frying


5 ounces prewashed baby spinach


3/4 ounce edible flowers


Procedure


First, prepare the salad dressing. In a jar, combine the vinegar, olive oil, garlic, grain mustard, honey, crème fraiche, and salt and pepper. Twist on the cap and shake vigorously.


Preheat the oven to 350°F.


Pound the pork chops by placing them between two pieces of plastic wrap and smacking them repeatedly with a rolling pin until they are about 1/2-inch thick. Season well with salt and freshly cracked black pepper.


Set up your breading station by putting the flour in one pan. The eggs and Dijon mustard should be beaten together with salt and pepper in the second pan. The panko and baguette crumbs should be tossed together in the third pan. Pass the pounded pork pieces lightly through all three stations, shaking off any excess.


Heat a cast iron skillet over medium heat and add just enough oil to coat the bottom and rise up 1/4-inch or so--enough to shallow fry.


Cook the pork about three minutes on each side, until golden. Transfer to a baking sheet, and finish cooking for 5 minutes in the oven.


print this recipe