No matter what I say, I guess I do like a bit of drama in my life. Take my relationship with mushrooms, for instance. Up and down, up and down, year in, year out. (For the full saga, read the article text and recipe at Serious Eats.) But right now, I'm head over heels in love.
Mr. English hates mushrooms. Ha! I know he's just jealous.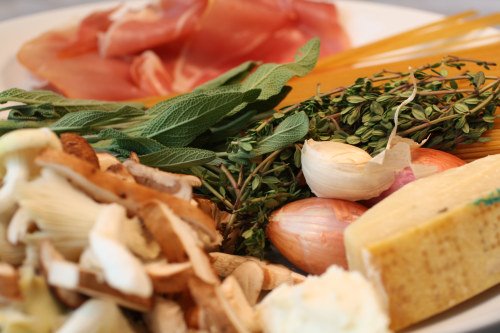 This week for French in a Flash on Serious Eats, I married two French culinary concepts: pistou and forestier, in my Multigrain Spaghetti with Pistou Forestier. Pistou is similar to a pesto, and forestier is a term given to a dish flavored with wild mushrooms. So, I made a roasted wild mushroom pistou, flavored with parsley, thyme, and sage. It is studded with parmesan and walnuts, sweetened with garlic and shallots, and spiked with creme fraiche. On top, I place crisps of Jambon de Bayonne, French prosciutto, and flash-fried herb chips made from sage and parsley leaves. And that's not all. For the real old-time, peasant-glam, truffle-snouting pig touch common to all dishes "forestier," the nutty multigrain pasta is finished off with a drizzle of truffle oil. It's an original. Healthy enough for the family dinner table, fancy enough for a seated party. Magnifique.
Bon app!
Multigrain Spaghetti with Pistou Forestier
serves 4 to 6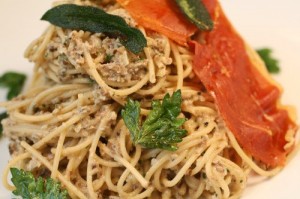 Ingredients
1 pound of multigrain spaghetti (recommended: Barilla Plus)
3 cups of pistou forestier (recipe follows)
1/3 cup crème fraîche
½ cup reserved pasta water
6 slices of crispy jambon de Bayonne, Prosciutto, or Serrano ham (recipe follows)
20 herb chips (recipe follows)
A drizzle of truffle oil
Procedure
Bring a large pot of water to a boil, and salt it like the sea.  Add the spaghetti, and stir, boiling it until it is cooked, but still has a good bite to it.  You'll want to taste it about 2 minutes shy of the package-directed cooking time.  Drain, but reserve about a cup of water to use for the sauce.
In the bottom of a large bowl, stir together the pistou forestier, the crème fraîche, and ¼ cup of the reserved pasta water.  Add the spaghetti, and toss.  At this point, you will probably need to add another ¼ cup of pasta water for the sauce to really thin and coat the pasta.  But use your judgment, and as much pasta water as you like.
Delicately mound the Multigrain Spaghetti with Pistou Forestier in a large serving bowl.  Drizzle lightly with truffle oil.  Arrange the crisp slabs of jambon de Bayonne all around the pasta like a crown, and scatter the herb chips all around.  Et voila!  Dinner is served.
Pistou Forestier Ingredients
12 ounces mixed wild mushrooms (cremini, shitake, oyster), roughly chopped or sliced
3 tablespoons extra virgin olive oil, plus 1 teaspoon, plus ¾ cup
1 teaspoon herbes de Provence
2 shallots, roughly chopped or sliced
2 cloves garlic
2 tablespoon chopped toasted walnuts
1 tablespoon packed fresh flat leaf parsley leaves
1 tablespoon fresh thyme leaves
1 tablespoon packed fresh sage leaves
1 tablespoon dry white wine
1/3 cup Parmigiano Reggiano cheese
Salt and pepper
Pistou Forestier Procedure
Preheat the oven to 425 degrees F.
Arrange the mushroom rubble on a foil-lined baking sheet, and toss with 3 tablespoons of olive oil, the herbes de Provence, and a good amount of cracked black pepper.  Roast for 15 minutes.
Meanwhile, prepare the shallots.  Add the rings to a small sauté pan with 1 teaspoon of olive oil, and season with a touch of salt.  Cook on low heat just a few minutes, until the shallots are just soft and translucent.
In a food processor, combine the roasted mushrooms, the sweet shallots, the raw garlic, the walnuts, the white wine, and the parsley, sage, and thyme.  Season vigorously with salt and pepper.  Pulse to break up all the components.  Then drizzle in ¾ cup of extra virgin olive oil, pulsing as you go, until you have a course mushroom gravel.  You want to maintain a certain delicate chunkiness—you don't want mushroom pâté.
Decant the pistou to a bowl, and stir in the Parmesan cheese.
Jambon de Bayonne Crisps Ingredients
6 thin slices of jambon de Bayonne, Prosciutto, or Serrano ham (about 4 ounces)
Jambon de Bayonne Crisps Procedure
Preheat the oven to 350 degrees.
On a nonstick or foil-lined baking sheet, lay out the slices of ham in a single layer, trying as much as possible to keep them intact as you peel them apart.  Bake for 12-18 minutes, depending on how thick the slices are.  You want the ham to resemble a chip—crisp throughout.  Allow to cool, then gently remove from the tray with a spatula.  Arrange the ham crisps whole on top of the pasta, and then crumble in to eat.
Herb Chips Ingredients
15-20 leaves of sage
15-20 leaves of flat leaf parsley
Vegetable oil for frying
Salt
Herb Chips Procedure
In a small sauté pan, heat just about ½ an inch of oil over medium-high heat.
Pluck the leaves from the stems of the fresh herbs—choose large, intact leaves where you can.
Place about 10-15 leaves into the oil one at a time, and fry until crisp but not brown, 30-60 seconds.  And stand back—when you add the leaves to the oil, the water in the herbs will make the hot oil pop.
Remove the leaves with a slotted spoon to a paper towel to drain.  Lightly salt, just like chips.
print this recipe