Get the whole story at Serious Eats.
My grandmother was born in Casablanca, Morocco, just in time for the era of Rick's Café Americain. I think glamor must have been one of the components of Casablanca's municipal water in the 1940s, and my grandmother must have imbibed a lot of it. By the time she was six years old, she was fluent in French, Arabic, and Hebrew. How fortuitous for me–not linguistically, but culinarily. It is a lucky few who go to grandma's for couscous and mint tea.
Mémé (that's "Nana" in French) was, and is, something of a femme fatale. And every woman will tell you that the secret to allure is mystery. I think certain things, like her natural hair color and the dimensions of her still-narrow waist, are a mystery even to Mémé herself. And she guards some of the secrets to her cuisine as closely as she does the name of her perfume.
As with all grandmothers, my mémé has her specialties, and whenever I go to see her she always makes them. A gorgeous salmon tagine with shards of peppers and carrots and spiced crimson olive oil. An olive stew spiked with harissa. Carrot salad peppered with cumin. Cigars of fiery merguez. C'est si bon! She has been unerringly generous with me, her only grandchild, and has shared the recipes with me since childhood. But there was always something slightly different about her renditions. A little je ne sais quoi. The Secret Ingredient remained a mystery–until last month.
My cousin was visiting, and she made a version of Mémé's Moroccan salmon that was even better than Mémé's! "Sylvie," I asked, "What did you put in here?" She rattled off the usual list of ingredients, and then said something in Arabic. "What's that?" I asked. She searched for the translation into French: preserved lemons!
"Mémé!" I cried. "Do you put preserved lemons in yours?" She looked at me with wide, innocent eyes. "Yes, of course, cherie. I've told you that a hundred times! You can use them if you like."
Um, no, you didn't tell me. Preserved lemons were the secret ingredient that she failed to mention–the je ne sais quoi, the dose of Moroccan mystery. It turns out that Mémé has be secretly using them a whole lot–in her salmon, in her olive stew, in her salade cuite, in her vegetarian chick pea tagine. To me, preserved lemons are the premier secret ingredient in North African cuisine.
Their taste is a bit tart, yes, but it is intensely lemony and different from using just juice and zest. The lemons are preserved whole–flesh, pith, and zest—by being packed in salt and their own juice for a month. The result is small, round, yellow lemons (you generally start with the smallest, roundest ones) that are soft and entirely edible, although I still remove the seeds. I think it is the pith and the skin that so inform the flavor, that make them taste more like lemon than any lemon you've ever had. To use them, you can slice or dice as you wish–just be sure to give them a quick rinse. And if you want to tone down their flavor, blanch them for 30 seconds to a minute in boiling water.
I went on what I thought would be a long and exhaustive hunt for these things, but they weren't hard to find. There they were, bobbing like apples at a country fair at the Whole Foods Mediterranean bar–the first place I checked. You can also order them from Amazon or make them yourself following a process similar to this one at Simply Recipes. If you do make them yourself, you can use Meyer lemons or regular lemons and spice them however you like.
For this month's recipes, I wanted to do something different. I figured you could find a million recipes online that use preserved lemons in yet another tagine. Although, if you are going the tagine route, let me recommend that you do a seafood tagine–these pair so beautifully with seafood. They would also be a wonderful addition to broth for mussels or clams. But I've chosen some unorthodox preparations that really highlight their flavor: Preserved Lemon Citrus Chicken with Chervil Gremolata; Parmesan, Preserved Lemon, and Thyme Wafers; and Preserved Lemon Semifreddo with Basil Syrup.
Preserved Lemon Semifreddo with Basil Syrup
serves 6 to 8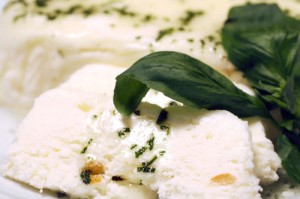 Ingredients


1 small preserved lemon, finely diced


Zest 1/2 lemon


1/4 cup water


1/2 cup sugar


3 egg whites


1 1/3 cup heavy cream


1/3 cup water


1/2 cup sugar


2 tablespoons chopped fresh basil, about 10 leaves


Procedure
Prepare a loaf pan by spraying it with nonstick cooking spray and lining it with 2 large pieces of plastic wrap which hang over the edges of the pan.
Place the finely diced preserved lemon pieces in a mesh sieve, and rinse thoroughly. Pat dry with paper towels.
Make the lemon simple syrup by combining the dry preserved lemon pieces, the lemon zest, the water, and the sugar in a sauce pot. Cook over medium-high heat just until the sugar dissolves and the mixture is clear. Use the mesh strainer to separate the lemon bits from the syrup; keep both components.
Beat the cream in a stand mixer on high just until stiff. Set aside.
In a clean mixer bowl, mix the egg whites on high until they begin to take shape and froth. Slowly pour the lemon syrup into the egg whites while the mixer is on medium-low speed. Then turn up the speed to high, and beat until the whites are glossy and doubled in volume--about 5 or 6 minutes.
Fold the reserved lemon bits into the egg whites carefully. Do the same with the whipped cream. Spoon the mixture into the prepared loaf pan and cover the top with the over-hanging plastic wrap. Refrigerate for 6 hours, or overnight. Invert it onto a big plate, and remove the plastic. Slice it into thick planks, and serve drizzled with basil syrup (recipe follows).
Basil Syrup
Combine the water, sugar, and basil in a saucepan, and cook over medium-high heat until the sugar dissolves and the mixture is clear. Allow to come to room temperature, then whirl it around in a mini food processor until the syrup is flecked with points of green. Spoon over the Preserved Lemon Semifreddo and allow it to pool down the sides. Serve extra for drizzling over each slice.
print this recipe