Happy 1st Birthday, French Revolution!
French history is full of important dates. The 14 juillet, the start of the French Revolution, is, of course, most famous. Less widely acknowledged and less widely celebrated is the equally important 13 avril, today, the start of this French Revolution. Today, révolutionnaires, amis, is the first anniversary of this blog.
History is all about facts. Let us compare these two momentous events in French history, and see what we find. The French Revolution started with the storming of the Bastille, where prisoners lived on nothing but bread and water, resulting in the overturn of the ancien régime. Frankly, if the bread had been good Parisian baguette, and the water had been Volvic, I would have been just as happy living out my days behind the barricaded stone walls. This French Revolution began with the storming of my mother's kitchen, and I like to think it toppled the ancien régime as well—the one that says French food is tedious, intimidating, and terrifying.
Speaking of the Terror, more than 20,000 people met with Madame Guillotine over the course of the original French Revolution. In this last year of our French Revolution, 10,000 people have joined in slicing the heads of lettuces, gouging the eyes of potatoes, and shucking ears of corn. Positively gruesome…or delicious, depending on which revolution you decided to participate in.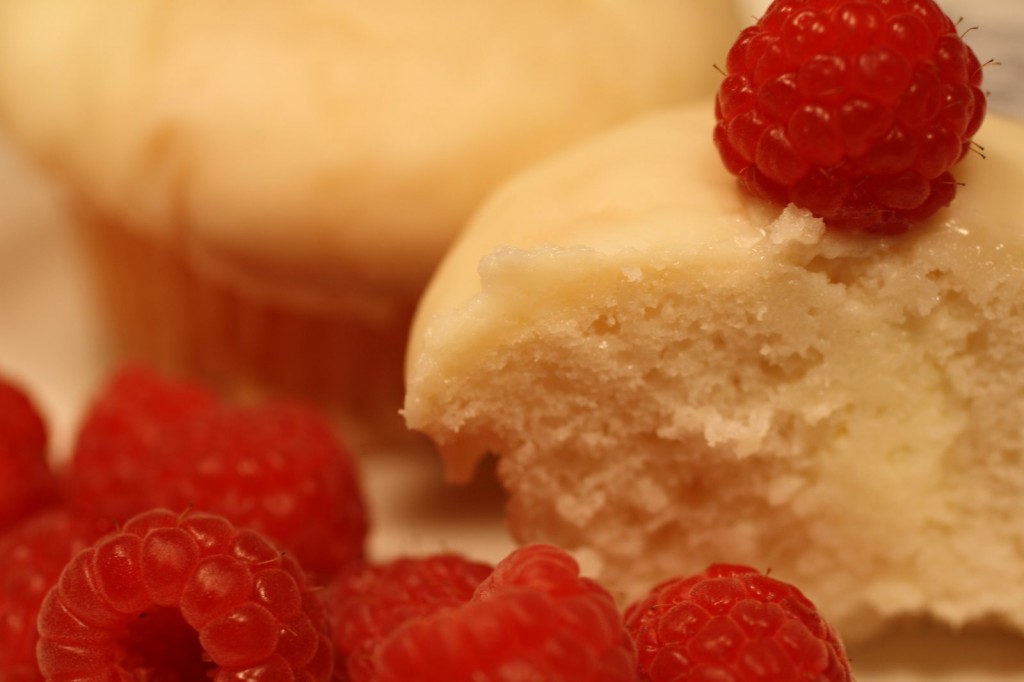 For the original French revolutionaries, their work centered around three things: liberté, egalité, fraternité. For us, révolutionnaires, it is more like carrots, celery, onions—the triumvirate of any self-respecting mirepoix. For them, it was the Sans Culottes. For us, eggs en cocotte. For them, it was peasants and royalty. For us, it is peasant food, like brisket bourguignon, and royales, like a raspberry rose royale champagne cocktail. For them, it was bleu, blanc, et rouge. For us, it is blueberries, fromage blanc, and vin rouge. Quel tricoleur!
Marie Antoinette declared: "Let them eat cake." Well, I say: "Let us eat cake!" Birthday cake, in the form of cupcakes filled with rose-scented crème, painted with white chocolate ganache, and crowned with fresh raspberries. In France, on the 14 juillet, the dark night is lit with the booming sparkle of feu d'artifice. In America, on April 13, a dark room is lit with the gently hissing flame of a single birthday candle. Both leave me oohing and ahhing, with surprise, and delight.
The French Revolution lasted ten years. In retrospect, the first year started it all—namely, ending the bread-and-water diet of the Bastille prisoners, and introducing brioche to the peasantry (or, at least, a suggestion thereof). But much more was yet to come. Thanks for joining me this first year—I've had the time of my life.
Vive la Revolution!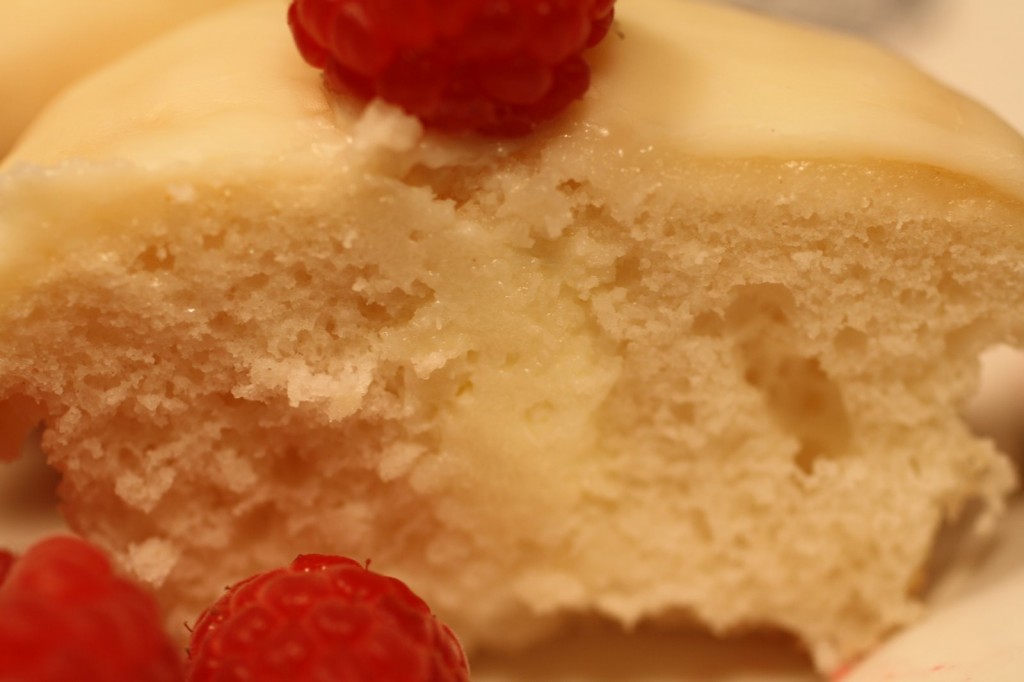 Rose Cream-Filled Birthday Cupcakes with White Chocolate Ganache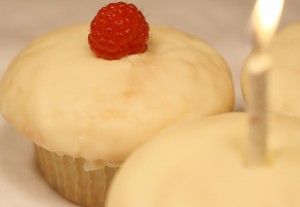 Cupcake Ingredients


1 box Duncan Hines Moist Deluxe Classic White Cake mix


1 1/3 cups water


2 tablespoons vegetable oil


3 egg whites


Rose Crème Ingredients


1 cup cream


3 tablespoons powdered sugar


½ teaspoons rose extract


White Chocolate Ganache Ingredients


12 ounces white chocolate chips


1/3 cup cream


Garnish


20 raspberries, and maybe a birthday candle


Procedure


Prepare the cupcake batter according to package directions. Bake at 350 degrees for 20 minutes in a muffin tin lined with cupcake papers. Allow to cool on a cooling rack until absolutely room temperature.


Meanwhile, make the rose cream. In a stand mixer, beat the cream on high until it starts to take shape. Add the sugar and rose extract—1 teaspoon for a hint of rose, 1 ½ teaspoons for a hit of rose. Beat until stiff, and spoon into a piping bag fitted with a simple, narrow tip.


Then make the ganache by heating the chocolate chips and cream in a double boiler until just smooth and melted.


Take each cool cupcake and stab the pastry tip down almost to the bottom (there must be a bit of violence in any Revolutionary cupcake). Fill with the rose cream. Then top each cupcake with white chocolate ganache and allow it to harden. Crown with a raspberry in the center.


Let them eat cake!


print this recipe