For the final, dessert course in my four-course French dinner for BBC Radio Oxford, I wanted to bridge the Channel and revel in a bit of Anglo-Francophilia. Apples and blackberries melt between layers of custard-soaked brioche for the perfect bread pudding.
I suppose it is appropriate for this bread and butter pudding that is presents itself as something of a sandwich: trifle layers of bread pudding stratified by a filling of blackberry and apple. I thought for this meal, a lightened Pot au Feu, dessert should be everything of wintry decadence—something the White Witch might have served to Edmund in Narnia. It is the bridge that crosses the Channel: the bread pudding is made from buttery sweet French brioche and spiked with Calvados from Normandy, but the apple and blackberry filling, like a cobbler filling, is all English.
I have heard that when Marie Antoinette proclaimed "Let them eat cake," she used the word "brioche," not "gateau." The richness of the brioche gives a definitive cake feel to this dessert, and the size of its portions and not-too-sweet demeanor make it perfect for breakfast the next day. This brioche bread pudding is easy but still precious, comforting but still decadent, English but still very French. Good desserts make good neighbors.
Apple and Blackberry Bread Pudding with Brioche and Calvados
serves 4 to 6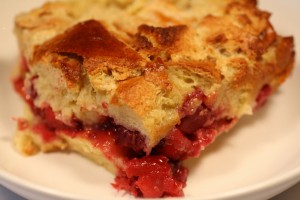 Ingredients


½ stick, or 4 tablespoons, or 2 ounces, or 57 grams, unsalted butter


6 ounces/170 grams blackberries, halved


4 Pink Lady apples, peeled, and cut into a ½ inch/ 1 ½ centimeter dice


Juice of 1 lemon


½ cup/110 grams sugar, plus 1 cup, plus 1 tablespoon


1 vanilla bean, seeds and pod separated


1 tablespoon/10 grams flour


4 eggs


2 cups half and half (US) or whole milk (UK)


1/3 cup Calvados


800 grams brioche (about 2 loaves), cut into 1-inch cubes


1 container of custard (optional)


¼ cup Calvados (optional)


Procedure


Preheat the oven to 350 degrees F/177 degrees C.


Melt the butter in a large sauté pan over medium-low heat. Once you've diced the fruit, toss it immediately with the lemon juice, and then add the mixture to the butter.


Add in the seeds from the vanilla pod, and the sugar, and cook on low, stirring occasionally, for 20 minutes.


Add the flour to the fruit, and stir in. Cook another 3 minutes. Set the fruit aside to cool.


In a large bowl, whisk together 4 eggs, 2 cups of half and half or whole milk, 1/3 cup Calvados, and 1 cup of sugar. Submerge the brioche cubes in the mixture, and allow to set and soak for 5 minutes.


Meanwhile, butter the inside of a square baking dish. Arrange half of the brioche mixture in the bottom of the dish. Then spread the apple and blackberry mixture all over, creating a layer of fruit. Cover with the second half of the brioche mixture. Top with a sprinkling of 1 tablespoon of sugar.


Place the baking dish on a baking sheet to catch any spills, and bake for 45 minutes, until puffed and golden. Serve warm.


If you are making the custard, put the bought custard in a sauce pan on low heat to warm. Add in ¼ cup Calvados, some single cream to thin out the custard, and the reserved vanilla bean pod. Allow to just heat through.


print this recipe