My favorite part of stew is the carrots. As one of the sides for my BBC Radio Oxford four-course French dinner, I updated the stew carrots in the Beef Short Rib Pot au Feu by roasting English Chantenays in the oven just until crisp, and then tossing them with sweet butter and grassy chervil.
One of England's greatest culinary luxuries is, to me anyway, the Chantenay Carrot. You'll notice these photos are of baby carrots, because in America, the Chantenay Carrot is a thing of fairytales, like Sir Lancelot, dragons, and gnomes. So if you can't find the stubby little orange gems, go ahead and substitute baby carrots, or chunks of regular carrot cut on the bias, or even farmstand purple carrots if you can find them. But Chantenays are charming, darling, and best.
Some of the best things in life are the simplest. These carrots are roasted in the oven until they are tender, but still garden crisp, and tossed with cool, creamy butter and chervil, a tender anise-y herb in the parsley family. They take nearly no effort whatsoever, but are the perfect Pot au Feu accompaniment. Who doesn't love carrots in their stew—this version is just a modern take: crisp instead of mealy, evocative of the spring garden instead of the winter furnace.
Chervil Carrots
serves 4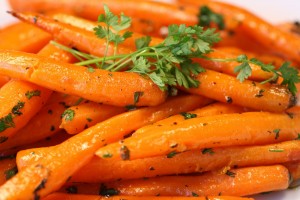 Ingredients


1 pound/454 grams Chantenay carrots


1 tablespoon olive oil


2 tablespoons chopped fresh chervil, divided (substitute parsley if chervil is unavailable)


Salt


Pepper


1 teaspoon unsalted butter


Procedure


Preheat the oven to 400 degrees F/205 degrees C.


Toss the carrots with the olive oil, 1 tablespoon chervil, and salt and pepper. Be somewhat liberal with the salt, to counteract the sweetness in the carrots. Spread the dressed carrots on a baking sheet, and roast for 20 minutes.


While still hot, toss with the remaining tablespoon of chervil, the butter, and a bit more salt and pepper. Serve!


print this recipe