As the second side to serve with my Short Rib Pot au Feu in my BBC Radio Oxford series, I slather a warm, crusty baguette with two mustards, garlic, butter, and herbs. What better to soak in stew than little irreverent twists on iconic French ingredients? Be sure to tune in tomorrow for the final course: dessert.
When you're modernizing a classic recipe, sometimes the best thing to do is to defiantly turn up your nose, stick your tongue irreverently in your cheek, and have a bit of fun with the irony of it. Traditional Pot au Feu is served with bread and potatoes and spicy French mustard. But I wanted a side dish, not a tray of condiments.
So, for my perfect pairing for my modern Pot au Feu, I combined the idea of bread and mustard into a single Mustard Garlic Baguette. Presented like supermarket garlic breads, with garlicky butter slathered into deep doughy ravines, mine begins with a fresh, crusty, and iconic baguette. Into gills that I slit into the bread, I smear a butter spiced with Dijon and whole grain mustards, garlic, thyme, parsley, and pepper. When the bread has baked, the garlic is sweet, the mustard tangy, the butter melted, and the baguette delicious and decadent. There is nothing better with which to soak up brothy Pot au Feu. This recipe makes a bit of extra mustard garlic butter, so you may even want to make two baguettes!
Two-Mustard Garlic Baguette
serves 4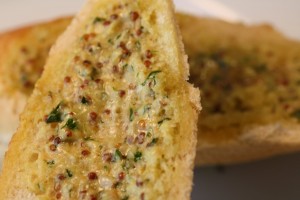 Ingredients


1 stick/4 ounces/ 113 grams unsalted butter, at room temperature


4 small cloves garlic, grated


2 ½ tablespoons Dijon mustard


1 tablespoon whole grain mustard


1 tablespoon chopped fresh flat leaf parsley


The leaves from 1 stem of thyme


Salt


Pepper


1 baguette


Procedure


Preheat the oven to 350°F/177°C.


Mix the soft butter with the grated garlic, mustards, herbs, and salt and pepper. Set aside.


On the top of every baguette are slits that bake to form the pattern distinctive on all French baguettes. Follow these markings, and slit them down the center, almost so you cut through the baguette, but not quite. You are making slits in the bread to slather with the garlic and mustard butter.


Smear the interior of these slits generously with the butter. You may not use all of it (use it on a second baguette if you like).


Wrap the buttered baguette completely in foil, and bake for 20 minutes. Pull apart, and dip into your Pot au Feu.


print this recipe