What's in a name? A whole lot. Did you ever consider why French fries, French vanilla, or French toast are called "French" in America, but go by completely different names in France itself? French toast, for example, is known as "pain perdu," or lost bread, because it is recycled day-old bread rejuvenated with the help of a custard and some pert flavors. It is also served as dessert–not for breakfast. This savory version pairs rosemary-roasted asparagus and parmesan with hearty country bread. Top with a savory-sweet homemade tomato jam for a spike of color and flavor.
As always, my French in a Flash series for Serious Eats contains the full text and recipe for this post. Here is this week's Asparagus Parmesan Pain Perdu with Homemade Tomato Jam–easy, quick, unusual, unorthodox, and really, really good.
Parmesan Pain Perdu with Asparagus and Tomato Jam
serves 4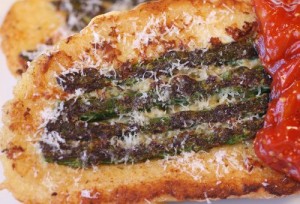 Ingredients


16 asparagus tips


1 teaspoon olive oil


1 teaspoon fresh rosemary leaves


Salt and pepper


1 cup half and half


2 eggs


1 cup grated Parmesan cheese, plus extra for sprinkling


4 1 to 1 ½ inch slices of dense white peasant bread


4 teaspoons unsalted butter


Procedure


Preheat the oven to 375°F.  Toss the asparagus tips with 1 teaspoon of olive oil, the rosemary, and salt and pepper.  Scatter on a baking sheet, and roast for about 10 minutes.


Meanwhile, whisk the half and half, eggs, and Parmesan together in a pie plate, and season with mixture with salt and pepper.


Take 4 cooked asparagus tips, and line them up, facing in alternating directions, on one piece of bread.  Dip the bread in the egg mixture, and, holding the asparagus flat to one side of the bread, flip it over so the asparagus side is also coated.  Press the asparagus into the soggy bread.


Heat a sauté pan over medium-low heat, and spray with nonstick cooking spray.  Melt 2 teaspoons of butter in the pan, and place 2 pieces of bread, asparagus side down, into the pan.  Sauté low and slow, about 4 minutes per side, pressing down so the bread browns evenly.  Flip when golden, and brown another 4 minutes on the other side.  While it's cooking on the second side, sprinkle the asparagus side with about a teaspoon or so of Parmesan.  Keep warm in a 200°F oven.  Repeat for the next two slices.  Serve with tomato jam.


Tomato Jam Ingredients


1 pint halved grape tomatoes


1 tablespoon olive oil


2 tablespoons sugar


Juice of 1 lemon


Tomato Jam Procedure


Place all the ingredients in a sauce pot over high heat.  Bring to a boil, then reduce the heat to medium-low and simmer for 30 minutes, until most of the liquid has evaporated.


print this recipe