When I was young, I learned a lot of French words before I learned the phrase "French kiss." And when I did, I needed some comfort chez maman. This week for French in a Flash on Serious Eats, I roll my American school and French home up into one perfect pastry: Pain au Chocolat Cinnamon Rolls with Creme Fraiche Icing and Walnuts. Using store-bought puff pastry stills gives you golden layers of croissant, the dark chocolate inside melts to a perfect sweet brown mess, and the top is sweet with white icing. And you can find the recipe and full text article here! Bon app…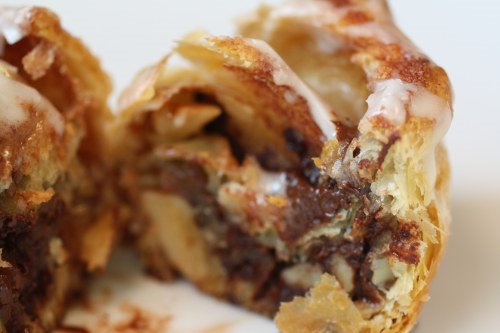 Pain au Chocolat Cinnamon Rolls
makes 12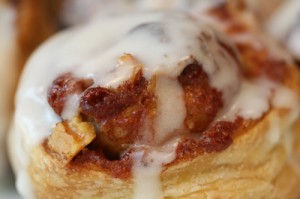 Cinnamon Roll Ingredients


¼ cup granulated sugar


¼ cup light brown sugar


1 tablespoon ground cinnamon


⅛ teaspoon fine sea salt


2 sheets frozen puff pastry, thawed but cold


2 tablespoons unsalted butter, melted and cooled


½ cup walnuts, toasted and chopped


½ cup semi-sweet chocolate chips


Icing Ingredients


1 cup powdered sugar


2 tablespoons crème fraîche


1 tablespoon milk


Procedure


Preheat the oven to 400°F.


Mix together the sugars, cinnamon, and salt.


Unroll both sheets of puff pastry, and paint both lightly with melted butter using a pastry brush.  You will have some butter left over.


Divide the sugar-cinnamon mixture between the two sheets of pastry, spreading evenly.  Divide the walnuts and chocolate chips evenly across both pastry sheets.


Use the remaining butter to grease a 12-cup muffin tin.


Roll up both sheets of puff pastry, and use a serrated knife to cut each log into 6 cinnamon rolls.


Place 1 roll in each muffin cup, cut-side-up.  If any of the filling falls out, just divide it between the cinnamon rolls.  Bake for 25 to 30 minutes.


Meanwhile, make the frosting by whisking together the powdered sugar, the crème fraîche, and the milk.


Use a knife to help lift the cinnamon rolls out of the muffin cups and onto a wire rack to cool.  When they are cool, spoon the frosting over the top of the cinnamon rolls.


print this recipe