Every girl starts off her life in the closet. Just whose closet, however, is a matter of chance. I began mine in Meme's closet.
It was she who taught me the French insistence on simplicity embellished with "the correct" accessories. So this week in French in a Flash, I accessorize my favorite fish, trout, with scales of crisp purple potatoes and a spritz of sauce a la francaise, lemon-butter sauce, layered with threads of lemon zest and petals of whole parsley leaves. Pretty on the inside, and the outside.
As always, the full text and recipe of this post can be found on Serious Eats if you click HERE.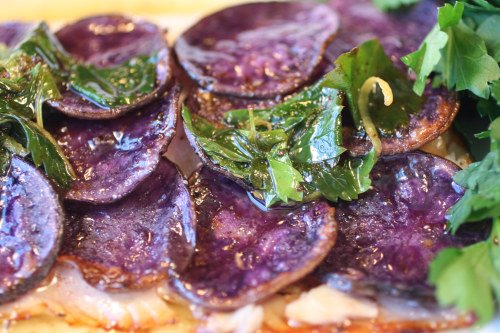 Bon app!
Purple Potato-Crusted Trout à la Française
serves 4
Ingredients


4 1/2-pound filets of trout


1/4 cup olive oil


Salt and pepper


4 medium or 8 small purple potatoes, sliced chip fine on a mandolin


6 tablespoons unsalted butter


Juice of 1 lemon


Zest of 1 lemon


1/4 cup whole fresh parsley leaves


A Note on Some Ingredients
I love the thin, flakey filet of trout for this dish, but you could use any flakey white fish. Tilapia or snapper would be especially nice.
If you cannot find purple potatoes, sometimes called Peruvian purple potatoes or blue potatoes, just use a simple new potato instead.
Procedure


Preheat the oven to 500°F.


Rub both sides of each filet with just shy of 1 tablespoon of olive oil, and season with salt and pepper. Spray a foil-lined baking sheet with nonstick spray, and lay the filets skin-side down on the pan. Tile the top of the trout with the slices of purple potato, overlapping them like shingles. Season the potato with salt and pepper as well, and drizzle with the remaining oil.


Roast for 12 minutes, then broil for 2 minutes.


Present the fish on a platter, and spoon some of the sauce à la française on top.


print this recipe